Class Action Lawsuit Claims Monsanto Using Dicamba To Monopolize Soybean Market
June 27, 2018
By: Irvin Jackson
An Iowa farm has filed a class action lawsuit against Monsanto, alleging that the company is trying to monopolize the soybean market, by forcing farmers to buy Roundup Ready 2 Xtend dicamba-tolerant seeds, amid reports that the weed killer spreads to other fields and destroys crops. 
The complaint (PDF) was filed by Waspie Farms in the U.S. District Court for the Northern District of Iowa on June 21, seeking class action status for purchasers of Monsanto's dicamba-tolerant traits in soybeans.
"Genetically-modified crops and food are often touted to farmers and the public as miracle products. But when patented GM technology so changes the economics of agriculture that farmers have no choice but to use it, thus allowing biotech companies to charge monopoly prices and unfairly control the market, it is illegal conduct," the lawsuit states. "Monsanto knew full well that commercializing dicamba-tolerant technology would cause a spike in the use of dicamba, a dangerous and toxic herbicide, because the exclusive feature of its patented Roundup Ready 2 Xtend seeds is the seeds' tolerance to dicamba."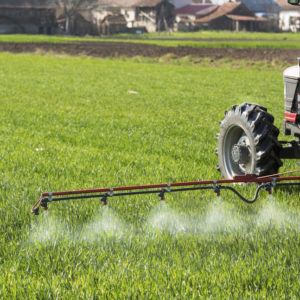 Dicamba is a synthetic herbicide, which has been used for years by farmers nationwide to control weeds. However, in the past, it has typically only been used during certain times of year.
A growing number of dicambi crop damage lawsuits have been filed in recent months, each raising similar allegations that Monsanto and BASF marketed a new type of tolerant crop that can withstand exposure to Engenia and similar herbicides.
The new crops were designed to allow farmers to use dicambi "over-the-top" for the first time in 2016, which involves applying the herbicide on crops emerging from the ground. This has drastically increased use of dicambi herbicides, but many farmers now indicate that the weed killers drifted to neighboring crops that were not resistant, causing massive damages and losses.
The lawsuit claims that Monsanto intentionally released the spray anytime version of Xtend and other dicamba products, knowing farmers would use it and that it would spread to other fields, destroying other soybean crops and forcing more farmers to buy their genetically modified seeds. The plaintiffs point to Monsanto's refusal to wait until the EPA registered a less volatile formulation of the product, which did not come until after the 2016 harvest.
"Dicamba volatility and drift generate and exacerbate the anticompetitive nature of Monsanto's conduct," the lawsuit notes. "Traditional dicamba drifts easily from farm-to-farm and is highly toxic. Because of how easily dicamba drifts, farmers are now forced to buy dicamba-tolerant seeds or risk losing their crop."
This recent Monsanto class action lawsuit adds to a growing number of complaints filed in multiple U.S. District Courts over crop damage. Dicamba lawyers investigating additional crop damage cases ultimately expect that there will be even more claims filed in the coming months and years.
Complaints filed since August 2017 claim that Monsanto rushed the system and either withheld or concealed information from regulatory authorities about the volatility of Engenia, and marketed dicamba-tolerant crops without approval from regulators. The complaint alleges that the manufacturer knew the use of the herbicide would endanger other nearby crops.
Farmers in several states have suffered millions of dollars in crop damage when Engenia or Xtendimax drifted onto neighboring, sensitive crops in the 2017 growing season.
"*" indicates required fields