Lawsuit Over Weedkiller Crop Damage Results in $265M Verdict Against Monsanto and BASF
February 18, 2020
By: Irvin Jackson
A Missouri jury has awarded a peach farmer $265 million in a lawsuit over the weedkiller dicamba, which alleged that the herbicide marketed by Monsanto and BASF causes widespread crop damage on neighboring farms.
Following a three-week trial, a jury in the U.S. District Court for the Eastern District of Missouri ordered Monsanto and BASF to pay $15 million in compensatory damages to peach farmer Bill Bader, who claimed that dicamba drifted onto his fields from another farm. The jury then added an additional $250 million in punitive damages, which was designed to punish Monsanto and BASF for their reckless behavior in marketing the widespread use of the weedkiller, which plaintiffs claim was part of a scheme designed to require greater user of genetically modified seeds that are resistant to dicamba.
At trial, Bader indicated that Monsanto Co. and German-based BASF Corporation knew about the risk of "dicamba drift", where the herbicide may contaminate neighboring farms when applied. As a result, Bader claims this causes significant loss of yield, as well as loss of seed and progeny in future growing seasons on neighboring farms not using seeds genetically modified to provide resistance to the herbicide.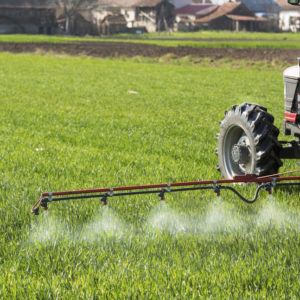 Dicamba, sold under the brand names Xtendimax, Engenia, and Fexapan, is a synthetic herbicide that has been used for years by farmers nationwide to control weeds. However, it has traditionally only been used during certain times of year.
Use of the herbicide increased dramatically after new seeds were introduced in 2016, which were designed to allow farmers to use dicamba "over-the-top", where the herbicide is applied on crops emerging from the ground.
Dozens of complaints have been filed since August 2017, alleging that Monsanto rushed the system to market and either withheld or concealed information from regulatory authorities about the volatility of dicamba-resistant crops.
Bayer and BASF officials have said they are surprised and disappointed in the decision and plan to appeal. They claim the damage to Bader's fields could not have been done by dicamba, and that it has not been designed to drift. However, Bader's legal team presented internal memos indicating the manufacturers knew drift would occur.
The dicamba lawsuit claims the high volatility is seen as a feature by the manufacturers, meant to force other farmers to use their expensive products to grow dicamba-tolerant GMO crops if they don't want to suffer losses when their neighbors spray.
As evidence, Bader has presented internal documents showing Monsanto anticipated it would receive thousands of complaints due to dicamba drift.
The case is viewed as a "bellwether" for similar dicambi crop damage lawsuits that have been filed over the last couple years, each raising similar allegations that Monsanto and BASF are to blame for the chemical catastrophe occurring on millions of acres of farmlands across the U.S.
A number of similar cases are expected to go to trial throughout the year.
"*" indicates required fields