Dr. Berne's Eye Drops Recall Issued After FDA Contamination Warning
August 30, 2023
By: Katherine McDaniel
Following an eye drop contamination warning issued last week by federal regulators, Dr. Bearne's Whole Health Products has recalled multiple products that may be tainted with bacteria or fungus, indicating that the eye drops pose a risk of vision-threatening infections, which may progress to life-threatening health complications.
The U.S. Food and Drug Administration (FDA) announced the Dr. Berne's eye drops recall on August 26, indicating at least one lot of the recalled eye drops were found to contain both bacterial and fungal contamination.
As a result of the problems, the manufacturer has removed all lots of Dr. Berne's MSM Drops, Castor Oil Eye Drops, MSM Mist solutions from the market. At least two users of the eye drops have already reported adverse events, which could range from minor eye infection to serious blood stream infections.
The recall follows an FDA advisory issued only a few days earlier, which warned that both Dr. Bernes and LightEyez MSM eye drops contained an unapproved and illegally marketed ingredient.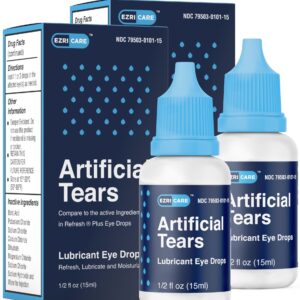 Eye Drop Warning and Recall
The FDA warning on August 22 urged consumers not to use or purchase Dr. Berne's MSM or LightEyez MSM eye drops, after sample testing confirmed the products were not sterile and were contaminated with several bacterial and fungal strains. Testing also confirmed the products contained the active ingredient methylsulfonylmethane (MSM), an unapproved ingredient.
Federal officials contacted Dr. Berne's Whole Health Products regarding the contamination and unapproved active ingredient, which prompted this recall. Although the FDA also reached out to LightEyez Limited, the agency indicated last week that this other manufacturer had not yet responded.
The Dr. Berne's recall impacts all lots of MSM 5% and 15% solution lubricating eye drops packaged in 30 ml/1.014 oz. plastic bottles, Organic Castor Oil eye drops packaged in 30 ml/1 oz. white plastic bottles, and MSM MIST 15% solution eye drops packaged in 30mL/1.014 oz. white bottles. All products were distributed online through Dr. Berne's website.
Customers can expect an email from Dr. Berne's notifying them of the recall, and are being instructed to return their recalled products by mail to Sun Star Organics, 988 Main Street, Orange, CA 92867.
For more information, consumers may contact Dr. Berne's Whole Health Products by phone at (877) 239-3777 or by e-mail at hello@drsamberne.com.
Consumers are urged to report any problems they experienced after using the recalled eye drops to their healthcare provider, and to report any quality problems or adverse reactions to the MedWatch Adverse Event Reporting program.
EzriCare Eye Drop Recall and Outbreak
Federal regulators have been conducting random sampling and testing of eye products, following recent manufacturing issues that have plagued the industry.
Earlier this year, a massive outbreak of eye infections was linked to contaminated Artificial Tears eye drops, which were sold under the EzriCare and Delsam brands. Those manufacturers announced an Artificial Tears recall in February 2023, after dozens of users experienced severe bacterial infections, including several deaths.
The eye drops were found to contain Carbapenem-Resistant Pseudomonas Aeruginosa (CRPA), a bacterial known to cause infections that may result in severe health consequences. The specific strain found in the eye drops posed a major health risk to consumers due to its antibiotic resistance and mutating capabilities. The bacteria is also known to cause endophthalmitis in severe cases, a rare but serious eyeball infection that can destroy eye tissue and cause irreversible blindness.
According to a recent report by the U.S. Centers for Disease Control and Prevention (CDC), the recalled Artificial Tears eye drops have now been linked to 81 cases of bacterial contamination, including multiple reports of vision loss, four reports of consumers requiring removal of an eyeball, and four reports of deaths.
Lawyers are actively investigating potential eye drop infection lawsuits against the manufacturers and distributors of recalled EzriCare and Delsam brand eye drops, pursuing claims involving multiple injuries and side effects caused by the contamination, including;
Eye Infection
Partial Blindness
Permanent Blindness
Bloodstream Infection
Other injuries caused by the eye drops
As the news about the recalled EzriCare and Delsam Pharma eye drops continues to spread, it is expected that the number of Pseudomonas aeruginosa infection lawsuits over the recalled eye drops will be filed in the coming months.
"*" indicates required fields