Problems with a DreamStation CPAP Put Man in Coma with Respiratory Failure, Lawsuit Claims
July 26, 2022
By: Irvin Jackson
An Arkansas man indicates in a recently filed lawsuit that he spent two weeks in a coma due to design problems with a DreamStation CPAP, which eventually led to a recall for millions of the sleep apnea machines, according to a product liability lawsuit.
Kenneth Engelkes filed the complaint (PDF) in Arkansas Circuit Court on July 20, alleging that the defendants Koninklijke Philips and its North American subsidiaries knew about problems with the Dreamstation CPAP, which contained a defective sound abatement foam which was prone to degrade and release chemicals and gasses directly into the machine's air pathways.
Philips issued a massive DreamStation CPAP recall in June 2021, impacting millions of sleep apnea machines which contained the polyester-based polyurethane (PE-PUR) foam, which was intended to reduce noise and vibrations while the device was used. However, it is now known that the PE-PUR foam breaks down as the machine is used, causing particles to be inhaled or digested by the user while sleeping.
Breathing the foam particles has been linked to reports of cancers, lung damage and severe respiratory injuries, according to claims presented in hundreds of other similar Philips DreamStation CPAP lawsuits already being pursued by former users.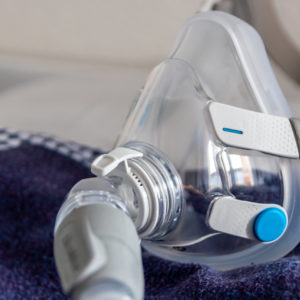 Philips CPAP Recall Lawsuit
Engelkes indicates in his lawsuit that he began using a DreamStation CPAP device in August 2018, for the treatment of sleep apnea. Just a couple months later, he was admitted to the hospital with severe respiratory disease in October 2018.
"While admitted to the hospital, Plaintiff was diagnosed with Acute Respiratory Failure with Hypoxia, Hypercapnia and Acute Kidney Failure," the lawsuit notes. "Plaintiff spent two weeks in a coma and spent another two weeks on a ventilator."
The lawsuit blames Engelkes' use of the DreamStation CPAP device for causing the coma and his respiratory problems, which continue to greatly impact his life.
In addition to various state court claims filed nationwide, most of the U.S. litigation over the DreamStation CPAP problems is pending in the federal court system, where the lawsuits have been centralized before U.S. District Judge Joy Flowers Conti in the Western District of Pennsylvania for coordinated discovery and pretrial proceedings. The parties are currently engaged in common fact discovery regarding common issues raised in the DreamStation CPAP lawsuits, and are expected to select a group of representative claims to prepare for a series of early trial dates, which will help gauge how juries are likely to respond to certain evidence and testimony that will be repeated throughout the litigation.
"*" indicates required fields