Study Finds Vision Problems Often Cause of Elderly At-Fault Accidents and "Near Crashes"
May 07, 2021
By: Russell Maas
Visual impairments among older drivers are a common and known risk of accidents, but a new study used "naturalistic driving techniques", involving in-vehicle cameras and sensors to better evaluate the impact of vision issues by also identifying at-fault crashes and near-misses.
In findings published in The Journal of the American Medical Association (JAMA) Ophthalmology on April 29, researchers assessed the risk factors associated with auto accidents among older drivers, and highlighted the impact of impaired contrast sensitivity, slow visual processing speed, and lower peripheral vision in driving ability.
Researchers from the University of Alabama at Birmingham conducted the study at an academic ophthalmology clinic from January 1, 2015, to November 10, 2018, involving 154 adults 70 years of age or older, who were licensed to drive in Alabama and had at least one age-related eye condition.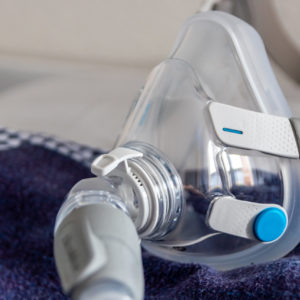 Did You Know?
Millions of Philips CPAP Machines Recalled
Philips DreamStation, CPAP and BiPAP machines sold in recent years may pose a risk of cancer, lung damage and other injuries.
Learn More
Participant vehicles were outfitted with five-channel real-time video cameras and sensors including accelerometers and GPS, and were observed over a six month period to analyze crashes and near-crash events.
Researchers noted near crashes, which were defined as any circumstance that required a rapid or evasive maneuver by the participant to avoid another vehicle, pedestrian, cyclist or obstacle, were found to nearly double the amount of actual crashes over the six month study.
Of the 154 analyzed participants, the most common condition associated with crashes and near crash events was impaired contrast sensitivity, which impacts an individual's ability to distinguish the foreground from the background. The condition is a common side effect among those with cataracts, glaucoma or diabetic retinopathy.
Additional visual impairments associated with near and actual crash events included visual processing speed slowness, elevated motion perception thresholds for a drifting grating and diminished peripheral visual field sensitivity.
"With the use of naturalistic driving methods in which crashes and near crashes involving older drivers are objectively measured as they occur on the road, associations have been identified between impaired contrast sensitivity, slowed visual processing speed, and impaired motion perception and an increased rate of a combined total of at-fault crashes and near crashes," the researchers concluded.
Previous driving research involving older adults has found seniors disproportionately represent roadway fatalities. In 2009, more than 58% of roadway fatalities involved drivers over the age of 65. In 2014, nearly 5,800 senior drivers were killed and 221,000 were injured in traffic crashes as drivers or passengers. The highest recording of senior fatalities was recorded in 2016, with more than 6,700 fatalities involving seniors. AAA reported that from 1999 to 2009 there was a 20% increase of licensed drivers over the age of 65. AAA estimates by the year 2030, there will be approximately 70 million Americans in the U.S. over the age of 65 with an estimated 85% to 90% of them licensed to drive.
The National Highway Transportation Safety Administration encourages family members to discuss future driving arrangements and when  seniors should stop transporting themselves if they have visual impairments or decreased motion to see blind spots, which are two common causes of crashes for elderly drivers.
While some elderly motorists can drive safely, many seniors take medications which disturb eyesight, sleep, cause tremors or disturb their memory, which can make driving more dangerous. Experts suggest elderly drivers consult with their primary healthcare provider to determine whether they are experiencing any symptoms which may increase driving risks.
"*" indicates required fields