EPA Proposes Classifying Some PFAS Chemicals as Hazardous Materials
August 29, 2022
By: Irvin Jackson
Federal environmental regulators indicate at least two so-called "forever chemicals" frequently used in firefighting foam should be classified as hazardous materials.
On August 26, the U.S. Environmental Protection Agency (EPA) announced plans to designate two commonly used per- and polyfluoroalkyl substances (PFAS) as hazardous substances under the Comprehensive Environmental Response, Compensation and Liability Act (CERCLA), which is also known as the "Superfund" act.
Toxic PFAS chemicals were first introduced into the manufacturing industry in the 1940's, because of their ability to resist heat, grease, stains, and water. For these reasons, they have become widely used in a vast amount of consumer products, including food packaging materials, pizza boxes, popcorn bags, fabrics, nonstick cooking pans, and large volumes of the chemicals have been used in aqueous film-forming foam (AFFF) used by the military and civilian fire companies to combat fuel-based fires.
Since the chemicals do not break down naturally, they have contaminated water supplies in communities nationwide, especially near manufacturing plants, airports, military bases and other facilities, where large volumes of PFAS entered water from the use of firefighting foam products used during firefighter training.
Manufacturers of the chemicals now face a number of firefighting foam cancer lawsuits brought by individuals who came into direct contact with the chemicals during fire training and response exercises. In addition, PFAS water contamination lawsuits are also being pursued by individuals diagnosed with pancreatic cancer, liver cancer, bladder cancer, testicular cancer, kidney cancer and ulcerative colitis after years of drinking tap water known to contain high levels of the toxic "forever chemicals."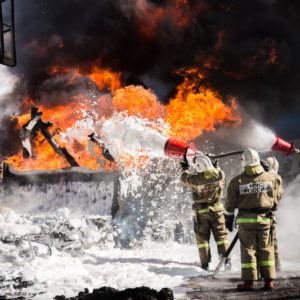 The EPA's proposed rulemaking would apply to perfluorooctanoic acid (PFOA) and perfluorooctanesulfonic acid (PFOS); which are two of the most widely used, and well-studied, PFAS chemicals. Exposure has been linked to cancer, reproductive and developmental problems, heart risks, liver damage and immune system problems.
"Communities have suffered far too long from exposure to these forever chemicals. The action announced today will improve transparency and advance EPA's aggressive efforts to confront this pollution, as outlined in the Agency's PFAS Strategic Roadmap," EPA Administrator Michael said in the EPA announcement. "Under this proposed rule, EPA will both help protect communities from PFAS pollution and seek to hold polluters accountable for their actions."
The rule, once finalized, would declare PFOA and PFOS as hazardous substances, triggering reporting requirements for the two chemicals. The EPA indicates this will increase transparency requirements from users and manufacturers. The agency also says it will allow the EPA to hold polluters accountable, allowing federal regulators to pursue cleanup costs.
The EPA intends to publish a Notice of Proposed Rulemaking in the Federal Register within the next few weeks. After that, there will be a 60-day period when the EPA accepts public comments. The agency also indicates it is likely to issue an Advance Notice of Proposed Rulemaking after that, targeting other PFAS chemicals.
"*" indicates required fields