Extra Strength Tylenol Liver Risks May Lead to New Guidelines in Canada
August 11, 2015
By: Irvin Jackson
Amid continuing concerns about the risk of liver failure from acetaminophen, Canadian health officials are considering lowering the maximum daily recommended dose for Extra Strength Tylenol and other popular pain relievers. 
Officials with Health Canada told various news outlets in that country in recent days that it may drop the maximum dose of Tylenol to below the four grams per day where it currently stands. They may also make new requirements for more accurate dosing devices to be packaged with Children's Tylenol, as well as require new label warnings about the liver risks.
Tylenol has been aggressively marketed for decades, building a reputation that the drug carries little risk for consumers. However, serious questions have been raised in recent years over the warnings provided for users about the potential Tylenol liver risks.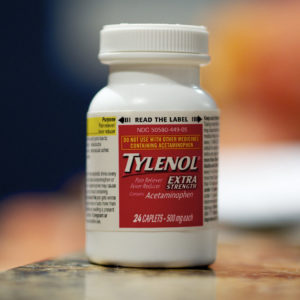 Acetaminophen contained in Tylenol has been identified as a leading cause of liver failure in the United States, with prior FDA estimates suggesting that the drug may be responsible for more than 50,000 emergency room visits each year, including 25,000 hospitalizations and over 450 deaths annually.
Canada sees about 4,000 hospitalizations and more than 250 cases of serious liver injury related to acetaminophen overdoses in that country every year. Despite efforts to increase awareness about the risks, that number appears to be on the rise.
Since Tylenol was first introduced, acetaminophen has also been used in a number of different prescription and over-the-counter medications commonly used to treat a cold or other illness. Due to a lack of sufficient warnings about the risks associated with acetaminophen, many consumers have not realized the risks associated with using too much Tylenol or combining multiple medications containing acetaminophen.
In May 2014, the FDA issued a consumer update, warning that there is no tried and true method of determining who may experience liver damage caused by a Tylenol overdose.
In the U.S., Johnson & Johnson lowered the maximum recommended dosage on Tylenol and other acetaminophen-based products in 2011 from 4,000 mg per day to 3,000 mg per day, after the FDA announced the new limits on acetaminophen levels in prescription painkillers like Vicodin and Percocet. However, the drug maker continues to market Extra Strength Tylenol, containing 500 mg in each pill, providing a narrow window between the recommended dose and potentially life-threatening liver injury if more than six pills are taken within 24 hours.
Tylenol Liver Failure Lawsuits
Johnson & Johnson currently faces a number of Tylenol lawsuits filed in state and federal courts throughout the country on behalf of former users who suffered liver damage, liver failure or wrongful death.
The complaints allege that Johnson & Johnson has built the global impression that Tylenol is safe by withholding information about the potential risks associated with acetaminophen for decades. Many of the complaints suggest that the FDA would never approve Tylenol as an over-the-counter medication if it were first introduced today.
Since April 2013, the cases have been centralized before U.S. District Judge Lawrence F. Stengel in the Eastern District of Pennsylvania as part of an MDL, or multidistrict litigation, to reduce duplicative discovery in the cases, avoid conflicting pretrial rulings from different judges and to serve the convenience of the parties, witnesses and the courts.
As part of the coordinated Tylenol litigation, a small group of cases are going through case-specific discovery to prepare them for early trial dates, known as "bellwether" cases.
Although the outcomes of these early trials are not binding in other cases, they are designed to help the parties gauge how juries may respond to certain evidence and testimony that may be introduced, promoting potential Tylenol settlement agreements that may avoid the need to schedule dozens of cases for individual trial dates.
"*" indicates required fields