Farmer's Non-Hodgkins Lymphoma Diagnosis Result in Lawsuit Over Roundup
February 13, 2017
By: Irvin Jackson
A Wisconsin farmer has filed a product liability lawsuit against Monsanto, alleging that years of Roundup exposure while spraying his crops with the weed killer caused his non-Hodgkin's lymphoma diagnosis. 
The complaint (PDF), filed by Larry Faschingbauer in the U.S. District Court for the Northern District of California on February 9, indicates that Monsanto failed to investigate, study and test the safety of Roundup, and also failed to minimize the dangers faced by farmers and other agricultural workers by withholding warnings and instructions.
Faschingbauer began using Roundup on his crops in the 1980s, and used it around his farm for decades. In May 2012, the farmer was diagnosed with non-Hodgkin's lymphoma (NHL) at the Mayo Clinic, which he indicates was caused by exposure to glyphosate and other ingredients contained in Roundup.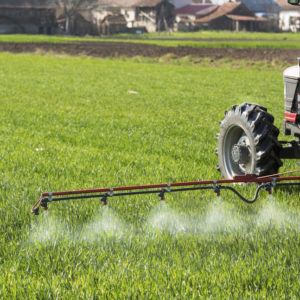 "For nearly 40 years, farms across the world have used Roundup without knowing of the dangers its use poses. That is because when Monsanto first introduced Roundup, it touted glyphosate as a technological breakthrough: it could kill almost every weed without causing harm either to people or to the environment," the lawsuit states. "Of course, history has shown that not to be true."
The lawsuit cites the March 2015 determination by the World Health Organization's International Agency for Research on Cancer (IARC), which found that Roundup and other glyphosate herbicides are potential human carcinogens.
Monsanto has denied that there is a link between Roundup and lymphona, calling the IARC's findings "junk science." However, farmers, landscapers, groundskeepers and other plaintiffs regularly exposed to the weedkiller maintain that Monsanto knew about the cancer risks for decades, and has actively tried to cover up or downplay the scientific data.
Faschingbauer's complaint warns that glyphosate may not be acting alone in increasing cancer risks from Roundup, also pointing to the surfactant polyethoxylated tallow amine (POEA), another ingredient in Roundup, which may be acting together with glyphosate to increase cancer risks.
"Those most at risk are farm workers and other individuals with workplace exposure to Roundup, such as garden center workers, nursery workers, and landscapers," the lawsuit states. "Monsanto assured the public that Roundup was harmless. In order to prove this, Monsanto has championed falsified data and has attacked legitimate studies that revealed Roundup's dangers."
Monsanto faces a growing number of similar Roundup lawsuits filed on behalf of other farmers and agricultural workers, each involving allegations that plaintiffs may have avoided a non-Hodgkin's lymphoma (NHL) diagnosis if they had been provided proper warnings and instructions regarding safety precautions to reduce the risk of exposure.
Mary Lou

February 25, 2017 at 1:43 pm

All of these illnesses and deaths and it's still on the shelf!!! Landscapers and homeowners are effected also!!!

Charles

February 16, 2017 at 1:24 pm

I am wondering if roundup could be the culprit causing diverticerlitice same kind stomach disorder as glyshoymate causes grub worme
"*" indicates required fields