Firefighters, States, Struggle To Find Replacements for Toxic Foam
September 09, 2021
By: Irvin Jackson
For decades, fire departments and military bases have used firefighting foam to fight petroleum fires, which cannot be combatted with water alone. However, as more evidence links toxic chemicals in the aqueous film-forming foam (AFFF) to cancer and other health risks, finding an adequate replacement has become a struggle.
Versions of AFFF used during training and response exercises in recent decades contained per- and polyfluoroalkyl substances (PFAS), which can persist in the environment and human body for decades. Commonly referred to as "forever chemicals," these substances have been linked to a number of serious health risks and are now being detected in the water and soil around military bases, airports and other firefighter training sites nationwide.
As information about the long-term risks of firefighting foam are being recognized, there has been a struggle to find a replacement foam to battle petroleum and fuel fires, which won't just cause a different type of contamination or health risk.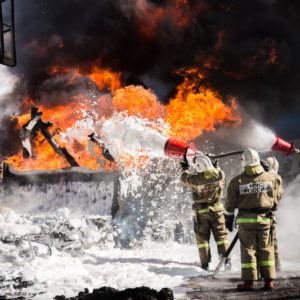 One state at the forefront of this struggle is Massachusetts, where last year a PFAS Interagency Task Force was created involving members of the legislature. The goal of the task force is to look into ways the state can address PFAS contamination, including future prevention. The task force's findings are due by December 31, but various media reports in recent days have warned that the task force is struggling with the aspect of finding suitable replacements for AFFFs.
The state's Department of Fire Services has scheduled a seminar for September 13, this coming Monday, including a discussion of replacing AFFFs with something new, but it is unclear what that new substance would be and how they could afford the change, according to various reports.
Last week, state fire officials told the task force that foam is the only tool usable for fighting flammable liquid fires. They come in three classes: long-chain foams, C6 or short-chain foams, and fluorine-free foams. Some departments had tried switching to short-chain foams, but they contain fluorine, which carries its own set of health and environmental risks. That leaves fluorine-free foams, which are still very new, expensive, and would require storage tanks to be cleaned, and the purchasing of new equipment to apply it in firefighting, which could only be done at significant financial cost.
However, the problem is one likely to be faced by firefighting groups and the military in coming years, as numerous communities have discovered the risks of AFFF and are now suffering drinking water contamination. In addition, a growing number of firefighters are being diagnosed with various forms of cancer following long-term exposure to the older AFFF foam products.
PFAS Health Concerns
PFAS were first introduced into the manufacturing industry in the 1940's, because of their ability to resist heat, grease, stains, and water. However, since then the chemicals have been linked to a myriad of adverse health effects including liver damage, thyroid disease, decreased fertility, high cholesterol, obesity, hormone suppression, and cancer.
The chemicals are projected to take thousands of years to degrade, and past studies have shown their ability to enter and stay in the environment and human body through the air, dust, food, soil, and water. Previous U.S. Centers for Disease Control and Prevention studies have shown PFAS chemicals primarily settle into the blood, kidney and liver, and could likely be detected in the blood of 98% of the U.S. population.
A number of chemical manufacturers face a growing number of PFAS firefighter foam lawsuits in federal courts nationwide, which are centralized in the U.S. District Court for the District of South Carolina for pretrial proceedings. Plaintiffs say exposure to the chemicals have led to cases of cancer among military and civilian firefighters, and among those who live in communities whose water supplies have been contaminated.
"*" indicates required fields