Firefighter Foam Class Action Lawsuit Filed Over Pollution of Private Wells
January 25, 2021
By: Irvin Jackson
A Texas man has filed a class action lawsuit over toxic firefighter foam chemicals which polluted private wells near military bases, where the products were used regularly during fire training exercises.
The complaint (PDF) was filed earlier this month by Mike Jackson, of Lubbock, Texas, in the U.S. District Court for the District of South Carolina, where all firefighter foam lawsuits brought throughout the federal court system are consolidated for pretrial proceedings as part of an MDL, or multidistrict litigation.
Jackson's case seeks class action status to pursue damages for himself and other private landowners whose wells were contaminated with per- and polyfluoralkyl substances (PFAS), including perfluorooctane sulfonate (PFOS) and perfluorooctanoic acid (PFOA).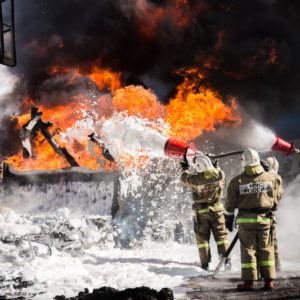 The lawsuit names dozens of defendants, such as Tyco Fire Products, Carrier Global Corporation, Dupont, Kidde and others, indicating that toxic foam used at nearby Reese Air Force Base was released into the environment and poisoned dozens of local wells, including Jackson's private well on his three-acre property.
"Due to this contamination, Plaintiff and the Class have suffered real personal injuries, bioaccumulation of PFOA in their bodies, property damage and the diminution in value of their properties as a result of the release of PFOA to their private wells and water supplies," Jackson's lawsuit states. "Plaintiff and the Class have suffered an assortment of diseases and medical conditions as a direct result of their exposure to PFOA contamination of their private wells as a source of irrigation and water supply."
The lawsuit also indicates the contamination has led to crop losses, and that those in the Lubbock area have been unknowingly exposed to toxic chemicals at levels dangerous to their health without adequate warning.
Jackson indicates the first became aware of the contamination in 2019 with the Air Force warned him of the potential presence of PFAS on his farm and in his well. Samples taken by the government confirmed levels of PFAS above the lifetime health advisory level set by the U.S. Environmental Protection Agency (EPA).
As a result, Jackson was forced to install a government- provided whole-home drinking water system and his property value has suffered as a result.
The lawsuit also notes that he, and others similarly situated, now must be concerned about their health after years of PFAS exposure with no warning of the potential dangers, which includes a higher risk of many types of cancer, thyroid hormone problems, and autoimmune diseases.
Health Concerns From Firefighter Foam
Aqueous film-forming foams (AFFF) have been used by firefighters over the past few decades, with certain versions containing PFAS, which are now known to build up in the body and increase the risk of cancer and other health problems.
Experts indicate PFAS chemicals contained in AFFF may take thousands of years to degrade, and past studies have shown their ability to enter and stay in the environment and human body through the air, dust, food, soil, and water.
The toxic chemicals were first introduced into the manufacturing industry in the 1940's, because of their ability to resist heat, grease, stains, and water. However, since then the chemicals have been linked to a myriad of adverse health effects including liver damage, thyroid disease, decreased fertility, high cholesterol, obesity, hormone suppression, and cancer.
The class action lawsuit joins a number of individual firefighting foam lawsuits filed across the nation, all raising similar allegations of the manufacturers failing to warn of the dangerous PFAS, which have resulted in those exposed to develop testicular cancer, kidney cancer, pancreatic cancer and other injuries.
Due to the growing number of lawsuits over firefighting foam injuries brought throughout the federal court system, centralized pretrial proceedings have been established in the U.S. District Court for the District of South Carolina, where the parties are engaging in coordinated discovery and preparing for a series of early "bellwether" trials designed to gauge how juries are likely to respond to certain evidence and testimony that will be repeated in claims brought by firefighters nationwide.
"*" indicates required fields