Firefighter Developed Testicular Cancer Due To Use Of Film-Forming Foam, Lawsuit Alleges
March 19, 2021
By: Irvin Jackson
A growing number of lawsuits continue to be filed by former firefighters over cancer caused by film-forming foams used to combat gasoline and chemical fires, with more than 1,000 claims now pending throughout the federal court system.
One recent complaint (PDF) was filed by James Francis McGrath on March 10, raising allegations which have been mirrored in other lawsuits filed throughout the federal court system against 3M Company, Buckeye Fire Equipment, Dupont, Kidde, and a host of other chemical and safety equipment manufacturers named as defendants.
McGrath indicates he was diagnosed with testicular cancer from firefighting foam used throughout his career, including during training exercises and when fighting actual fires. For years, the aqueous film-forming foams (AFFF) have been sold with toxic chemicals known as per and polyfluoroalkyl substances (PFAS), which are known to build up in the body and increase the risk of cancer and other health problems.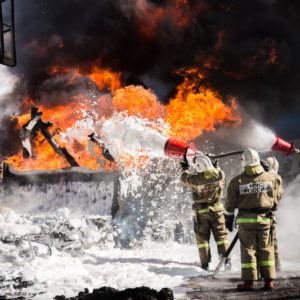 "PFAS binds to proteins in the blood of humans exposed to the material and remains and persists over long periods of time. Due to their unique chemical structure, PFAS accumulates in the blood and body of exposed individuals," the lawsuit filed by McGrath explains. "PFAS are highly toxic and carcinogenic chemicals. Defendants knew, or should have known, that PFAS remain in the human body while presenting significant health risks to humans."
Experts indicate PFAS chemicals contained in AFFF may take thousands of years to degrade, and past studies have shown their ability to enter and stay in the environment and human body through the air, dust, food, soil, and water.
The toxic chemicals were first introduced into the manufacturing industry in the 1940's, because of their ability to resist heat, grease, stains, and water. However, since then the chemicals have been linked to a myriad of adverse health effects including liver damage, thyroid disease, decreased fertility, high cholesterol, obesity, hormone suppression, and cancer.
McGrath's complaint joins hundreds of other firefighting foam lawsuits filed across the nation, all raising similar allegations of the manufacturers failing to warn of the dangerous PFAS, which have resulted in those exposed to develop testicular cancer, kidney cancer, pancreatic cancer and other injuries.
Given common questions of fact and law raised in the complaints, the cases are all centralized in the U.S. District Court for the District of South Carolina, as part of a federal multidistrict litigation (MDL).
According to an updated docket report (PDF) released this week, there are currently at least 1,035 cases consolidated before U.S. District Judge Richard Gergel, for coordinated discovery and coordinated management.
In addition to individual firefighter cancer lawsuits, the litigation also includes complaints filed by individuals diagnosed with cancer after years of drinking water contaminated from the use of the film-forming foam at military bases, airports and other training sites. A number of film-forming foam class action lawsuits have also been filed over costs associated with cleaning up the toxic chemicals from local water supplies.
As part of the coordinated management of the litigation, it is expected Judge Gergel will prepare a small group of "bellwether" cases for early trial dates, to help the parties gauge how juries respond to certain evidence and testimony that will be repeated throughout the claims, and which companies are ultimately held accountable for this emerging health disaster among firefighters and communities nationwide.
"*" indicates required fields