Firefighting Foam Class Action Settlement Approved Over Tyco Fire Products Testing Site
February 04, 2021
By: Irvin Jackson
A federal judge has agreed to a $17.5 million settlement in a firefighting foam class action brought against Tyco Fire Products, resolving claims over water contamination in a Wisconsin community.
On January 25, U.S. District Judge Richard Gergel issued a preliminary approval order (PDF) regarding a deal reached between Tyco and property owners Joan and Richard Campbell of Wisconsin, which was first announced earlier in the month.
The Campbells filed a class action lawsuit against the company, as well as Chemguard, Inc. and Chemdesign, Inc., indicating that local water wells in Marinette County, Wisconsin were contaminated with per- and polyfluoroalkyl substances (PFAS), which are toxic chemicals contained in firefighter foam that entered private wells from a nearby testing and research site.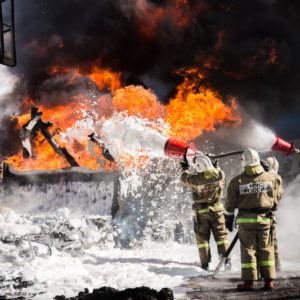 Joan Campbell developed thyroid cancer and thyroid disease due to the PFAS chemicals in their private well, and the complaint sought class action status on behalf of 270 households in Peshtigo, Wisconsin.
Experts indicate PFAS chemicals contained in aqueous film-forming foams (AFFF) may take thousands of years to degrade, and past studies have shown their ability to enter and stay in the environment and human body through the air, dust, food, soil, and water.
The toxic chemicals were first introduced into the manufacturing industry in the 1940's, because of their ability to resist heat, grease, stains, and water. However, since then the chemicals have been linked to a myriad of adverse health effects including liver damage, thyroid disease, decreased fertility, high cholesterol, obesity, hormone suppression, and cancer.
The settled claim is one of a growing number of firefighting foam lawsuits filed against Tyco and a number of other manufacturers, including many filed by individual fire fighters who developed testicular cancer, kidney cancer, pancreatic cancer and other injuries following years of direct exposure to PFAS contained in products used during training exercises.
Given common questions of fact and law raised in the litigation, the cases are all centralized before Judge Gergel in the U.S. District Court for the District of South Carolina, where the parties are engaging in coordinated discovery and preparing for a series of early "bellwether" trials designed to gauge how juries are likely to respond to certain evidence and testimony that will be repeated in claims brought by firefighters and homeowners nationwide.
"*" indicates required fields