Infant Tylenol Overdoses May Be Prevented By Flow Restrictors: Report
January 08, 2014
By: Irvin Jackson
A new report suggests that a certain type of flow restrictor for medication bottles could prevent many infants from suffering a Tylenol overdose, but Johnson & Johnson has apparently decided that the benefit does not justify the 8 to 10 cents of additional cost per bottle.
According to an investigation by Consumer Reports, which tested infant medicine bottles for liquid acetaminophen products like Infant Tylenol, one type of flow restrictor was far more effective than the one commonly used. However, the consumer advocacy group also found that the industry was not willing to foot the cost for the safer valve.
Consumer Reports estimates about 10,000 infants under the age of 6 go to the emergency room each year because they overdosed on liquid medications like infant acetaminophen or cold and cough medicines. About 20 of those children die and many suffer severe liver damage. In many cases, the child grabs the bottle and sucks the medication down, thinking it is a drink, before a caregiver can stop them or sees them.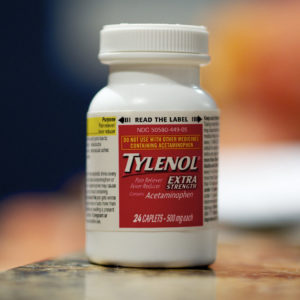 In the case of liquid Tylenol, whose active ingredient is acetaminophen, overdose poses a serious risk of liver failure and death.
Closed Flow Restrictors Could Save Lives
Consumer Reports reviewed two types of flow restrictors on the market that are supposed to prevent easy child access if the safety cap is circumvented. One is the "open" type, which consists of a plastic disk with a hole in the middle. It prevents spills and pouring of the liquid medication, but does not prevent a child from sucking the contents out. The second type is a "closed" restrictor, which includes an elastic valve that prevents a child from being able to squeeze, suck or otherwise easily get the dangerous medications out. Consumer Reports found that the few brands that use closed restrictors are significantly safer.
The difference between the two types of flow restrictors is price. The open type costs 2 to 3 cents per bottle and the closed type costs 8 to 10 cents per bottle. Despite the potentially life-saving benefits that could be provided by "closed" flow restrictors, the cheaper "open" restrictors are far more commonly used.
Manufacturers of generic brands say they are duplicating Infant Tylenol, which uses the open restrictor. However, officials from McNeil Healthcare, the subsidiary of Johnson & Johnson that distributes Tylenol, said each company has to make its own safety decision. One manufacturer estimated that converting the manufacturing line for the closed restrictors would cost about $1 million.
Johnson & Johnson reported $25.4 billion in worldwide pharmaceutical sales in 2012.
Consumer Reports shared its results with ProPublica, which is a non-profit, investigative journalism group that published an investigative report on the infant medication flow restrictors. The report found that one scientist at the U.S. Centers for Disease Control and Prevention (CDC), Dr. Daniel Budnitz, has been fighting to get the closed flow restrictors used since 2007.
Currently, there are no requirements for infant liquid medications to have any flow restrictors of any kind. Dr. Budnitz has held conferences and gotten pledges from companies to use flow restrictors, but very few use the more effective version.
Early last year, Budnitz contacted ASTM International, an industry standards-setting organization formerly known as the American Society for Testing and Materials (ASTM) and is trying to work with them toward making the closed flow restrictors the industry standard.
Tylenol Liver Failure Risks
Acetaminophen is widely recognized as a leading cause of liver failure in the United States, with some estimates suggesting that all forms of the popular painkiller may be responsible for more than 50,000 emergency room visits each year, including 25,000 hospitalizations and over 450 deaths.
Amid aggressive marketing that indicates Tylenol is trusted and safe, many consumers are unaware of the potential risks associated with side effects of Tylenol and the substantial risk of liver failure. Many versions of the medication, such as Extra Strength Tylenol tablets, contain a very narrow window between the recommended dose and a risk of liver damage.
Johnson & Johnson currently faces a number of Tylenol liver failure lawsuits filed by individuals who allege that the drug has carried inadequate warnings about the risk of problems. There are currently over 100 product liability lawsuits pending in the federal court system against Johnson & Johnson that have been consolidated for pretrial proceedings as part of an MDL, or multidistrict litigation, which is centralized before U.S. District Judge Lawrence Stengel in the Eastern District of Pennsylvania.
"*" indicates required fields