Four NEC Lawsuits Against Similac, Enfamil Manufacturers Selected for Initial Bellwether Trials
October 27, 2023
By: Irvin Jackson
With hundreds of Similac lawsuits and Enfamil lawsuits being pursued throughout the federal court system by families of children who developed necrotizing enterocolitis (NEC), a group of four cases have been selected for a series of "bellwether" trials, which will help determine how juries are likely to respond to testimony and evidence that will be repeated throughout the litigation.
Each of the NEC lawsuits present similar claims against Abbott Laboratories and Mead Johnson, indicating that premature babies developed the devastating intestinal disease shortly after being fed the cow's milk-based infant formula while still in the NICU, often resulting in fatal injuries or the need for emergency surgery to remove large sections of the intestines.
Families allege that the makers of Similac and Enfamil knew about the baby formula NEC risks for premature infants, yet continued to market and promote their products to hospitals, doctors and parents, without warning about the problems.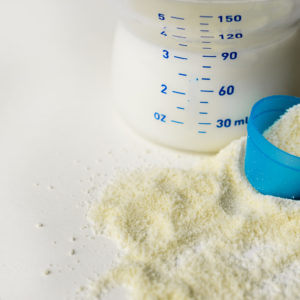 NEC Lawsuit Bellwether Selections
Last year, all Similac and Enfamil NEC lawsuits filed throughout the federal court system were consolidated before U.S. District Judge Rebecca R. Pallmeyer in the Northern District of Illinois, as part of an MDL, or multidistrict litigation.
As part of the management of the litigation, Judge Pallmeyer established a NEC lawsuit "bellwether" program, which started with a group of 12 complaints brought against the two infant formula manufacturers. Those claims then went through case-specific discovery, and the group was later whittled down to eight, and on October 25, Judge Pallmeyer issued an order (PDF) listing the four final cases, which plaintiffs and defendants have selected to serve as the initial bellwether trials.
Each side was able to choose two cases from the earlier pool for the bellwether trials, which will now be prepared to go before juries in the federal court system.
Two of the selected lawsuits name both Abbott and Mead Johnson as the defendants while one names Mead Johnson as the sole defendant, and the other names Abbott as the sole defendant. Three of the cases involve infants who died.
The lawsuit filed solely against Abbott Laboratories was a wrongful death lawsuit by Ericka Mar (PDF), of Kentucky, who says her prematurely born daughter, RaiLee, died from NEC after being fed Similac cow's milk-based infant formula while in the NICU. She was only 15 days old. The complaint filed against Mead Johnson was originally filed in June 2022 by Alexis Inman, mother of a child identified only as D.W., who was also deceased.
The two lawsuits naming both companies as defendants include one filed by the parents of Deondrick W. Brown, Jr. (PDF) which was a wrongful death lawsuit indicating the Louisiana infant died of NEC in September of 2021, just a little over two months after being born prematurely and being fed Similac and Enfamil products.
The other lawsuit against both companies and selected for the bellwether trial pool was filed by Keosha Diggs (PDF), of Maryland, in September 2022. Her son, identified as K.B., survived NEC after being fed both Similac and Enfamil infant formula products, but suffered severe complications and had to undergo life-saving surgeries that will likely continue to cause long-term health complications throughout his life.
While the date the first NEC bellwether trial will begin has not yet been scheduled, Judge Pallmeyer has previously indicated the cases will be spaced about 12 weeks apart, and prior scheduling orders suggested the claims would be ready to go before juries by the second half of 2024.
As the bellwether trial process continues, NEC baby formula lawyers are continuing to review and file new claims for families nationwide, and the size of the litigation is expected to continue to grow throughout 2023 and 2024. Following the four early trial dates, if the parties fail to negotiate NEC lawsuit settlements for families, it is then likely that Judge Pallmeyer will start remanding dozens of individual claims back to U.S. District Courts nationwide for separate trial dates.
"*" indicates required fields