Generic Protonix Recall Issued Over Glass Particle Contamination
December 20, 2017
By: Irvin Jackson
A recall has been issued for certain vials of generic Protonix I.V., an injectable heartburn drug, due to a risk that it may be contaminated with glass particles. 
The FDA announced a Pantoprazole Sodium recall at the hospital level on December 19, impacting 40 mg vials distributed by AuroMedics Pharma LLC. The generic Protonix recall came after the manufacturer received a complaint that a piece of glass was found in one of the vials.
AuroMedics and the FDA warn that injecting drugs with glass particulate matter present could result in local irritation, swelling, or more serious adverse health side effects such as blocking and clotting blood vessels, which could cause life-threatening injuries. There are no reports of injuries or adverse health events linked to the generic Protonix I.V. recall.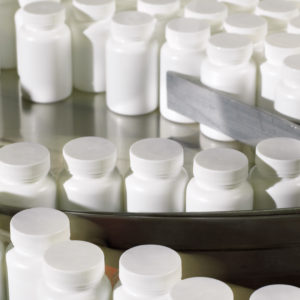 The recall affects one lot of pantoprazole sodium for injection, 40 mg per vial, distributed in cartons containing 10 vials. The affected vials have an NDC number of 55150-202-10. The lot number is CPO170035, with an expiration date of May 2019. The vials have a grey, slotted rubber stopper, aluminum seals, and a Sky Blue colored polypropylene disc. The recalled vials were distributed on August 7, 2017.
The company indicates that it is notifying distributors and customers by mail and is arranging for their return or replacement.
Pantoprazole sodium is the injectable generic form of the proton pump inhibitor (PPI) Protonix I.V., which is used for short-term relief from symptoms of gastroesophageal reflux disease (GERD) associated with erosive esophagitis and pathological hypersecretion, including zollinger-ellison syndrome. Other PPIs include Nexium, Prevacid and Prilosec, though they are most commonly taken in pill form.
PPI Health Risks
The recall comes as the entire class of heartburn drugs have come under scrutiny due to potential kidney injury side effects, with several recent studies suggesting that use of the heartburn drugs increases the risk of acute kidney injury, chronic kidney disease and potentially kidney failure.
In late 2014, the FDA added heartburn drug warnings about the risk of C. Diff associated diarrhea, and also indicated at that time that the medications have been linked to reports of acute interstitial nephritis, which involves kidney inflammation that may lead to more serious problems.
According to a study published by the medical journal CMAJ Open in April 2015, researchers indicated that users of Nexium, Prilosec or other heartburn drugs face an increased risk of kidney injury, which may lead to kidney failure.
This research was followed by a study published in the medical journal JAMA Internal Medicine in January 2016, which found that users also face an increased risk of chronic kidney disease from heartburn drugs.
Those findings were supported by another study published in April 2016, in which researchers with the Department of Veterans Affairs found that users of Nexium, Prilosec or other PPIs may be 96% more likely to develop kidney failure and 28% more likely to develop chronic kidney disease after five years of use."
A number of individuals throughout the United States who have suffered acute kidney injury, chronic kidney disease or renal failure are now pursuing potential Nexium lawsuits, Prilosec lawsuits and other claims against makers of proton pump inhibitors (PPI), alleging that the risk of kidney problems should have been included among warnings provided to consumers and the medical community.
Customers with questions about the AuroMedics pantoprazole sodium injection recall can contact Aurobindo Customer Service by calling 866-850-2876 and selecting Option 1. Those in need of assistance returning the affected vials can contact Inmar by calling 800-967-5952.
Patients are urged to contact their healthcare provider if they experience any adverse side effects after receiving pantoprazole sodium. Adverse health events should also be reported to the FDA's MedWatch Adverse Event Reporting program.
"*" indicates required fields