Endometrial Cancer Caused By Hair Relaxer Chemicals in Dark & Lovely, Mizini and Optimum: Lawsuit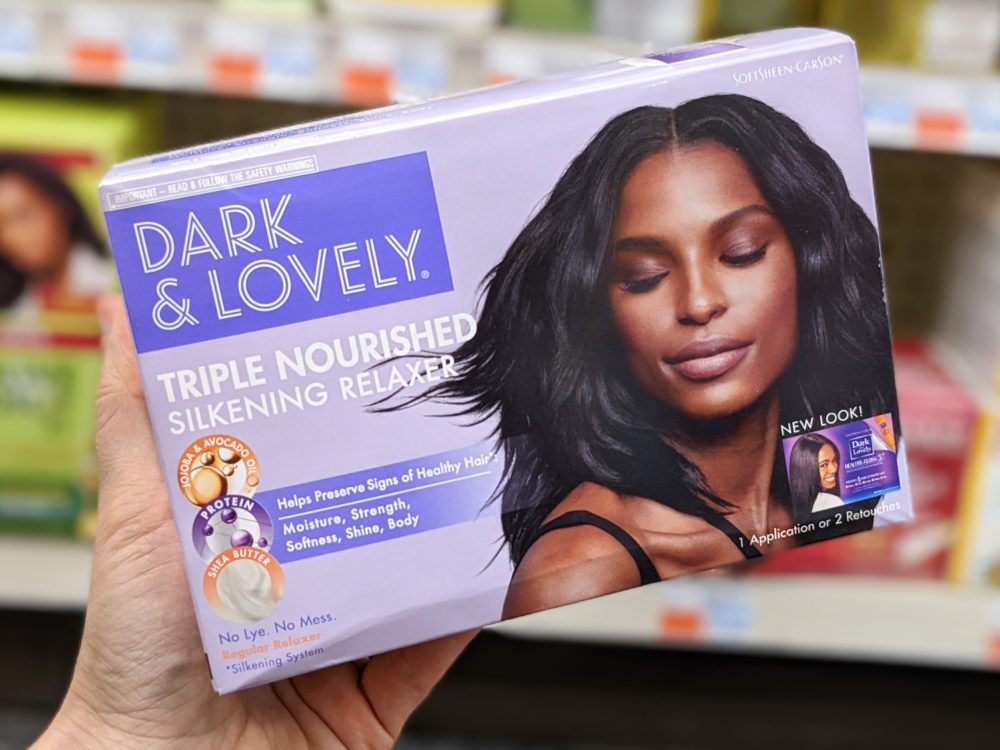 June 21, 2023
By: Irvin Jackson
An Ohio woman has brought a product liability lawsuit against the makers of Dark & Lovely, Mizini and Optimum hair relaxers, alleging that chemicals in the widely used products caused her diagnosis of endometrial cancer.
The complaint (PDF) was filed by Dana Reeves in the U.S. District Court for the Southern District of Illinois on June 20, indicating that L'Oreal USA and its Softsheen-Carson subsidiary knew or should have known for decades that regular exposure to phthalates and other endocrine disrupting chemicals in the hair relaxers may cause cancer. However, no attempts were made to warn women using their products.
Reeves states that she regularly applied Dark & Lovely, Optimum and Mizani hair relaxers since she was just 13 years old in about 1982, and continued to expose herself to the chemicals on a regular basis until late 2019, unaware that she was increasing her risk of cancer.
In June 2021, at the age of 51, Reeves was diagnosed with endometrial cancer, which required a full hysterectomy only a few months later.
"Ms. Reeves used Defendants' Products by applying this to her scalp or by having a professional at a hair salon apply Defendants' Products exactly as instructed by Defendants," her lawsuit states. "Ms. Reeves would keep the Product on her hair for the time allotted in the instructions. There was never any indication, on the Products packaging or otherwise, that this normal use could and would cause her to develop uterine and/or endometrial cancer."
Lawsuits Over Hair Relaxers and Endometrial Cancer
The claim joins a growing number of similar hair relaxer lawsuits now being pursued by women nationwide in recent months, each involving allegations that manufacturers put their desire for profits ahead of the safety and health of women of color, by failing to disclose that chemicals in hair relaxers cause endometrial cancer, uterine cancer, ovarian cancer, fibroids and other side effects.
HAIR RELAXER COMPENSATION
Lawsuits over the link between endometrial cancer and hair relaxers began to emerge late last year, after the publication of a study in the Journal of the National Cancer Institute, which highlighted the substantial risk women have been exposing themselves to wen using products like Dark & Lovely, Optimum and other chemical hair relaxers.
In findings published in October 2022, researchers from the National Institute of Environmental Health reviewed data on nearly 34,000 women in the United States between the ages of 35 and 74, who completed questionnaires on their use of multiple hair products, including hair dyes, straighteners, relaxers, or pressing products, and permanents or body waves. A 10 year follow-up on the incident rate of uterine cancer diagnosis was performed, and researchers reported that women who used hair relaxers at least four times per year faced a 156% increased risk of developing uterine cancer.
Endometrial cancer is the most common type of uterine cancer, which begins in the uterus and typically develops slowly over time. As a result, the problems are often not discovered until the cancer is already at an advanced stage.
Reeves indicates that due to the manufacturers' failure to disclose the risks associated with their products, she and other women had no way of knowing their endometrial cancer was caused by the hair relaxer chemicals.
"Had Plaintiff received a warning that the use of the [hair relaxer products] would significantly increase her risk of developing endometrial uterine cancer, she would not have used them," Reeves states in the complaint.
June 2023 Hair Relaxer Lawsuit Update
The complaint filed by Reeves will be consolidated and centralized with hundreds of other Dark & Lovely lawsuits, Just For Me lawsuits and other claims brought against the manufacturers of widely used chemical hair straighteners, which have been consolidated as part of a federal multidistrict litigation (MDL) before U.S. District Judge Mary M. Rowland in the Northern District of Illinois.
Given common questions of fact and law raised in the lawsuits, Judge Rowland is working with the parties to establish a schedule for coordinated discovery and determining when a series of early bellwether trials may be ready to begin.
As part of the coordinated management of the litigation, it is expected that Judge Rowland will establish a bellwether process, where small groups of representative injury claims will go through case-specific discovery and be prepared for early trial dates, to help gauge how juries are likely to respond to certain evidence and testimony that will be repeated throughout the litigation.
Following the MDL proceedings and any early bellwether trials scheduled by Judge Rowland, if the parties fail to negotiate hair relaxer settlements for individuals diagnosed with cancer and other injuries, the Court may later remand each individual lawsuit directly filed in the MDL back to the U.S. District Court where it would have originated for a separate trial.
Tags:
Cancer,
Dark & Lovely,
Endocrine Disruptors,
Endometrial Cancer,
Hair Relaxer,
Hair Straighteners,
L'Oreal,
Mizani,
Optimum,
Phthalates,
Uterine Cancer
---
Find Out If You Qualify for Hair Relaxer Compensation
"*" indicates required fields