Lawsuit Claims African Pride Olive Miracle, Other Hair Relaxing Perms Caused Uterine Cancer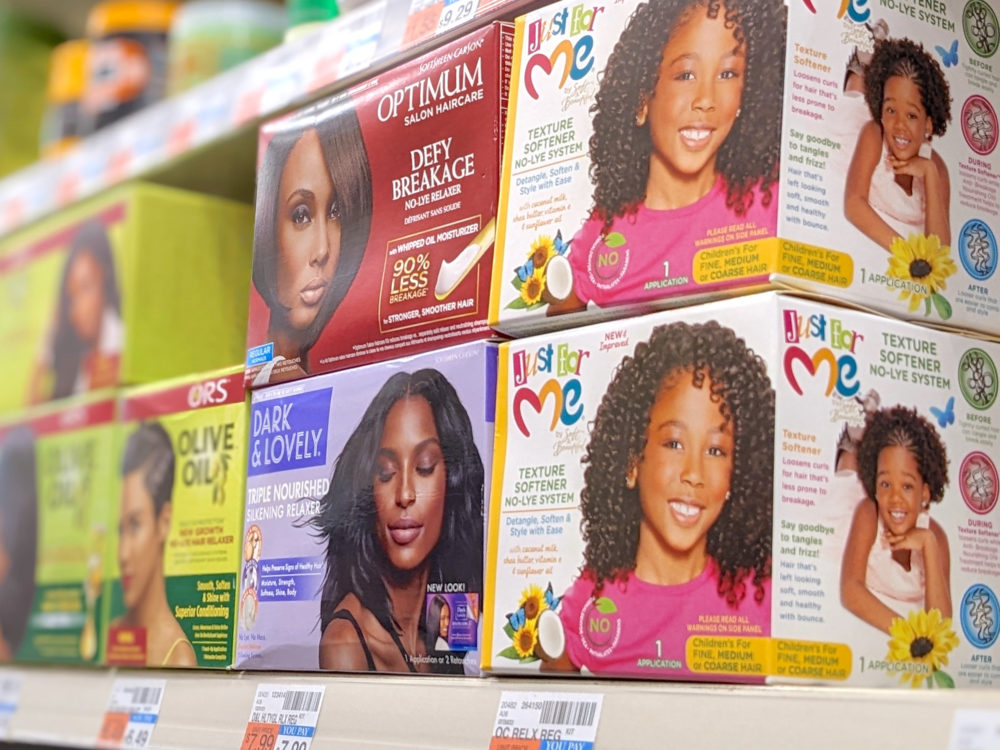 March 29, 2023
By: Irvin Jackson
A lawsuit filed against the makers of African Pride Olive Miracle, Just for Me and similar products alleges that regular and prolonged exposure to the hair relaxing perms caused uterine cancer to develop for a Puerto Rican woman.
The complaint (PDF) was filed this month by Maria C. Rodriguez, in the U.S. District Court for the District of Puerto Rico, over the failure to disclose the existence of toxic endocrine disrupting chemicals (EDC) in hair straighteners and perm kits, which are known to increase the risk of cancer and other injuries.
The lawsuit names Strength of Nature, Godrej Son Holdings, Inc. L'Oreal USA, Inc., Softsheen-Carson, LLC, Dabur International Ltd. and Namaste Laboratories LLC as defendants. The companies manufacture some of the most widely used hair relaxing perm kits, such as African Pride Olive Miracle, Dark & Lovely, Just for Me, ORS – Olive Oil, Soft & Beautiful and TCB Hair Relaxer, which Rodriguez claims caused her uterine cancer diagnosis.
Rodriguez's case joins a growing number of similar hair relaxing perm lawsuits filed by women nationwide in recent months, each involving similar allegations that manufacturers put their desire for profits ahead of the safety and health of women of color, while failing to warn about the potential health risks linked to their products.
According to her complaint, Rodriguez, of Puerto Rico, was diagnosed with stage IB uterine cancer in March 2022, following years of using African Pride and similar hair relaxing perm products. She claims the manufacturers knowingly exposed women to toxic endocrine disrupting chemicals in their products without warning, despite scientific evidence they could pose a serious health risk to users.
"There is no 'safe level of EDC' exposure, so it is unsuitable for human application while these EDCs remain as ingredients in hair straighteners and/or relaxers," the lawsuit states. "Defendants wrongfully advertised and sold the Toxic Hair-Straightener and/or Relaxers without any labeling to indicate to consumers that these products may contain EDCs and may cause uterine cancer."
Hair Relaxing Perm Cancer Risks
Manufacturers face a rapidly growing litigation, which emerged after a number of studies published in recent years highlighted the link between hair relaxing perms and cancer risks, including uterine cancer, endometrial cancer and ovarian cancer.
The lawsuits point to a large body of medical research which highlights the adverse side effects endocrine disrupting chemicals in hair relaxer can have on the body. The hair relaxer chemicals are known to interfere with the normal activity of the endocrine system, and have been linked to the development of cancers, as well as uterine fibroids, endometriosis, abnormalities in reproductive organs, and other injuries.
In October 2022, researchers published findings in the Journal of the National Cancer Institute, which warned that ingredients used in chemical hair relaxers may cause uterine cancer, finding that the rate of uterine cancer was nearly three times greater among women who frequently used hair relaxer chemicals, compared to women who never used the products.
April 2023 Hair Relaxing Perm Lawsuit Update
Given common questions of fact and law involved in each of the claims, the U.S. Judicial Panel on Multidistrict Litigation decided last month to consolidate and centralize all hair relaxer and perm lawsuits as part of an MDL, or multidistrict litigation, and appointed U.S. District Judge Mary M. Rowland to preside over all discovery and pretrial proceedings out of the Northern District of Illinois.
As part of the coordinated management of the litigation, it is expected that Judge Rowland will establish a bellwether process, where small groups of representative injury claims will go through case-specific discovery and be prepared for early trial dates, to help gauge how juries are likely to respond to certain evidence and testimony that will be repeated throughout the litigation.
Following the MDL proceedings and any early bellwether trials scheduled by Judge Rowland, if the parties fail to negotiate hair relaxer settlements for individuals diagnosed with cancer and other injuries, the Court may later remand each individual lawsuit directly filed in the MDL back to the U.S. District Court where it would have originated for a separate trial.
Learn More About Hair Relaxing Perm Lawsuits
Lawyers provide free consultations and claim evaluations to help women throughout the U.S. determine whether they may be entitled to settlement benefits for endometrial cancer, ovarian cancer or uterine cancer caused by hair relaxing perm kits.
FIND OUT IF YOU ARE ELIGIBLE
Image Credit: Kelly Heck Photography
"*" indicates required fields