Lawsuit Against Hair Relaxer Manufacturers Alleges Black Women Targeted, Without Disclosing Cancer Risks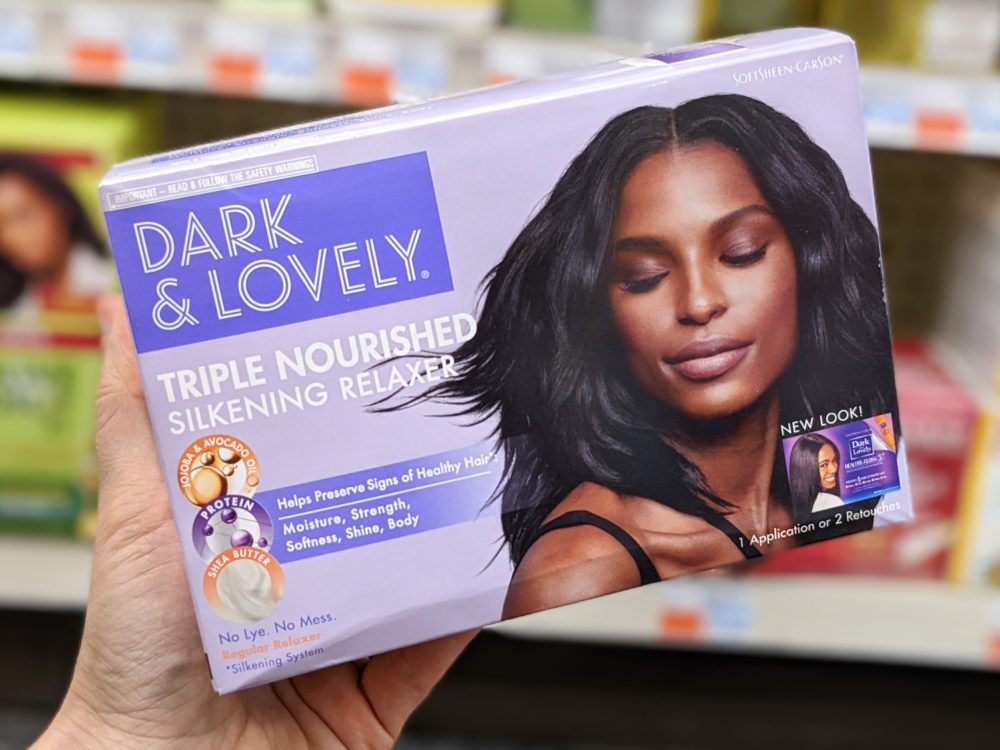 March 02, 2023
By: Irvin Jackson
According to allegations raised in a recently filed lawsuit against hair relaxer manufacturers, Black women in the United States have been targeted with aggressive advertisements that encourage the use chemical straighteners, without disclosing the risk of endometrial cancer, uterine cancer and other life-changing injuries.
The complaint (PDF) was brought last week by Erika Williams in the U.S. District Court for the Eastern District of Michigan, indicating she developed uterine/endometrial cancer as a direct result of her regular and prolonged exposure to phthalates and other endocrine disrupting chemicals found in several popular hair relaxer products.
Williams filed the lawsuit against several hair relaxer manufacturers, including L'Oreal USA and its Soft-Sheen Carson subsidiary, as well as Godrej Sun Holdings, Strength of Nature, LLC, Dabur International, Namaste Laboratories, Beauty Bell Enterprises and its House of Chatham, LLC subsidiary.
These companies have manufactured and sold some of the leading chemical straighteners and hair perms on the market in the U.S., including Dark & Lovely, Organic Root Stimulator (ORS) Olive Oil, Motions, TCB, SmartPerm, Africa's Best and others.
Endometrial Cancer Caused by Hair Relaxer Chemicals
In bringing the complaint, Williams joins a growing number of women nationwide who have filed a lawsuit against hair relaxer manufacturers in recent months, each involving similar allegations that a desire for profits was placed before the safety and health of Black women, who account for as much as 22 percent of the $42 billion-a-year personal care products market, even though Black people make up about 14 percent of the U.S. population.
HAIR RELAXER COMPENSATION
Williams, of Detroit, Michigan, indicates she was first exposed to hair relaxer products when she was only 11 years old in 1995, using products including Dark & Lovely, Organic Root Stimulator Olive Oil, Motions, TCB, SmartPerm, and Africa's Best until November of last year. She would regularly apply the hair straightening chemicals to her scalp, or have the hair perm applied at a salon, following the instructions provided by manufacturers.
Although there have been a number of studies highlighting the potential link between hair relaxers and cancer, Williams indicates there was never any indication on any of the products that straightening her hair would cause uterine or endometrial cancer.
In November 2023, Williams was first diagnosed with uterine endometrial adenocarcinoma, which is a type of uterine cancer, also referred to as endometrial cancer. Unaware of the dangers associated with the hair relaxers, she continued to use the products and was diagnosed with a new manifestation of uterine endometrial adenocarcinoma in April 2017, and again in June 2021.
The lawsuit indicates she has undergone numerous painful and debilitating procedures as a result.
"There was never any indication, on the Products packaging or otherwise, that this normal use could and would cause her to develop uterine/endometrial cancer," the lawsuit states. "Plaintiff Erika Williams still requires treatment for injuries to this day."
Published Studies Resulted in Lawsuits Against Hair Relaxers
Like many other women who have filed lawsuits against hair relaxer manufacturers, Williams indicates the uterine cancer and endometrial cancer risks of these perm products were not publicly known until a number of studies published in recent years highlighted risk of uterine cancer and endometrial cancer from hair relaxer chemicals, including known cancer-causing agents like phthalates, parabens, formaldehyde and other volatile organic compounds.
In October 2022, researchers published findings in the Journal of the National Cancer Institute, which warned that ingredients used in chemical hair relaxers may cause uterine cancer, finding that the rate of uterine cancer was nearly three times greater among women who frequently used hair relaxer chemicals, compared to women who never used the products.
The lawsuits point to a large body of medical research which highlights the adverse side effects endocrine disrupting chemicals in hair relaxer can have on the body. The chemicals are known to interfere with the normal activity of the endocrine system, and hair relaxers have been linked to the development of various cancers, endometriosis, uterine fibroids and abnormalities in reproductive organs, and other injuries.
March 2023 Hair Relaxer Lawsuit Update
As more Black women learn their long-term exposure to hair straighteners and perm chemicals may be the cause of uterine cancer, endometrial cancer, uterine fibroids and other injuries, it is expected that thousands of women will file lawsuits against hair relaxer manufacturers throughout the federal court system this year.
Since each of the claims involve similar questions of fact and law, the U.S. Judicial Panel on Multidistrict Litigation (JPML) decided last month to create a hair relaxer lawsuit MDL, or multidistrict litigation, centralizing the claims in the Northern District of Illinois, where U.S. District Judge Mary Rowland will preside over coordinated discovery and pretrial proceedings throughout 2013.
It is expected that the Court will establish a "bellwether" process where a group of representative claims will be prepared for early trial dates to help gauge how juries will respond to certain evidence and testimony that will be repeated throughout the litigation. However, if the parties fail to negotiate hair relaxer settlements to resolve claims, each case may later be remanded back to the U.S. District Court where it was originally filed for a separate trial date in the future.
Learn More About Lawsuits Against Hair Relaxers and Perms
Lawyers provide free consultations and claim evaluations for women diagnosed with uterine cancer, endometrial cancer, ovarian cancer and other injuries caused by exposure to chemical hair straighteners.
FIND OUT IF YOU QUALIFY FOR A SETTLEMENT
---
Find Out If You Qualify for Hair Relaxer Compensation
Antonea

March 3, 2023 at 4:25 pm

I'm a black woman with four daughters and we all use perms as I never knew that they cause cancer never seen it printed on none of the perms that I purchased I would like to be apart of the lawsuit because I've permed my hair for over 20 years as well as I've permed my daughter hair when ever needed thanks

Petimia

March 3, 2023 at 3:42 pm

My name is Petimia Metcalf I also have use these same hair products since I was 16 years old and I am fifty two years old and now I have restricted lung disease and I need to talk to a lawyer.
"*" indicates required fields