Hartz Pet Collar Recall May Be Required After EPA Finds "Unacceptable Risk" for Children
October 18, 2022
By: Irvin Jackson
Federal officials are preparing to ban certain Hartz flea collars, after determining that the products contain chemicals which carry "unacceptable risks" for children.
In 2009, the Natural Resources Defense Council (NRDC) filed a petition calling for the U.S. Environmental Protection Agency (EPA) to cancel all uses of the pesticide tetrachlorvinphos (TCVP) in pet products. The petition claimed the chemical, which is a nerve agent, is dangerous for children who handled pets with flea collars using the pesticide.
According to critics, exposure to TCVP on pet collars may cause developmental problems in children's brains, increasing the risk of learning disabilities. Symptoms of TCVP exposure can include wheezing, nausea, vomiting, seizures, respiratory paralysis and death. Children could become exposed through residue left on the pet's fur and skin, which can last for weeks after the flea collar is removed, and can be adhere to furniture, rugs, and the hands of those who pet the animal.
EPA Review of TCVP Risks in Pet Collars
The EPA denied the NRDC petition in 2020. However, In April, the U.S. Court of Appeals for the Ninth Circuit issued an opinion (PDF) siding with the petitioners, requiring the EPA to reassess TCVP-containing pet products. The court ruled the EPA had ignored obvious evidence that it was underestimating the health risks of TCVP exposure.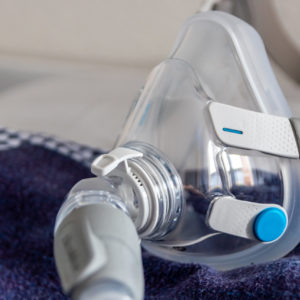 Did You Know?
Millions of Philips CPAP Machines Recalled
Philips DreamStation, CPAP and BiPAP machines sold in recent years may pose a risk of cancer, lung damage and other injuries.
Learn More
On October 12, the EPA issues a regulatory response (PDF) to the Ninth Circuit's ruling, indicating it is preparing a proposed Notice of Intent to Cancel registration for six Hartz TCVP-based flea and tick pet collars after considering the court's findings, however the agency is waiting for data from two Hartz studies which should be complete by the end of the year.
"In October 2022, EPA released a human health risk assessment finding that risk estimates for all pet collars found unacceptable risks for residential uses," the EPA indicated in an update to its TCVP information page. "Based on currently available data and taking into consideration currently registered residential uses for TCVP, EPA cannot determine that there are no unreasonable adverse effects to human health from residential exposure to TCVP in pet collars."
Flea and Tick Collar Litigation
The Hartz flea and tick collars have also reportedly caused numerous illnesses in pets themselves, similar to problems linked to Seresto Flea and Tick Collars, which have been linked to more than 2,500 deaths and 98,000 adverse health reactions among humans and pets since being put on the market in 2012.
Seresto pet collars also use TCVP as an active ingredient.
Millions of Seresto collars have been sold nationwide over the past decade, providing advertised convenience of an eight-month flea and tick protection. However, despite an unprecedented number of incidents, the original manufacturer, Bayer Animal Health, as well as Elanco Animal Health, which acquired ownership of the product line in 2020, have refused to issue a Seresto Pet Collar recall.
Public concerns about the risks associated with Seresto Pet Collars emerged in March 2021, after a USA Today investigation identified more than 75,000 reported incidents, which the Environmental Protection Agency (EPA) calls "unexpected effects" from the use of a pesticide.
A growing number of pet owners are now pursuing Seresto flea and tick collar lawsuits against the manufacturer, each involving similar allegations that pets were seriously injured or died due to after experiencing health problems linked to pesticide exposure.
Following thousands of pet poisonings lawsuits filed against Bayer Healthcare and Elanco Animal Health, the U.S. Judicial Panel on Multidistrict Litigation (JPML) centralized the cases under one U.S. District Judge John R. Blakey in the Northern District of Illinois for pretrial proceedings to avoid duplicative discovery into common issues in the cases, avoid conflicting pretrial rulings from different judges and to preserve the resources of parties, witnesses and the courts.
Kimberly

May 15, 2023 at 5:34 am

Put the hartz flea collar on my dog and now. She's having neurological damage due to the chemicals and her body is covered in a rash and having muscle tremors. This product should be removed

Amy

May 11, 2023 at 10:45 pm

My 2 1/2 year old dachshund started having seizures on NexGard. I stopped at product and switched to a Hartz flea collar and was put on phenobarbital orallly. She has since had two seizures today and I am taking her Hartz flea collar off. She has to have blood work done at the vet.

Em

February 27, 2023 at 7:57 pm

Why did it take the suffering and deaths of so many pets before the courts would allow litigation to hold companies like Hartz and Seresto to be held responsible? Just because pets are considered personal property doesn't mean they can or should be mistreated, suffer, and be killed.

Danielle

January 12, 2023 at 12:30 pm

These products need to be removed from the shelf! Hertz animal products have time and time again shown they cannot be trusted to be safe and useful for the animal or their kids! This shouldn't have to be a huge thing something is bad have it removed!
"*" indicates required fields