3M, DuPont Knew PFAS Was Dangerous, According To Its Own Scientists: House Committee
September 13, 2019
By: Irvin Jackson
A U.S. House of Representatives subcommittee held a hearing this week on a group of toxic chemicals used to create firefighting foam and non-stick substances, which some say are polluting the nation's drinking water supplies.
The House Subcommittee on the Environment held the hearing on September 11, taking testimony from representatives of 3M Company, DuPont and Chemours.
Despite significant evidence to the contrary, the companies denied that perfluorinated compounds (PFAS) were a threat to public health or the environment. However, members of the subcommittee pointed out that some of the companies' own scientists have called PFAS toxic in internal memos.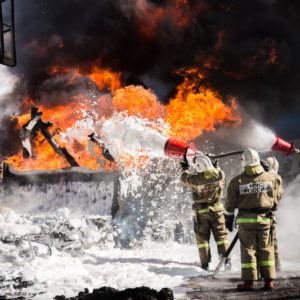 Learn More About
Exposure to firefighting foam chemicals may result in an increased risk of cancer for firefighters, military and airport personnel.
Learn More About this Lawsuit
PFASs are chemical substances used to manufacture a number of products, including food packaging materials, pizza boxes, popcorn bags, fabrics, nonstick cooking pans, and firefighting foams.
The chemicals are projected to take thousands of years to degrade, and past studies have shown their ability to enter and stay in the environment and human body through the air, dust, food, soil, and water. Previous U.S. Centers for Disease Control and Prevention (CDC) studies have shown PFAS chemicals primarily settle into the blood, kidney and liver, and could likely be detected in the blood of 98% of the U.S. population.
PFAS were first introduced into the manufacturing industry in the 1940's, because of their ability to resist heat, grease, stains, and water. However, since then, the chemicals have been linked to a myriad of adverse health effects including liver damage, thyroid disease, decreased fertility, high cholesterol, obesity, hormone suppression, and cancer.
Former Minnesota Attorney General Lori Swanson testified before the subcommittee on her state's struggles to hold the companies accountable for environmental contamination the state says was caused by PFAS. In February 2018, the morning the trial over the lawsuit was to begin, 3M Company agreed to pay $850 million to Minnesota to address long-term drinking water damage, and an additional $40 million for short-term drinking water remediation.
"Public records and public trial exhibits in the lawsuit show that 3M knew but concealed information about the dangers of these chemicals for decades – some of which the public is just now discovering," Swanson said in her testimony (PDF). "Now PFAS is in everyone's blood. Polar bears have it. The Inuit have it. Eaglets have it."
However, industry witnesses claimed the chemicals posed no threats, and have become safer over time.
"Over decades, 3M has monitored the health of its workers who, in the course of their normal job duties, had contact with substantially higher levels of PFOS or PFOA than the general population, yet, taken together, 3M's studies do not show adverse health effects caused by those exposures," Dr. Denise Rutherford, senior vice president of corporate affairs at 3M Company said in her written testimony (PDF). "These studies, conducted over many years and taken as a whole, provide compelling evidence that exposure to PFOS or PFOA at the much lower levels seen in the general population in the past and today are not causing adverse health effects."
Subcommittee members questioned the representatives of the companies on those statements, indicating that internal memos showed that some of their own scientists have warned about the toxic side effects of PFAS exposure, in some cases quitting in protest when 3M, for example, continued to make claims that the chemical was safe.
3M Company, Tyco Fire Products and Chemguard, Inc. face dozens of fire-fighting foam lawsuits filed by both individuals and municipalities nationwide, each involving similar allegations that the companies knew or should have known about the risks associated with exposure to PFAS within its aqueous film forming foam (AFFF), which has been used by the military over the last several decades during routine fire extinguishing exercises at military bases nationwide.
According to findings published in the Journal of the American Medical Association in 2012, exposure may also suppress the immune system and limit the ability of the body to create antibodies in response to childhood vaccines.
"*" indicates required fields