Industry Must Hand Over 12 Years of PFAS Data Under New EPA Rule
October 05, 2023
By: Irvin Jackson
Under a new rule recently approved by federal environmental regulators, manufacturers across numerous industries will have to submit 12 years of data on their manufacture, use, and disposal of, per- and polyfluoroalkyl substances (PFAS); more commonly known as "forever chemicals."
PFAS include a group of over 9,000 man-made substances that have been widely used for decades, to resist grease, oil and water. They are known to persist in the environment and build up in the human body, and there is growing evidence linking exposure to a myriad of adverse health effects, including liver damage, thyroid disease, decreased fertility, high cholesterol, obesity, hormone suppression, and cancer.
While most of the attention on the chemicals has focused on the use in aqueous film-forming foam (AFFF), which is used to fight fuel-based fires and has resulted in widespread water contamination around military bases, airports and firefighter training locations, PFAS are also found in a number of consumer products, including food containers, bottles and wrappers.
New EPA PFAS Data Requirements
In a Final Rule (PDF) announced on September 28, the U.S. Environmental Protection Agency (EPA) says it will require all manufacturers of PFAS-containing products to turn over a trove of data on those products and the chemicals used in them, dating back to 2011.
The information request covers a wide range of industries, from furniture manufacturers to bottling companies to the chemical industry. It also covers a broad range of data, including the identity of the PFAS chemicals used, what they were used for, how much was manufactured and processed, as well as any byproducts resulting from their use, worker exposure data, and an explanation of how the company disposed of the chemicals.
The agency indicates the data is necessary for regulators to understand the impact of PFAS, how widely they are used, which ones are most common and other factors which would help in promulgating future regulations.
"The data we'll receive from this rule will be a game-changer in advancing our ability to understand and effectively protect people from PFAS," Assistant Administrator for the Office of Chemical Safety and Pollution Prevention Michal Freedhoff said in an EPA press release. "Today we take another important step under EPA's PFAS Strategic Roadmap to deliver on President Biden's clear direction to finally address this legacy pollution endangering people across America."
The rule lists 1,462 PFAS which were made or used in the United States since 2011 which are subject to the reporting requirements. That includes 41 PFAS chemicals identified as chemicals of concern since the rule was first proposed in June 2021.
The agency calls for industries to submit the data within 18 months of the rule's effective date. It gives small businesses an additional six months if they are solely reporting data on PFAS used in imported products.
October 2023 PFAS Lawsuit Update
3M Company and other manufacturers of PFAS chemicals, currently face thousands of AFFF foam lawsuits and PFAS water contamination lawsuits alleging that they have concealed findings that indicate the chemicals are highly toxic. Internal corporate documents uncovered during the litigation have revealed the manufacturers knew of the risks and health consequences since at least the mid-1970s, yet have continued to hide the truth from the public.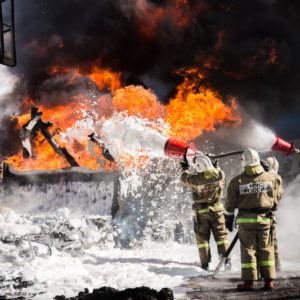 Amid continuing debate over the future regulation of PFAS chemicals, the first lawsuits brought against manufacturers are being prepared to go before juries, involving claims that the chemicals have already caused widespread damage and injuries.
Earlier this summer, a lawsuit brought by a Florida water provider was scheduled to go before a jury to help gauge how juries were likely to respond to certain evidence and testimony that would be repeated throughout PFAS lawsuits that seek to recover damages associated with removing the toxic chemicals from water supplies nationwide. In advance of the trial, a $12.5 billion PFAS settlement was reached to resolve claims brought by local water suppliers.
However, the manufacturers of firefighting foam and protective equipment continue to face individual personal injury lawsuits over the side effects of PFAS exposure, which are currently centralized in the U.S. District Court for the District of South Carolina, as part of a federal MDL or multidistrict litigation, since they each raise common questions of fact and law.
The U.S. District Judge presiding over the litigation has directed the parties to select a group of 28 representative personal injury claims for an PFAS exposure injury bellwether pool, involving plaintiffs who say they were exposed to chemicals that contaminated drinking water.
These cases will include eight kidney cancer claims, eight testicular cancer claims, eight thyroid disease claims and four ulcerative colitis claims. However, they will be limited to individuals alleging they were exposed to contaminated water near Peterson Air Force Base, Colorado Springs Municipal Airport, the Willow Grove Naval Air Station Joint Reserve Base and the Naval Air Warfare Center in Warminister.
"*" indicates required fields