Infant Acetaminophen Recall Issued Due to Risk of Dosing Problems
November 04, 2013
By: Irvin Jackson
Infant acetaminophen drops sold under a variety of brand labels, including Walgreen, Rite Aid, and Babies R Us, are being recalled because some of the oral dosing syringes may not have proper markings. This may result in an accidental acetaminophen overdose, which could cause liver failure or death.  
The acetaminophen infant suspension liquid recall was announced by the FDA on November 1, after the Perrigo Company warned that some of the packages it manufactured may contain dosing syringes without markings.
Although there have been no reports of overdoses or other injuries, receiving too much acetaminophen could cause liver damage, including complete liver failure and the need for an organ transplant.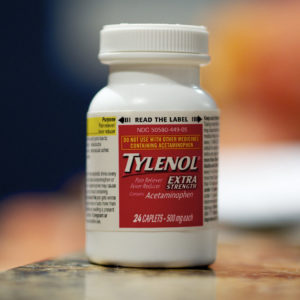 The manufacturer indicates that it believes the potential of any packages having an unmarked syringe is remote, but issued the recall out of an abundance of caution. The company notes that there is no actual problem with the acetaminophen drops themselves.
The syringes that should come with the acetaminophen drops have a white or yellow plunger and specific dose markings for 1.25 mL, 2.5 mL, 3.75 mL, and 5 mL. If that syringe came with the infant drops, then the consumer can ignore this recall.
The recall affects 18 batches of acetaminophen infant suspension liquid, 160 mg/5 mL, sold in 2 oz and 4 oz bottles with a syringe. The acetaminophen drops were sold under a number of store brand labels, including Babies R Us, Care One, Equaline, Equate, Harmon Face Values, Health Mart, Healthy Accents, HEB, Kroger, Leader Drug, Meijer, Publix, Rite Aid, Topcare, Up & Up and Walgreen. A complete list of batch numbers and their associated products are available in the recall announcement.
Perrigo advises any customers whose infant acetaminophen drops came with a syringe without dose markings to not use the product and call Perrigo's Consumer Affairs Department at (800) 719-9260.
Acetaminophen Liver Concerns
Acetaminophen is one of the most widely used painkiller medications in the United States. While known primarily as the active ingredient in Tylenol, acetaminophen is an ingredient in numerous other painkillers and cold medications. However, it has also been identified in recent years as the leading cause for liver injury in the United States.
The FDA has indicated that acetaminophen may be responsible for more than 50,000 emergency room visits each year, including 25,000 hospitalizations and over 450 deaths annually. In recent years, efforts have been ramped up to bring the risk of acetaminophen overdose to the public's attention and to reduce the amount of liver injury cases linked to the popular analgesic.
Johnson & Johnson lowered the maximum recommended dosage on Tylenol and other acetaminophen-based products from 4,000 mg per day to 3,000 mg per day in 2011, after the FDA announced new limits on acetaminophen levels in prescription painkillers like Vicodin and Percocet.
The drug maker currently faces a growing number of Tylenol liver failure lawsuits that allege important safety information was withheld for decades from the public and medical community. Plaintiffs allege that Johnson & Johnson placed their desire for profits before patient safety by ignoring the narrow window between the recommended dosage for Extra Strength Tylenol and the risk of liver injury.
"*" indicates required fields