Do Not Use Infant Head-Shaped Pillows Due to Suffocation and Death Risk, FDA Warns
November 04, 2022
By: Russell Maas
Parents should immediately stop using any infant head shaping pillow products, which are sold for treatment of flat-head syndrome and other infant medical conditions, since federal regulators warn they may create an unsafe sleeping environment that could lead to injury or death.
The U.S. Food and Drug Administration (FDA) released an infant head-shaping pillow safety communication on November 3, instructing parents and caregivers to immediately stop using infant head-shaping pillows, indicating these devices have zero medical benefit, and may put children at risk of suffocation or death.
Infant head shaping pillows are small and typically round or rectangular-shaped, with an indent or hole in the middle to allow the back of a child's head to rest in the opening. Manufacturers have marketed the pillows as medical devices intended to help prevent or treat flat head syndrome in infants.
However, the agency warns that infant head shaping pillows are not FDA-approved and have not been cleared for any medical benefit, and that the use of the products may create an unsafe sleep environment for infants which could increase the risk of sudden unexpected infant death (SUID), sudden infant death syndrome (SIDS), and other causes of infant death, such as suffocation.
According to the warning, the pillows may pose an entrapment and suffocation risk for infants who are not strong enough to lift their heads if they become pinned. Similar problems resulted have resulted in the recall of inclined infant sleepers, which have been linked to a number of deaths in recent years.
Infant head shaping pillows may pose suffocation and entrapment risks due to children being able to rollover on their own, without the ability to lift their neck or turn back over. This scenario may cause a child to suffocate against the fabric of the pillows.
FDA Infant Head Shaping Pillow Recommendations
While the agency did not report how many instances of head shaping pillow suffocation or deaths have been reported, parents are being instructed to stop using the pillows immediately to prevent the possibility of injury, or death.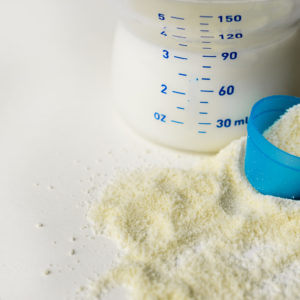 Learn More About
Premature infants fed Similac or Enfamil cow's milk formula faced increased risk of necrotizing enterocolitis (NEC) or wrongful death.
Learn More About this Lawsuit
Parents, daycare providers and caregivers are being asked to report any problems with the head shaping pillows through MedWatch, the FDA Safety Information and Adverse Event Reporting program, and to include the device name, manufacturer name and details of the event.
Healthcare providers and pediatricians are being encouraged to communicate this safety notice to colleagues, care teams, parents, and caregivers who recommend, use, or may use infant head shaping pillows.
Inclined Infant Sleeper Suffocation Risks
According to the FDA, about 4,000 infants annually die unexpectedly during sleep from accidental suffocation, sudden infant death syndrome, or unknown causes. Many of the reported fatalities are a result of suffocation from rolling on their sides or stomach.
Inclined infant sleeper safety concerns first emerged in April 2019, when the U.S. Consumer Product Safety Commission (CPSC) issued a Fisher-Price Rock'n Play warning, instructing consumers to stop placing their infants in the sleepers by three months old, or before they begin to show signs that they can roll over independently. The warning was issued after the CPSC publicly recognized at least 32 infant deaths related to the products.
Following the warning, several manufacturers issued recalls of inclined sleeper products in April 2019, including Fisher-Price's recall of 4.7 million Rock'n Play Sleepers, Fischer-Price's recall of 71,000 Ultra-Lite Day & Night Play Yards and a recall of 694,000 Kids II inclined rocking sleepers. Two years later, in 2021, a 4-in-1 Rock 'n Glide Soother recall was issued after four reported infant fatalities associated with its use.
In an ongoing effort to minimize the risk of deaths and injuries associated with the use of bassinets and cradles, the CPSC enacted new mandatory standards for inclined infant sleepers, which were published in the Code of Federal Regulations at 16 CFR Part 1218.
The CPSC announced that new safety standards for bassinets and cradles went into effect on June 23, requiring any infant sleep products have a sleep angle of no more than 10 degrees, in addition, all products must conform to the existing crib, play yard, and bassinet standards.
The new rules now prohibits the sale of any infant sleep product with an incline greater than 10 degrees, and also requires all infant sleep products to go through a more stringent stability test procedure. The CPSC stated any products marketed for sleep such as inclined sleepers, travel or compact basinets or in-bed sleepers may no longer be marketed or sold for sleeping purposes.
"*" indicates required fields