Lawsuit Indicates Instant Pot Pro Crisp Pressure Cooker Exploded Scalding Hot Contents
July 26, 2022
By: Irvin Jackson
Despite a number of advanced "safety" features touted in marketing material, a Tennessee man indicates in a recently filed lawsuit that he suffered severe burn injuries when an Instant Pot Pro Crisp Multi-Use Pressure Cooker and Air Fryer forcefully ejected scalding hot contents onto his body.
The complaint (PDF) was filed by Otniel Ulloa in the U.S. District Court for the Eastern District of Tennessee on July 21, alleging that the Instant Pot is unreasonably dangerous and failed to prevent the lid from being removed while there was still built-up pressure and steam inside the cooker.
Instant Pots pressure cookers have been widely marketed over the past decade as a safe and effective kitchen appliance, suggesting that using the modern electronic device is "everyday magic", and indicating that advanced safety mechanisms overcome traditional problems with pressure cookers exploding. However, Ulloa joins a growing number of consumers now pursuing lawsuits after their pressure cooker exploded, when the safety features failed.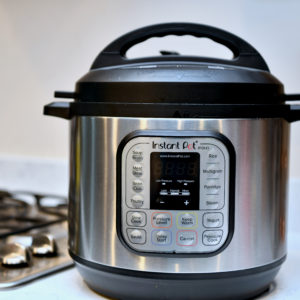 According to the lawsuit, the long list of safety features promoted by the manufacturer included a "safety lid lock", which was supposed to automatically lock the lid when the cooker is pressurized, as well as "lid position detection", which was supposed to prevent the cooker from pressurizing when the lid was not in a safe position.
In promotional videos, Ulloa indicates the manufacturer claimed that consumers "don't need to be afraid of it" and could use their Instant Pot with confidence, "knowing that it is not going to explode." However, that is exactly what happened while Ulloa was using the pressure cooker to prepare a meal.
Ulloa bought an Instant Pot Pro Crisp Multi-Use Pressure Cooker and Air Fryer on Amazon.com in March 2021. While using the pressure cooker in August of that same year, he opened the lid believing that the internal pressure had all been released, and was sprayed with the scalding hot contents inside the cooker.
"[Instant Pot] pressure cookers possess defects that make them unreasonably dangerous for their intended use by consumers because the lid can be rotated and opened while the unit remains pressurized," according to the complaint. "Further, Defendant's representations about "safety" are not just misleading, they are flatly wrong, and put innocent consumers like Plaintiff directly in harm's way."
Pressure Cooker Explosion Lawsuits
Modern electronic pressure cookers have become increasingly popular in recent decades, amid the introduction of products like Instant Pot, Crock-Pot, Ninja Foodi and others, which were promoted aggressively promoted on social media, websites and home shopping stations.
Most of the problems involve similar pressure cooker burn injuries which occurred after the lid was removed while the contents were still under high pressure, typically resulting in burns covering a large percentage of the user's body. However, other injuries linked to pressure cookers have included eye injuries, broken bones and other complications that resulted from electrocutions, spills or explosions.
As more of these electric pressure cookers have been introduced in recent years, the U.S. Consumer Product Safety Commission has issued several pressure cooker recalls over problems where lids were able to be opened while contents are under pressure, allowing hot contents to be expelled and causing a scald or burn injury to individuals in the immediate area.
"*" indicates required fields