Johnson's Baby Powder Wrongful a Death Lawsuit Filed Over Ovarian Cancer Diagnosis
September 19, 2017
By: Irvin Jackson
The family of 39 year-old mother of four young children has filed a wrongful death lawsuit against the makers' of Johnson's Baby Powder, alleging that years of talcum powder exposure caused an ovarian cancer diagnosis. 
The complaint (PDF) was filed last week in the U.S. District Court for the Western District of Louisiana by Ruby Marie Breaux, on behalf of her granddaughter, Christina Lyn Thibodeaux-Doucet, who died in July 2014, leaving behind four minor children now under Breaux's care.
According to allegations raised in the lawsuit, Doucet used Johnson's Baby Powder on her genital region for her entire life, indicating that it caused the development of ovarian cancer that caused her death at the age of 39, following a nearly three year attempt to battle the cancer.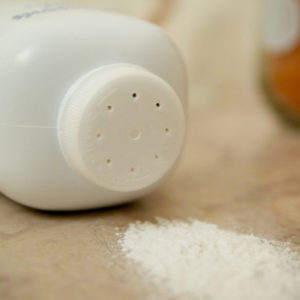 Breaux indicates that Johnson & Johnson knew or should have known about the link between Johnson's Baby Powder and ovarian cancer when the product was used by adult women, yet continued to promote use of the talc-based powder as a method of controlling odor and promoting "freshness" and "comfort".
"As a direct and proximate result of the Defendants' calculated and reprehensible conduct, Christina Doucet developed ovarian cancer, which metastasized into her kidneys, and required multiple surgeries and treatments for over two years of suffering, and ultimately resulting in her untimely death at age 39," the lawsuit states.
Johnson & Johnson faces several thousand similar Baby Powder lawsuits and Shower-to-Shower lawsuits filed in courts nationwide, each raising similar allegations that talc contained in the products migrated through the vagina following regular and long-term use, causing the development of ovarian cancer.
There have been at least five massive multimillion dollar verdicts against Johnson & Johnson over failure to warn about the risks associated with talcum powder, including a $417 million verdict awarded to a woman in August.
This Johnson's Baby Powder wrongful death lawsuit will be centralized with all other claims pending in the federal court system, which are part of an MDL, or multidistrict litigation, given similar questions of fact and law raised in the cases.
U.S. District Judge Freda Wolfson is presiding over the coordinated discovery and pretrial proceedings in the District of New Jersey. However, if Johnson & Johnson fails to reach talc powder settlements or otherwise resolve the litigation following the MDL proceedings, those cases may be remanded to U.S. District Courts nationwide for individual trial dates in the future.
Susan

September 22, 2017 at 3:46 pm

Is there any where that the ladies who developed ovarian cancer, have their history of family cancers noted? I just am still surprised by the numbers.
"*" indicates required fields