Johnson & Johnson Must Face Claim It Hid Presence of Asbestos In Talcum Powder
April 14, 2022
By: Irvin Jackson
The federal judge overseeing bankruptcy proceedings initiated by Johnson & Johnson to limit it's liability in thousands of talcum powder lawsuits filed by consumers, indicates that a lawsuit brought by the family of a former worker can move forward, involving allegations that the company hid evidence about asbestos in talc decades ago.
Johnson & Johnson was recently allowed to move forward with a controversial "Texas Two-Step" bankruptcy plan, where the company is attempting to break off massive liability it faces for failing to warn consumers about the cancer risks associated with talcum powder into a separate company, which critics have argued was created solely for the purpose of placing it into bankruptcy and delaying justice for plaintiffs seeking compensation through the U.S. Court system.
In February, U.S. Bankruptcy Judge Michael Kaplan agreed to continue a stay for all litigation proceedings in more than 38,000 Baby Powder lawsuits and Shower-to-Shower lawsuits filed by women diagnosed with ovarian cancer, mesothelioma and other injuries after using talcum powder products, while the parties attempt to establish a settlement program.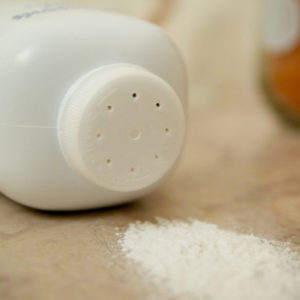 However, the same Judge is now allowing a lawsuit to move forward that will be brought by the family of a deceased man who sued Johnson & Johnson in 1986, over the presence of asbestos in talc. The family now intends to refile the claim, alleging that Johnson & Johnson had the case dismissed by submitting false evidence and statements claiming no tests ever showed that the company's industrial talc contained asbestos, which has now been shown to be a lie.
The original plaintiff died in 1994, and the family now points to new evidence that has surfaced in recent years, through the the ongoing talcum powder litigation, which indicates there were tests that showed evidence of asbestos in talcum powder at the time of the original lawsuit, which Johnson & Johnson would have known about.
Johnson & Johnson moved to block the lawsuit, but Judge Kaplan sided with the family, and is allowing the case to move forward.
The talc came from a mine called Windsor Minerals, which was a subsidiary Johnson & Johnson sold in the late 1980s. The company says it intends to fight the pending lawsuit, which Judge Kaplan deemed different enough not to be included in those tens of thousands of cases currently in legal limbo due to the bankruptcy filing, according to a report by Bloomberg Law.
The Johnson & Johnson talcum powder bankruptcy has been widely criticized by plaintiffs lawyers, as well as bankruptcy experts, as an abuse of the legal process and effort to delay a series of trials that were expected to go before juries this year.
Plaintiffs say Johnson & Johnson, which has billions in cash reserves, has no financial distress that would merit a bankruptcy filing. However, since the bankruptcy is being allowed to move forward, settlements for talcum powder cancer and asbestos lawsuits may be artificially capped.
Defending against the talcum powder litigation has already cost Johnson & Johnson $1 billion, on top of Baby Powder settlements and verdicts that have amounted to another $3.5 billion, according to the bankruptcy filing.
Most of the U.S. talc litigation is currently pending in the federal court system, where the cases are centralized before U.S. District Judge Freda L. Wolfson in the District of New Jersey, as part of an MDL or multidistrict litigation. Prior to the bankruptcy filing, the Court was planning to hold a series of talcum powder "bellwether" trials beginning in April 2022, which have now been delayed by the U.S. Bankruptcy Court.
"*" indicates required fields