Lamictal Stevens-Johnson Syndrome Case Requires Burn Unit Treatment
January 13, 2010
By: AboutLawsuits
A California high school cheerleader recently required treatment in a Los Angeles burn center for Stevens-Johnson Syndrome, a rare and potentially deadly skin disease that appears to have been brought on as a side effect of Lamictal, an epilepsy drug.
According to a recent report in The Lompoc Record, 17 year-old Gabrielle Corral was hospitalized in November after taking the medication, requiring intensive care after a painful rash developed behind her ears, on her lips and inside her mouth. Doctors diagnosed her condition as Stevens-Johnson Syndrome, which is commonly referred to as SJS.
For a time, the allergic reaction, which doctors believe was caused by GlaxoSmithKline's Lamictal, left Corral in considerable pain, unable to see, speak or swallow. However, the teen is now out of the hospital and back in school after a number of surgeries to save her life and replace skin that was virtually burning from the inside out.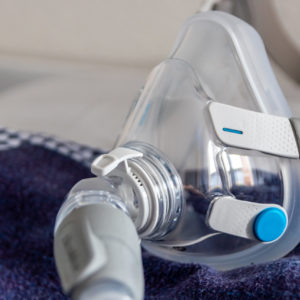 Did You Know?
Millions of Philips CPAP Machines Recalled
Philips DreamStation, CPAP and BiPAP machines sold in recent years may pose a risk of cancer, lung damage and other injuries.
Learn More
Stevens-Johnson Syndrome is a severe skin reaction that is known to occur as a side effect of several medications. It is highly debilitating and causes the skin to burn from the inside out, producing blisters, severe rashes and the skin may begin to separate from the body. When the skin lesions affect more than 30% of the body, the condition is referred to as Toxic Epidermal Necrolysis (TEN). Treatment in a hospital Intensive Care Unit (ICU) or Burn Unit is often required, and the conditions can be fatal in many cases.
Lamictal (lamotrigine) is approved by FDA for the treatment of epilepsy and bipolar disorder. GlaxoSmithKline, the manufacturer, has a "new warnings" alert on the their website for the drug, which leads to information about the potential risk of Stevens-Johnson Syndrome from Lamictal [PDF Medication Guide]. The warning indicates that signs of SJS are most likely to happen within the first two to eight weeks of Lamictal treatment. It also warns that children ages two to 16 are the most likely victims of Lamictal Stevens-Johnson Syndrome.
Corral required skin graphs which are still healing, lost 24 lbs. during her stay in intensive care and has to test which foods she can tolerate, but she returned to school at Lompoc High School and has rejoined her cheerleading squad. She is still healing and must wear sunglasses and heavy clothing to protect her skin while it heals.
Olga

January 18, 2016 at 11:44 pm

This is the second time I developed SJS. I am currently taking prednisone to get the rash out of my body because of Lamictal. First time it was due to taking sulfa medication and developed SJS after two weeks after taking sulfa antibiotics. I am very saddened that I cannot take Lamictal because it was making me feel so much better mentally and it actually made my hypersensitivity to milk, eggs a[Show More]This is the second time I developed SJS. I am currently taking prednisone to get the rash out of my body because of Lamictal. First time it was due to taking sulfa medication and developed SJS after two weeks after taking sulfa antibiotics. I am very saddened that I cannot take Lamictal because it was making me feel so much better mentally and it actually made my hypersensitivity to milk, eggs and all possible Chemicals so much better. I got rash and blisters on my palms forearms, soles of my feet, calf, thies, buttocs, and sides of my back. Three days on prednisone and the rash is still there.

Susan

July 22, 2012 at 7:08 pm

I just found out I have SJS from Lamictal use. I first started 2 years ago on the med. Within the first week I had a terrible outbreak in my perinatal area affecting all membranes. It felt like it was on fire and large blisters broke out in my vaginal and the whole area. I didn't relate it to Lamictal because my Dr did not tell me or mention membrane areas just a "rash" on my skin. I was too embar[Show More]I just found out I have SJS from Lamictal use. I first started 2 years ago on the med. Within the first week I had a terrible outbreak in my perinatal area affecting all membranes. It felt like it was on fire and large blisters broke out in my vaginal and the whole area. I didn't relate it to Lamictal because my Dr did not tell me or mention membrane areas just a "rash" on my skin. I was too embarassed to even go to the Dr until I found out the Lamictal did this. I felt as if I had Herpes or something and was severely depressed, for 2 years and had resigned myself to a life of being alone because of it. I'm finding out I also had the symptoms of the Aseptic Meningitis and by God's grace I stopped taking Lamictal against medical advice. I will never ever take another prescription medication as long as I live. I don't care what the reason would be. I do not trust Doctors nor Pharmaceutical companys to have my health and best interest in their minds.

David

January 17, 2012 at 5:31 pm

My Wife Lametra was prescribed lamictal in june 2011. within 2 wks. she began to have a reaction that progressed from sjs to tens. She was transferred to PMH burn unit in dallas and was there a month. She lost about 70% of her skin and by the grace of God still continues to heal. At this point, the maker has not assumed any kind of responsibility and seem to be obliviuos to the trail of devestatio[Show More]My Wife Lametra was prescribed lamictal in june 2011. within 2 wks. she began to have a reaction that progressed from sjs to tens. She was transferred to PMH burn unit in dallas and was there a month. She lost about 70% of her skin and by the grace of God still continues to heal. At this point, the maker has not assumed any kind of responsibility and seem to be obliviuos to the trail of devestation this medicine has caused us. My advice is that this medicine(poison) should be re-evaluated by the FDA for it's value vs it's potential for death and distruction.

Kathleen

November 9, 2010 at 10:34 pm

I am taking lamictal at a dose of 62.5mg daily,,,i was never told about this rash and I greatly appreciate this site for making me aware..I will speak to my doctor about it,

ANNIE

January 23, 2010 at 8:06 pm

My 11 year old grandson Exaveiar Houff was diagnic with sjs on Dec 5,2009 after being placed on the antielipilic drug phenibarital. He suffered from first, second,and third degree burns over 50 % of his body. He was swollen so badly that not only did his blister burst open his lips were just literally raw. He had blisters doun his throat. could not eat, talk, swallow or urinate. He was treated [Show More]My 11 year old grandson Exaveiar Houff was diagnic with sjs on Dec 5,2009 after being placed on the antielipilic drug phenibarital. He suffered from first, second,and third degree burns over 50 % of his body. He was swollen so badly that not only did his blister burst open his lips were just literally raw. He had blisters doun his throat. could not eat, talk, swallow or urinate. He was treated at the Arkansas children Hospital in the intensensive care unit. He was hopitalized from December 05,2009 until Dec 22,2009. He suffered from sevcere eye irritation among other
"*" indicates required fields