Levaquin Peripheral Neuropathy Lawsuit Filed Against Johnson & Johnson
September 03, 2014
By: Irvin Jackson
Johnson & Johnson faces a new product liability lawsuit that alleges side effects of Levaquin caused peripheral neuropathy for a Maryland woman, leaving her with the severe and often permanent form of nerve damage after using the popular antibiotic.
The complaint (PDF) was filed last month by Karyn Grossman in the U.S. District Court for the Northern District of California, naming Johnson & Johnson, it's Ortho-McNeil-Janssen Pharmaceuticals subsidiary and the drug distributor, McKesson Corp. as defendants.
The Levaquin peripheral neuropathy lawsuit comes one year after the FDA required new warnings about the risk of nerve damage associated with the entire class of antibiotics known as fluoroquinolones, which also include Cipro, Avelox and others.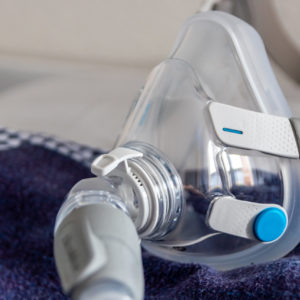 Did You Know?
Millions of Philips CPAP Machines Recalled
Philips DreamStation, CPAP and BiPAP machines sold in recent years may pose a risk of cancer, lung damage and other injuries.
Learn More
In August 2013, the FDA issued a drug safety communication warning that peripheral neuropathy may arise at any time during treatment with the popular antibiotics and may continue for months or even years after use of the medications is stopped.
Peripheral neuropathy involves damage to the nerves, which may impair sensation, movement and other aspects of health. Symptoms may include pain, burning, tingling, numbness, weakness, and sensitivity to light touches, temperature and motion in the arms and legs.
According to allegations raised by Grossman in the complaint, Johnson & Johnson ignored information about the link between Levaquin and peripheral neuropathy for years, failing to adequately warn consumers and the medical community about the risk of permanent and long-lasting nerve damage.
"The warning label for Levaquin during the period from September 2004 through August 2013 misled Plaintiff and her treating physician by incorrectly advising patients and physicians that peripheral neuropathy associated with Levaquin was 'rare' and in any case could be avoided by discontinuing the drug upon the onset of certain symptoms," the complaint states. "The truth, however, is that the onset of irreversible peripheral neuropathy is often rapid and discontinuation of the drug will not ensure that the peripheral neuropathy is reversible."
The lawsuit notes that the warnings about rare cases of nerve damage from Levaquin were buried deep within the drug safety guides and prescribing information. Grossman alleges that if adequate warnings had been provided to her and her physician, complications from peripheral neuropathy may have been avoided by choosing to use a different antibiotic.
Grossman presents claims for strict liability, failure to warn, negligence, breach of warranty, fraud, negligent misrepresentation, and fraudulent concealment, seeking both punitive and compensatory damages.
Levaquin Nerve Damage Risk
Levaquin is one of the most widely used antibiotics in the world, and is part of the popular class of medications known as fluoroquinolones, which have previously been linked to a number of serious health issues, including a potential risk of tendon ruptures, retinal detachment and possible kidney problems. Other popular drugs in the same class include Cipro, Avelox, Noroxin, Floxin and Factive.
About 23.1 million patients received a prescription for an oral fluoroquinolone in 2011. Cipro dominated the market, comprising 70% of those prescriptions, followed by Levaquin or a generic equivalent, which was used by 28%.
Another 3.8 million patients received injections in 2011, with Levaquin or a generic equivalent making up 63% of those, followed by Cipro at 28%.
Grossman indicates in the complaint that Johnson & Johnson knew or should have known about the risk of peripheral neuropathy from Levaquin and other fluoroquinolones as early as 1992, when a case report was published in the medical journal The Lancet, outlining circumstances surrounding a 37 year old who developed the nerve damage after taking one of the antibiotics.
Additional studies were published in 1996 and 2001, outlining cases where users of fluoroquinolone antibiotics experienced symptoms of peripheral nerve damage, including numbness, pain and muscle weakness. Researchers found that over half of patients experienced symptoms lasting more than a year, and 80% characterized the nerve problems as severe.
John

April 15, 2021 at 6:48 pm

Levaquin has totally changed my life. What a crippling disease (neuropathy).

Dave

November 13, 2016 at 4:54 am

I was diagnosed with nerve neuropathy in my feet. I was prescribed both Cipro and Levaquin on several occasions for kidney infections due to kidney stones. I suspect that is why I have this very debilitating pain and burning felling in my feet I now take Venlafaxine prescribed by my neurologist so I can walk and just get around.

Thomas

February 29, 2016 at 6:16 am

My wife spent the last four years of her life in wheelchair because of leviquin induced neuropathy. She said her legs felt like stumps.

arleatta

April 18, 2015 at 7:33 pm

I get numbness in face hands legs.

alice

February 20, 2015 at 6:26 pm

I was prescribed levaquin for some chest issues I had a while back and discontinued due to a rash. During that time I developed what came to be diagnosed as peripheral neuropathy which is for ever. Lyrica was next prescribed but did not help so stopped altogether. The makers of this antibiotic should be held accountable

JoeBoy5471

October 29, 2014 at 9:05 am

I was prescribed Levaquin one time and within one month I stared to develop numbness in my hands and feet. I had back surgery in 2008 and I thought that it might be related to that event, since I have had chronic and moderate pain. I only discovered the connection between the use of Levaquin and Peripheral neuropathy this month and by accident while surfing the internet.

Joy

September 4, 2014 at 4:13 pm

I have been prescribed Levaquin over many years for bronchial infections. I have neuropathy and presently being diagnosed for numbness in feet.
"*" indicates required fields