Acetaminophen Overdoses May Result from Misleading Labels, ISMP Warns
April 25, 2018
By: Irvin Jackson
Dosing information on many pharmacy brands of liquid acetaminophen may be misleading for consumers, resulting in a risk of accidental overdoses that may result in severe liver injuries, according to a group of drug safety experts. 
The Institute for Safe Medication Practices (ISMP) issued a safety alert on April 23, calling on the FDA and a number of large pharmacy chains to issue a liquid acetaminophen recall to prevent medication mistakes and overdoses.
According to the ISMP, pharmacies like CVS, Walgreen and Walmart, are currently selling liquid acetaminophen products on store shelves that fail to accurately portray product strength.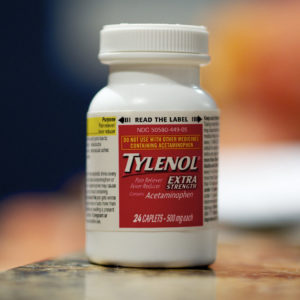 These products are sold in 8 ounce bottles, and state that the acetaminophen is at 500 mg strength. However, they are sold with a 30 mL cup, despite the fact that the 500 mg strength designation only applies when 15 mL doses are taken. ISMP warns that this important distinction is not clearly explained, and could pose serious acetaminophen overdose risks for consumers.
The only way for consumers to discover that 500 mg is equal to only half the dosing cup is to peel open a drug facts label on the back panel. Therefore, ISMP indicates that it is possible for consumers to be misled into taking a double dose.
The ISMP is urging the FDA and pharmacies to recall the acetaminophen products, noting that someone misunderstanding the label and dosing cup could be doing so at a frequency of every six hours, which is how long the label indicates should pass between doses.
Acetaminophen is the active ingredient in Tylenol and other cold and pain medications. While most consumers assume that the drug is safe, acetaminophen is the leading cause for liver injury in the United States, causing an estimated 50,000 emergency room visits each year, including 25,000 hospitalizations and over 450 deaths annually. In addition, use of the medication has been linked to a risk of dangerous skin reactions, like Stephens-Johnson Syndrome.
In recent years, efforts have been ramped up to bring the risk of acetaminophen overdoses to the public's attention and to reduce the amount of liver injury cases linked to the popular analgesic, which is also found in Tylenol, other pain killers and a number of cold medications.
"*" indicates required fields