Maine Considers Extending PFAS Lawsuit Statute Of Limitations To Six Years
July 30, 2020
By: Irvin Jackson
Amid concerns about the side effects of PFAS chemicals, known as per- and poly-fluoroalkyl substances, lawmakers in Maine are weighing legislation that would provide additional time under the statute of limitations for individuals to file lawsuits over firefighting foam and other substances that contain the toxic chemicals, which have contaminated drinking water supplies nationwide.
A bill known as H.P. 1544 was introduced into the state legislature in March, which would extend the statute of limitations for PFAS-related lawsuits to six years. The bill will be discussed this Friday by the Judiciary committee.
Some observers say the Maine legislature's judiciary committee is also likely to vote on the bill on Friday. If ultimately passed and signed into law, it would be the first statute of limitations law in the nation specifically address the growing number of PFAS lawsuits likely to be filed throughout the U.S. in the coming months and years.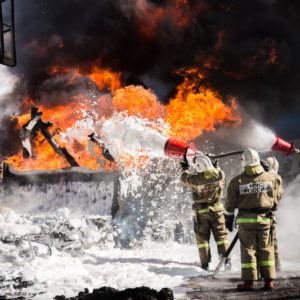 The legislation would provide plaintiffs six years to file a lawsuit from the time they knew or should have known that PFAS could be responsible for their injuries or damages. Proponents say that the current laws on filing for PFAS, which could contaminate soil and water for years before being recognized as a contributing factor to health issues or other problems, are currently vague and open to interpretation.
In Maine, and many states battling PFAS problems, most of that contamination came from firefighter foam used on military bases, where the toxic chemicals seeped into the ground following years of training exercises.
Aqueous film-forming foam (AFFF) has been used for decades to fight petroleum-based fires, which cannot be controlled or subdued by water alone. However, in recent years, substantial concerns have emerged about health risks linked to AFFF foam exposure, and municipal water supplies near several military bases, airports and other training locations have been found to contain Perfluorooctanoic Acid (PFOA) and Perfluorooctanesulfonic acid (PFOS) from the foam, which are cancer-causing chemicals that are collectively known as PFAS.
PFAS were first introduced into the manufacturing industry in the 1940's, because of their ability to resist heat, grease, stains, and water. However, since then the chemicals have been linked to a myriad of adverse health effects including liver damage, thyroid disease, decreased fertility, high cholesterol, obesity, hormone suppression, and cancer.
In addition to firefighting foams, PFASs are chemical substances used to manufacture a number of products, including food packaging materials, pizza boxes, popcorn bags, fabrics, nonstick cooking pans, and other products. The firefighting foam has been regularly used at military bases nationwide over the past decade during routine fire extinguishing exercises, and is increasingly used by civilian firefighters.
The chemicals are projected to take thousands of years to degrade, and past studies have shown their ability to enter and stay in the environment and human body through the air, dust, food, soil, and water. Previous U.S. Centers for Disease Control and Prevention studies have shown PFAS chemicals primarily settle into the blood, kidney and liver, and could likely be detected in the blood of 98% of the U.S. population.
A number of chemical manufacturers face a growing number of PFAS firefighter foam lawsuits in federal courts nationwide, which are centralized in the U.S. District Court for the District of South Carolina for pretrial proceedings. Plaintiffs say exposure to the chemicals have led to cases of cancer among military and civilian firefighters, and among those who live in communities whose water supplies have been contaminated.
"*" indicates required fields