Firefighter Foam Exposure Led To Thyroid Disease, Navy Veteran's Lawsuit Alleges
June 22, 2021
By: Irvin Jackson
A U.S. Navy veteran indicates in a recently filed lawsuit that exposure to toxic chemicals in firefighter foam during his time at military bases resulted in the development of thyroid disease.
Billy Rogers, of California, filed a product liability complaint (PDF) in the U.S. District Court for the District of South Carolina on June 15, indicating his thyroid disease diagnosis resulted from the presence of pre- and polyfluoroalkyl substances (PFAS) on military installations in Alameda and Treasure Island.
These chemicals have been contained in aqueous film-forming foams (AFFF) used by the U.S. military for decades during training exercises and in response to petroleum-based fires.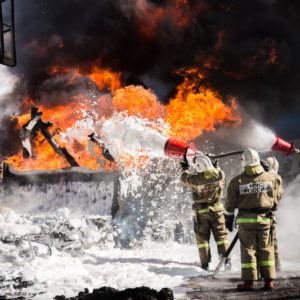 3M Company, Kidde-Fenwall, Inc., DuPont and a number of other chemical and safety equipment manufacturers have been named as defendants in the lawsuit, which indicates that Rogers' years of service left him with elevated levels of PFAS in his body, resulting in thyroid disease.
According to the complaint, Rogers joined the U.S. Navy in 1973, and was assigned to the Naval Air Station in Alameda from 1974 through 1976, and again from 1978 to 1979, and to Treasure Island in 1981. While on those bases he consumed drinking water that was contaminated with the chemicals from use of the firefighter foam on the military base, and he also attended fire-fighting training exercises where he was directly exposed to the chemicals.
PFAS water contamination at Alameda was at 336,000 parts per trillion (ppt), according to the complaint, and 10,750 ppt at Treasure Island. The EPA recommends a limit of 70 ppt, and exposure to PFAS chemicals has been linked to a number of serious health risks.
Rogers was diagnosed with Graves disease, a thyroid disease, in 2013. and he has had to undergo ablation and mass resection treatments as a result.
Experts indicate PFAS chemicals contained in the firefighter foam may take thousands of years to degrade, and past studies have highlighted their ability to enter and stay in the environment and human body through the air, dust, food, soil, and water.
The toxic chemicals were first introduced into the manufacturing industry in the 1940's, because of the ability to resist heat, grease, stains, and water. However, since then the chemicals have been linked to a myriad of adverse health effects, including liver damage, thyroid disease, decreased fertility, high cholesterol, obesity, hormone suppression, and cancer.
The lawsuit claims the manufacturers knew about the risks and the potential for PFAS exposure to cause serious adverse health effects.
"It was understood by Defendants that the manifestations of disease could occur many years after original exposure to the chemicals," Rogers' lawsuit states. "Moreover, Defendants knew that the chemicals design permitted their toxicity to remain a bioaccumulation threat with severe physical adverse effects as above for years, if not decades, in each place where the chemicals were used as intended, i.e.: a known significant potential latency period."
Rogers' complaint joins a growing number of firefighter foam lawsuits filed nationwide by former service members, civilian firefighters and residents living near military bases or chemical plants, all involving claims cancer and other ailments were caused by exposure to PFAS from AFFFs.
Given common questions of fact and law raised in the cases, the federal litigation is centralized in the U.S. District Court for the District of South Carolina, where it is expected that a small group of "bellwether" cases will be prepared for early trial dates, to help the parties gauge how juries respond to certain evidence and testimony that will be repeated throughout the claims. However, if settlements or another resolution for the lawsuits is not reached following coordinated pretrial proceedings, hundreds of individual claims brought by firefighters and others may later be remanded to U.S. District Courts nationwide for separate jury trials.
Norma

January 10, 2023 at 3:01 am

I served in the Air Force 1975-1979 as Flight Operations/airfield management and was exposed to firefighter foam as well as other chemicals. The 2 bases where I worked were classified having the highest content of AFFF. I worked just 2 doors down from the base fire dept. They did frequent fire drills out in front of their bldg and used the foam to put the fires out. I have had breast cancer[Show More]I served in the Air Force 1975-1979 as Flight Operations/airfield management and was exposed to firefighter foam as well as other chemicals. The 2 bases where I worked were classified having the highest content of AFFF. I worked just 2 doors down from the base fire dept. They did frequent fire drills out in front of their bldg and used the foam to put the fires out. I have had breast cancer, tumors, asthma , thyroid disease , colitis and eye problems.. Severe astygmatism and eye disease requiring a cornea transplant. I have had problems with infertility . Only one in my family that could not have children. After serving active duty, I was in the air national guard as well and also worked for an airlines yet still being exposed to chemicals. Have filed a claim but, no info regarding it as of yet.

Steven

August 8, 2022 at 11:57 am

Was a firefighter in the us navy

Melvin

July 5, 2022 at 4:01 pm

Served in the Air Force 1975 - 1979 as a crash rescue specialist. I handled this stuff almost every shift that I worked. There were no material safety data sheets. We all thought it was benign. I have Graves disease, Temporal Arteritis, AFib and elevated cholesterol. There is no history of auto immune issues in my family. The VA will award disability to people for nose bleeds. However, on this, th[Show More]Served in the Air Force 1975 - 1979 as a crash rescue specialist. I handled this stuff almost every shift that I worked. There were no material safety data sheets. We all thought it was benign. I have Graves disease, Temporal Arteritis, AFib and elevated cholesterol. There is no history of auto immune issues in my family. The VA will award disability to people for nose bleeds. However, on this, they turn their backs. BS

Holly

May 26, 2022 at 11:38 am

I joined the Navy in 1987-1999. Joined as a Fireman worked in the DC shop and became DC(Firefighter) made rank as a DC1(SW) I maintain all the Fire fighting equipment! AFFF, Fire extinguishers, Halon Systems…I became Qualified Fire Marshall ran drills and trained shipmates/officers/midshipman on our ships to have them qualified to put out fires. I did 3 Med cruises, we ran drills out to sea and[Show More]I joined the Navy in 1987-1999. Joined as a Fireman worked in the DC shop and became DC(Firefighter) made rank as a DC1(SW) I maintain all the Fire fighting equipment! AFFF, Fire extinguishers, Halon Systems…I became Qualified Fire Marshall ran drills and trained shipmates/officers/midshipman on our ships to have them qualified to put out fires. I did 3 Med cruises, we ran drills out to sea and had set off the AFFF System for drills and for inspection teams. We were told that this agent was biodegradable and was not hazardous to our health back then. I have been exposed to it, most of my Naval career! I have irregular heart beats, heart palpitations, high cholesterol, bone density issues…etc. I was pregnant as well, now my oldest daughter has Thyroid issues and is currently active in the Navy as well. We both was stationed at Norfolk Naval base, and she was also stationed at Oceana Naval Base.

John

April 28, 2022 at 2:48 pm

Enlisted on the USS Independence from 1975-1979. Lightwater (AFFF) Shop Supervisor and Nucleus Fire Party On Scene Leader. We maintained these AFFF systems--everyday. Used it on aircraft, JP-5 fueling station, and machinery room bilge fires. Same issue, first it was a Thyroid Storm when I was working in Bangkok. Came back to the US, found out it was Graves Disease. Graves also caused irregul[Show More]Enlisted on the USS Independence from 1975-1979. Lightwater (AFFF) Shop Supervisor and Nucleus Fire Party On Scene Leader. We maintained these AFFF systems--everyday. Used it on aircraft, JP-5 fueling station, and machinery room bilge fires. Same issue, first it was a Thyroid Storm when I was working in Bangkok. Came back to the US, found out it was Graves Disease. Graves also caused irregular heart beats. The thyroid was completely removed and over the next 14 years I had 3 cardiac ablations and a pacemaker. The VA will not even talk to me. Denied VA Medical Benefits as recent as 5/13/2021

Scott

February 7, 2022 at 3:51 pm

Navy abe2 work flty deck 1983 true 87 2000 huge goiter in thyroid cancer any info to help fight thanks

Steven

November 17, 2021 at 4:59 pm

Have hypothyroidism dealt with and maintained all Afff stations on the USS Whipple from 1982 to 1985
"*" indicates required fields