NEC Similac Alimentum Lawsuit Alleges Abbott Failed To Disclose Risk of Severe Intestinal Disease for Newborns
February 24, 2023
By: Irvin Jackson
The parents of a young child have filed a necrotizing enterocolitis (NEC) lawsuit against Similac Alimentum manufacturer Abbott Laboratories, alleging that the company should have provided more warnings that the infant formula increases the risk of babies may develop the deadly intestinal disease.
Jennifer and John Paul Ramsey filed the complaint (PDF) in the U.S. District Court for the Western District of Louisiana on February 17, on behalf of themselves and their infant child, identified only as M.R. in the lawsuit.
Similac Alimentum is a hypoallergenic infant formula product sold by Abbott, which is supposed to reduce colic symptoms caused by protein sensitivity. It is one of many formulations of Similac marketed to hospitals and parents as a viable alternative nutritional source for infants.
For decades, Abbott Laboratories and other infant formula manufacturers have marketed cow's milk-based formula products like Similac specifically for preterm newborns, despite a growing body of medical research that the products may cause vulnerable infants to develop NEC, which is an ailment that causes portions of the intestines to become inflamed or die. This often results in the need for emergency surgery while the preterm newborn is still in the NICU us, and can result in death or long-term complications for the remainder of the child's life.
The Ramseys join other families of preterm infants nationwide who are now pursuing NEC infant formula lawsuits against the makers of Similac, as well as Enfamil, alleging that the desire for profits has been placed ahead of the safety of babies, and driven many families away from safer breast feeding or donor milk alternatives.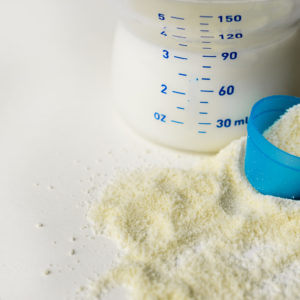 According to the lawsuit, M.R. was born prematurely in February 2021, and fed Similac Alimentum in the hospital. As a result, the child suffered severe intestinal discomfort, NEC and was unable to gain weight, resulting in the need for additional medical care.
The NEC Similac Alimentum lawsuit alleges Abbott knew it's infant formula increased the risk of serious health risks for babies, but decide to withhold warnings and information from parents or the medical community.
"The way in which the Defendant Abbott Laboratories, Inc. product was fed to M. R. was extremely dangerous and caused an unreasonably high risk that he would develop NEC, yet the defendant, Abbott Laboratories, Inc., provided no detailed instructions or warnings to prevent or alter the way this product was used," the lawsuit states. "Had the plaintiffs, Jennifer Ramsey and John Paul Ramsey, been made aware of the facts, data, and science that linked Similac to NEC, they would not have allowed their son to be fed Similac Alimentum."
Earlier this month, researchers working with the World Health Organization released a report blasting infant formula manufacturers for the use of "predatory" marketing to sell potentially unsafe cow's milk-based formula products to parents, increasing infant health risks and driving down healthier breastfeeding habits worldwide.
In addition, the lawsuit notes that the same Similac Alimentum given to M.R. was the subject of a massive Similac, Alimentum and Elecare recall last year, following reports of infant illnesses and deaths linked to bacteria that contaminated the powdered formula products.
Abbott Laboratories recalled Similac, Alimentum and Elecare formula products in February 2022, after disclosing that powdered formula manufactured at a Michigan facility was contaminated with Salmonella Newport and Cronobacter sakazakii bacteria.
At least two infant deaths and hundreds of illnesses have been reported by parents who fed the recalled formula to their children, and subsequent investigations have revealed Abbott ignored industry safety standards and best practices at its facility for years, endangering children for the sake of profits.
February 2023 NEC Baby Formula Lawsuit Update
There are currently about 100 Similac lawsuits and Enfamil lawsuits filed throughout the federal court system against Abbott and Mead Johnson by families of children diagnosed with NEC after being fed the formula, which have been centralized before U.S. District Judge Rebecca R. Pallmeyer in the Northern District of Illinois, for coordinated discovery and pretrial proceedings.
Each of the NEC lawsuits raise similar allegations, indicating that manufacturers of cow's milk-based infant formula and human milk fortifier specifically marketing products for use by preterm newborns, without providing warnings to hospitals, doctors or families. However, as lawyers continue to investigate and file claims in the coming year, it is ultimately expected that several thousand lawsuits will be brought by families of infants diagnosed with NEC.
In November 2022, a group of 12 cases were selected for a NEC lawsuit bellwether pool, which will go through case specific discovery and prepared for a series of early trial dates expected to begin in 2024.
Although the outcome of these early bellwether trials will not have any binding impact on other claims, they are expected to have a substantial impact on any baby formula NEC settlements the manufacturers may offer to avoid the need for each individual case to be remanded back to U.S. District Courts nationwide for separate trial dates in the future.
"*" indicates required fields