Newborn Hospitalized for Six Months Due to NEC Injury from Enfamil, Lawsuit Claims
November 21, 2022
By: Irvin Jackson
A Baltimore County woman has filed a necrotizing enterocolitis (NEC) injury lawsuit against Mead Johnson, the makers of Enfamil, alleging that the cow's milk-based infant formula caused her newborn to suffer serious and potentially life-long injuries, which left the child hospitalized for six months.
Sasha Stewart filed the complaint (PDF) last month in the U.S. District Court for the District of Maryland, on behalf of herself and her child, identified only as Baby A.F. in the lawsuit.
Mead Johnson allegedly knew that premature newborns may face an increased risk of a NEC injury from Enfamil, yet continued to sell the infant formula without warnings for parents or the medical community, according to the lawsuit.
NEC is a devastating intestinal disease that primarily impacts premature babies, where the wall of the intestines is invaded by bacteria, leading to destruction of the bowel and often resulting in the need for emergency surgery while the infant is still in the neonatal intensive care unit (NICU).
The case raises allegations similar to those presented in hundreds of baby formula NEC lawsuits filed by families nationwide over the past few years, indicating that the manufacturers of Enfamil and Similac knew that premature babies faced an increased risk of developing the devastating condition following use of their products, yet continued to promote their products to hospitals and families without adequate warnings.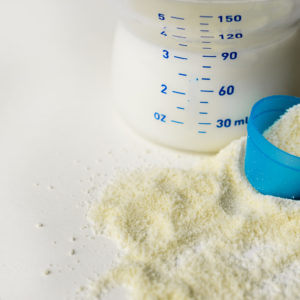 Stewart indicates her child was born prematurely at only 29 weeks gestation in September 2019, and developed NEC after being fed Enfamil while in the Newborn Intensive Care Unit (NICU) at Johns Hopkins Hospital in Baltimore, Maryland.
At first, Baby A.F. was given low-volume feedings of maternal or donor breast milk, but was transitioned to Enfamil Premature Infant Formula several weeks later, at first being fed a mix of breast milk and formula, and then transitioning to formula-only feedings.
"On or about October 11, 2019, while still consuming Defendants' formula, Baby A.F. began to develop symptoms indicative of NEC, including a distended abdomen, bloody stools, and x-ray imaging showing dilated loops of bowel. Serial films later revealed abnormal accumulations of gas in the intestinal wall and portal vein—ominous radiological signs called pneumatosis intestinalis and portal venous gas, respectively," Stewart's lawsuit indicates. "Baby A.F. was diagnosed with stage II NEC, immediately taken off formula feedings, given a blood product transfusion, and prescribed triple antibiotics."
The newborn suffered worsening respiratory failure, sepsis, and increased abdominal distention after the diagnosis and was intubated and underwent exploratory laparotomy, during which surgeons discovered, and removed, a segment of "completely necrotic distal ileum."
Baby A.F. was hospitalized for 88 days due to the NEC injury from Enfamil, and then underwent another exploratory laparotomy following the initial hospitalization, and was not sent home until March 2020. Overall, the newborn underwent six months of hospitalization and two open-bowel surgeries.
November 2022 NEC Lawsuit Update
The complaint filed by Stewart will likely soon be transferred from Maryland federal court to the U.S. District Court for the Northern District of Illinois, where centralized pretrial proceedings have been established in the federal court system for all NEC baby formula lawsuit. U.S. District Judge Rebecca R. Pallmeyer was appointed to preside over the coordinated discovery and manage the litigation in April 2022, and recently announced that a small group of representative claims will be prepared for early trial dates to help gauge how juries are likely to respond to certain evidence and testimony that will be repeated throughout the lawsuits.
In November 2022, a group of 12 cases will be selected for a NEC lawsuit bellwether pool, which will go through case specific discovery and prepared for a series of early trial dates expected to begin in 2024.
Although the outcome of these early bellwether trials will not have any binding impact on other claims, they are expected to have a substantial impact on any baby formula NEC settlements the manufacturers may offer to avoid the need for each individual case to be remanded back to U.S. District Courts nationwide for separate trial dates in the future.
"*" indicates required fields