Newborn NEC Diagnosis Caused By Similac and Enfamil Fed in NICU, Lawsuit Alleges
April 08, 2022
By: Irvin Jackson
A mother has filed a product liability lawsuit indicating that her newborn's necrotizing enterocolitis (NEC) diagnosis was caused by Similac and Enfamil formula that was fed to him while in the neonatal intensive care unit (NICU) after a premature delivery.
Kamekia Adams filed the complaint (PDF) in the U.S. District Court for the Southern District of Mississippi on March 29, pursuing damages from Abbott Laboratories and Mead Johnson, the makers of Similac and Enfamil, for her self and her son, identified only as "Baby K".
The child was born premature at 22 weeks in February 2021, and sent to the NICU weighing less than a pound. While still in the hospital, the newborn was fed Similac and Enfamil formula, in addition to Adams' own breast milk. However, as a side effect of the cow's milk formula, Baby K developed necrotizing enterocolitis (NEC), a devastating intestinal disease that occurs when the wall of the intestine is invaded by bacteria, leading to a painful destruction of the bowel and often resulting in emergency surgery or death.
Doctors discovered two perforations in Baby K's bowels, along with gross contamination of the abdomen cavity caused by the Similac and Enfamil formula, resulting in multiple surgical resections in order to address the perforations in the child's bowels.
A growing body of research published in recent years has found that the risk of a premature newborn NEC diagnosis is substantially greater after being fed Similac or Enfamil, compared to babies who receive breast milk alone. However, Adams alleges that the manufacturers failed to adequately warn families and medical providers about the risk.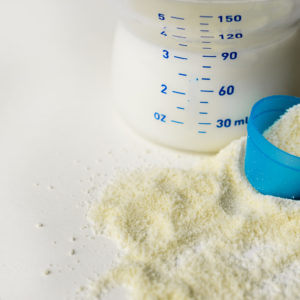 "The companies who manufacture these products often intentionally mislabel and misrepresent the contents of the products both to the public at-large and to the health care community, passing off these deadly products as something similar to or even superior to human breast milk," the lawsuit states. "Tragically, baby K.B. (hereinafter "Baby K"), who was premature at birth, was fed these cow's milk-based products, developed NEC, and suffered significant injuries as a result."
Adams now joins a number of families nationwide pursuing a newborn NEC diagnosis lawsuit against Abbott Laboratories and Mead Johnson, alleging that the companies withheld warnings from parents for decades.
In the federal court system, a panel of judges met last week to consider oral arguments over a motion to centralize and consolidate all Similac NEC lawsuits and Enfamil NEC lawsuits before one U.S. District Judge for coordinated discovery and pretrial proceedings. If a NEC multidistrict litigation (MDL) is established, the lawsuit filed by Adams will be transferred to that court for further handling.
"*" indicates required fields