Nexium, Prilosec Use May Increase Risk Of Dementia: Study
May 12, 2020
By: Irvin Jackson
The side effects of Nexium, Prilosec, Prevacid and similar heartburn drugs have previously been linked to potential risks of kidney damage, bone fractures, and an increased risk of infections, but a new study suggests that the widely used medications may also increase the risk of developing dementia.
The class of acid reflux medications known as proton pump inhibitors (PPIs) may lead to a higher risk of dementia because of its inhibition of a specific enzyme, according to Swedish researchers. While previous studies have suggested a link between PPIs and dementia, this study, published on May 8 in the medical journal Alzheimer's & Dementia, is the first to identify a potential mechanism of action.
PPIs are designed to reduce the amount of acid in the stomach, treating gastroesophageal reflux disease (GERD), as well as heartburn, ulcers in the stomach and small intestines, and inflammation of the esophagus. Drugs that belong to the class include some of the biggest selling medications in the U.S., such as Nexium, Prevacid, Prilosec (and generic omeprazole), Protonix, AcipHex, Dexilant, Vimovo and Zegerid.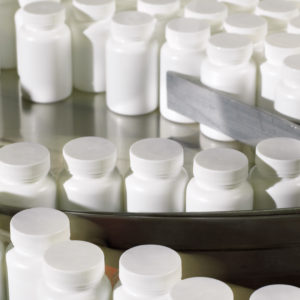 In February 2016, a study published in JAMA Neurology by German researchers indicated long-term use of PPIs such as Nexium and Prilosec increased the risk of dementia by 44%. Some studies since then have supported those findings, while other groups of researchers were unable to find a connection.
In this latest study, researchers from Sweden's Karolinska Institute conducted scientific analyses of the effects of Nexium and similar drugs on the core-cholinergic enzyme, choline-acetyltransferase (ChAT), and found PPIs have an inhibiting effect on the enzyme.
Previous studies have identified cholinergic dysfunction as a likely cause of major dementia disorders, according to the researchers, and inhibiting ChAT could cause that kind of dysfunction, the researchers noted.
"Further systematic enzymological analyses showed that PPIs act as highly selective and reversible ChAT inhibitors with unprecedented potencies. A comparison of the inhibition constant in relation to the well‐known concentrations of these drugs in humans suggested with high probability that PPIs might exert significant anticholinergic activity, consistent with several adverse events recorded for PPIs in human," the researchers concluded. "Due to the compelling nature of the findings, PPIs should be prescribed for the shortest period of time possible with special care in the elderly, and in patients suffering from dementia."
PPI drugs include some of the best selling and most widely recognized brand name drugs on the market in the United States, including Nexium, Prilosec, Prevacid, Protonix and others. While the drugs are used by millions of Americans and widely viewed as safe, concerns have emerged in recent years about the failure to warn about the risk of kidney damage and kidney failure among users.
There are currently more than 13,000 Nexium lawsuits, Protonix lawsuits, Prilosec lawsuits, Prevacid lawsuits  and claims over other PPIs pending in courts nationwide, each raising similar allegations that users developed chronic kidney disease, acute kidney injury or end-stage renal failure, claiming that they may have avoided the diagnosis if warnings had been provided to consumers and the medical community.
Given similar questions of fact and law raised in the complaints, consolidated pretrial proceedings have been established in the federal court system, where all PPI kidney damage lawsuits are centralized before U.S. District Judge Claire C. Cecchi in the District of New Jersey to reduce duplicative discovery into common issues, avoid conflicting pretrial rulings and serve the convenience of the parties, witnesses and the courts.
"*" indicates required fields