Norfolk Southern Train Derailment Leaked Chemical Irritant for Weeks: Report
July 13, 2023
By: Irvin Jackson
The derailment of a Norfolk Southern train in East Palestine, Ohio, earlier this year tainted the local air with high levels of a chemical known to cause respiratory problems and eye, nose, and throat irritation, according to the findings of a new study.
On February 3, a massive Norfolk Southern train derailed near Ohio and Pennsylvania borders, resulting in 20 tankers full of toxic chemicals being breached and catching fire. This caused a temporary evacuation of nearly 2,000 local residents, and was followed by reports of illnesses at the East Palestine train derailment site, as well as a number of animal deaths and concerns about water, soil and air contamination in a wide area around the accident location.
In findings published this week in the journal Environmental Science & Technology Letters, researchers from Carnegie Mellon indicate that air monitoring data found levels of the chemical irritant acrolein were six times higher than normal around the Ohio town where a Norfolk Southern train derailment led to temporary evacuations, illnesses, reports of soil, air and water contamination, and lawsuits by the government and individual residents.
While the crash investigation continues, and health experts evaluate the long-term health risks, Norfolk Southern toxic train derailment lawsuits were filed by those impacted, including claims for economic damages, medical monitoring and personal injuries.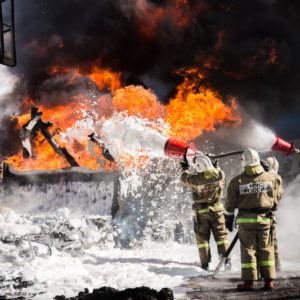 Following the train accident, initial concerns were focused on tanker cars that were filled with vinyl chloride, a chemical used in the creation of PVC.
Due to fears that the burning, pressurized vinyl chloride tanker cars might explode, the pressure was released from the tankers and the fires were put out, sparking concerns that the toxic chemical tainted local air, water and soil.
Concerns have been raised that many other chemical compounds were released in the train derailment, some which could increase the risk of cancer or respiratory problems, were also released in the accident.
Air Monitoring Detects High Levels of Chemical Irritant Acrolein
In this latest study, researchers conducted air monitoring tests over a two-day period in late February after the derailment. They used a Carnegie Mellon University mobile air monitoring laboratory and accessed air monitoring data collected by the U.S. Environmental Protection Agency (EPA) as well.
According to the findings, the air monitoring samples detected levels of a chemical irritant known as acrolein, which were six times higher than normal.
Acrolein is created when fat in glycerol burns and breaks down. It is often used as a biocide to kill algae, fungi, rodents, and microorganisms. It is a common byproduct of combustion, and exposure can lead to eye irritation, burning of the nose and throat and decreased breathing rates. Even more seriously, some studies have linked acrolein exposure to damage to the lining of the lungs, pathological lesions and nasal tumors.
The mobile monitoring station data revealed that the levels of acrolein were highest closer to the derailment site and decreased significantly at night, researchers determined. However, other chemicals of concern, such as vinyl chloride, benzene, toluene and other volatile organic compounds (VOCs) were well below safety baselines, the researchers noted.
"These initial findings support the need for continued mobile monitoring to characterize the air quality impacts of the East Palestine train derailment, especially as cleanup activities may result in resuspension and revolatilization of contaminants from the soil," the researchers determined. "More broadly, this study illustrates that the ability of highly sensitive, nontargeted mobile monitoring to detect known and unknown VOCs can serve as a complement to the targeted and stationary monitoring typically deployed, facilitating characterization of the impacts of disasters on air quality and ultimately better protecting public health."
Norfolk Southern Faces Scrutiny, Lawsuits After Train Derailment
According to the National Transportation Safety Board (NTSB), the derailment was just one of a string of incidents that raise serious concerns about how the company operates. The NTSB, which has launched an investigation into Norfolk Southern, indicates it has investigated several significant accidents by Norfolk Southern since December 2021.
These include the death of an employee following an accident with a railroad spike machine while replacing track in Pennsylvania in December 2021; a derailment near Sandusky, Ohio on October 8, 2022; the death of one employee and the injury of another when one Norfolk Southern train struck part of another in Alabama in December 2022; the train derailment accident in East Palestine on February 3; the derailment of a 2.55-mile-long train on March 4 near Springfield, Ohio, and the death of a Norfolk Southern employee near Cleveland on March 7. Most recently, a Norfolk Southern train carrying coal derailed in Virginia last week, reinforcing concerns of a lack of adequate safety culture at the railroad company.
Not only does Norfolk Southern face an NTSB investigation, as well as lawsuits over the train accident, but the company is also under investigation by other parts of the government as well.
In March, the U.S. Centers for Disease Control and Prevention (CDC) sent a response team from its Agency for Toxic Substances and Disease Registry (ATSDR), which began interviewing residents about their health concerns and symptoms they have developed since the accident.
In April, Norfolk Southern released a quarterly earnings report indicating it expects the derailment to cost the company at least $387 million to resolve lawsuits, fines and to reimburse the government for the cost of cleaning up the contamination.
"*" indicates required fields