Nursing Home Nuedexta Prescriptions May Be Newest "Chemical Restraint" for Dementia Patients: CNN
October 17, 2017
By: Irvin Jackson
The use of prescription medications as a form of "chemical restraint" is often considered a form of nursing home abuse, and substantial efforts have been made in recent years to cut down on the unnecessary use of certain antipsychotic medications. However, a new report suggests that the drug Nuedexta may be the latest way nursing homes are sedating residents with dementia.
In a recent investigative report by CNN, concerns were raised about wide spread nursing home prescriptions for Nuedexta (dextromethorphan hydrobromide and quinidine sulfate), which was approved in 2010 for treatment of pseudobulbar affect (PBA); a condition that can cause uncontrollable laughing or crying.
Although it is estimated that only about 2 million people in the U.S. suffer PBA, CNN reports that Nuedexta is actually used most often in nursing homes, accounting for about half of the prescriptions since 2012.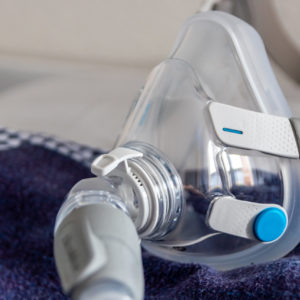 Did You Know?
Millions of Philips CPAP Machines Recalled
Philips DreamStation, CPAP and BiPAP machines sold in recent years may pose a risk of cancer, lung damage and other injuries.
Learn More
Nuedexta is commonly used to calm and sedate dementia patients, a technique known as "chemical restraint," which has been heavily criticized and widely considered a form of abuse by health experts and federal regulators. Nuedexta is not approved for the treatment of dementia.
Since it began to become popular in nursing homes, Nuedexta has been linked to reports of skin reactions, dizziness, comas and death which have been filed with the FDA as adverse event reports, raising questions about the drug's safety.
According to CNN, use of the drug jumped 400% nationwide between 2012 and 2016, when there were about 14 million prescriptions and $300 million in sales for a drug originally viewed as a "niche" treatment.
The drug manufacturer, Avanir, claims that PBA often occurs among dementia patients and other patients with neurological problems who are in nursing homes.
While the company claimed PBA may affect about 40% of dementia patients, outside experts says it affects only about 5%. State regulators have already caught doctors intentionally misdiagnosing patients in order to allow nursing homes to use the drug in a chemical restraint fashion.
One nursing home in Los Angeles was found to have prescribed Nuedexta to one out of every four of its residents after a psychiatrist paid by Avanir came and gave a talk at the facility. At least one Ohio doctor is being investigated for receiving alleged kickbacks for prescribing Nuedexta as often as possible.
Avanir, an Otsuka Pharmaceuticals subsidiary, has paid out almost $14 million to health care professionals for consulting fees regarding Nuedexta, and that does not include $4.6 million in dining and travel expenses it paid out to doctors and speakers at its events.
For years, concerns over chemical restraint practices have focused on antipsychotics, such as Risperdal, Zyprexa, Seroquel and others, which may pose serious risks when prescribed for "chemical restraint".
In many cases, patients receiving these medications in nursing homes suffer from dementia, and studies have shown that antipsychotics not only provide no treatment benefits for dementia patients, but could increase their chance of dying.
The FDA has previously warned against the use of antipsychotics with dementia patients, indicating that the medications provide no benefits and may increase the risk of death. Given what is known about the potential side effects of antipsychotics, use of the medications is often considered a form of elderly abuse when the purpose is to sedate the individual, rather than treat.
In September 2014, the National Partnership to Improve Dementia Care announced that it has set a goal of reducing the use of antipsychotics in long-term care facilities. However, currently about 25% of elderly dementia patients in nursing homes throughout the U.S. are still treated with antipsychotics, even though they may not need the drugs.
"*" indicates required fields