Nursing Home Antipsychotic Misuse Cited in 2,500 Massachusetts Cases
March 15, 2010
By: Staff Writers
About 2,500 Massachusetts nursing home residents are being given powerful and sometimes dangerous antipsychotic medications like Seroquel and Risperdal that they do not need, according to federal investigators.
Data released recently from the Centers for Medicare and Medicaid Services found that 28 percent of all nursing home residents in Massachusetts were given antipsychotic drugs. Of those, 22 percent had no medical condition that required antipsychotic medication, raising suspicions that many were given the drugs as "chemical restraints" by nursing homes or to treat dementia, which the FDA has said can be dangerous and potentially lethal.
According to an analysis done last week by the Boston Globe, experts say that the quality of care at a nursing home can sometimes be directly related to how many antipsychotics they dole out to their residents. In homes with high quality staffing and care, the number of residents prescribed antipsychotics can be as low as 2% or 3%. In care facilities with low levels of staff and poor training, as many as 87% of the residents might be prescribed Seroquel, Risperdal, Zyprexa or other antipsychotic drugs.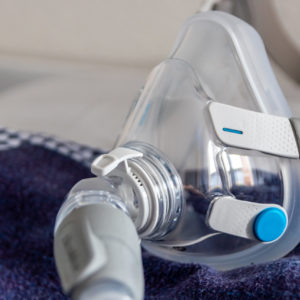 Did You Know?
Millions of Philips CPAP Machines Recalled
Philips DreamStation, CPAP and BiPAP machines sold in recent years may pose a risk of cancer, lung damage and other injuries.
Learn More
The findings come as the Department of Justice (DOJ) has decided to intervene in a whistleblower lawsuit against Johnson & Johnson for allegedly taking part in a nursing home drug kickback scheme intended to get facilities to push the use of their medication, Risperdal, onto elderly patients.
The DOJ filed a civil False Claims Act compliant against Johnson & Johnson (J&J) on January 15, saying that the company paid millions to Omnicare, Inc. as kickbacks for prescribing its drugs to nursing home patients. Last year, Omnicare settled charges brought against it by the government for allegedly paying kickbacks to nursing homes to prescribe the drug. At that time, the Justice department investigators indicated that the illegal nursing home drug kickbacks were hidden as data fees, education fees and as payments to attend Omnicare meetings.
Risperdal, Seroquel and most other antipsychotics are not approved for treatment of dementia, and patient advocates have been pushing nursing homes to reduce the use of the drug among elderly due to the health risk and a lack of actual health benefits. According to a recent report from the United Kingdom, side effects of Risperdal and other similar antipsychotics, like Seroquel, Zyprexa and Abilify, could be linked to as many as 1,800 deaths and 1,620 strokes per year in elderly patients with dementia.
The FDA has repeatedly warned against the casual prescription of antipsychotics to elderly patients, particularly those with dementia. In 2005, the FDA required antipsychotics to carry a "black box" warning that the drugs were connected to an increased risk of premature death in elderly dementia patients. The warning is the most stringent labeling requirement possible under federal law.
Lanny

April 8, 2010 at 7:21 am

Risperdal should be outlawed. My father passed away last Friday because he had developed a side effect from the Nursing Home giving him Risperdal for 8 years without proper monitoring. He developed Tardive Dyskinesia which led to uncontrollable movements that caused friction sores. He ended up with an infection from the sores which entered his blood causing sepsis, and had to have his leg amputate[Show More]Risperdal should be outlawed. My father passed away last Friday because he had developed a side effect from the Nursing Home giving him Risperdal for 8 years without proper monitoring. He developed Tardive Dyskinesia which led to uncontrollable movements that caused friction sores. He ended up with an infection from the sores which entered his blood causing sepsis, and had to have his leg amputated two years ago. Last Good Friday before Easter, he passed violently. He turned blue; his eyes bulged out of his head and he died from choking on his own saliva because Risperdal also leaves some with an improper swallowing reflex. All of his recent problems stem from the drug. He was healthy before, and altho he had mild dementia; he was not psychotic. After he entered the Nursing Home and was placed on the drug (I was told it was for his own safety!) he started hallucinating and hearing voices. They gave him more of the drug. They told me he must be deteriorating. NOW I KNOW IT WAS ANOTHER SIDE EFFECT SOME EXPERIENCE FROM TAKING ANTI-PSYCHOTICS.

Donna

March 23, 2010 at 4:02 pm

I am a certified gerontology nurse. saw patients on Zyprexia gain as much as 100 pounds 6 months. Many were constantly hungry and often would search through trash or steal food from other residents to satisfy their intense hunger on this drug. I saw two patients thought to have dementia actually " recovered" after being taken off Zyprexia and antidepressants. These are just a few of te drugs pre[Show More]I am a certified gerontology nurse. saw patients on Zyprexia gain as much as 100 pounds 6 months. Many were constantly hungry and often would search through trash or steal food from other residents to satisfy their intense hunger on this drug. I saw two patients thought to have dementia actually " recovered" after being taken off Zyprexia and antidepressants. These are just a few of te drugs prescribed that are not appropriate or justified.

Jon

March 16, 2010 at 5:23 pm

Meds are cheaper than labor, but lawsuits are even more expensive. What to do?

Mark

March 15, 2010 at 6:36 pm

*FIVE at FIVE* The Zyprexa antipsychotic drug,whose side effects can include weight gain and diabetes, was sold for "children in foster care, people who have trouble sleeping, elderly in nursing homes." *Five at Five* was the Zyprexa sales rep slogan, meaning 5mg dispensed at 5pm would keep patients quiet. Google * Eli Lilly Zyprexa * and read the links.This is for a product that we put in our[Show More]*FIVE at FIVE* The Zyprexa antipsychotic drug,whose side effects can include weight gain and diabetes, was sold for "children in foster care, people who have trouble sleeping, elderly in nursing homes." *Five at Five* was the Zyprexa sales rep slogan, meaning 5mg dispensed at 5pm would keep patients quiet. Google * Eli Lilly Zyprexa * and read the links.This is for a product that we put in our children's bodies. .

Daniel

March 15, 2010 at 2:45 pm

The Lilly Zyprexa settlement saga is still ongoing and in default as some patient victim claimants like myself have not been payed. I took Zyprexa for 4 years got diabetes classic case Daniel Haszard www.zyprexa-victims.com
"*" indicates required fields