EU Regulators Warn About Possible Risk of Thyroid Cancer From Ozempic, Wegovy and Other Diabetes Drugs
June 23, 2023
By: Irvin Jackson
A concerning safety signal has been identified by European drug regulators, resulting in warnings about a potential risk of thyroid cancer from Ozempic, Wegovy and Victoza, despite the drugs being on the market for years and some increasingly being used for weight loss by a much larger population of patients.
The European Medicines Agency's Pharmacovigilance Risk Assessment Committee (PRAC) issued diabetes drug recommendations (PDF) last month, which included a warning that data appears to signal a potential link between the use of a class of diabetes drugs known as glucagon like peptide-1 receptor agonists (GLP-1) and thyroid cancer.
The medications are part of a widely prescribed class of drugs approved for treatment of type 2 diabetes and obesity, which include brand names like Trulicity, Byetta, Bydureon, Victoza, Saxenda, Adlyxin, Ozempic, Wegovy, Rybelsus and Tanzeum.
Ozempic and Wegovy are of particular concern because they are increasingly being used as weight loss drugs. While Wegovy is approved for such use in the U.S., Ozempic is usually prescribed for weight loss off-label by doctors. Thus both drugs are impacting a wider number of users than other drugs approved for the treatment of type 2 diabetes alone, and the cancer risk raises questions about whether any potential benefits for weight loss are justified.
The active ingredient in the two drugs, semaglutide, was specifically called out by European regulators as being tied to thyroid cancer signals. However, the data does not establish a causal link.
Sales of the two drugs are estimated to reach combined sales of $15.3 billion this year alone.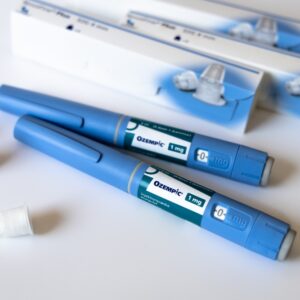 Find Out If You Have a Lawsuit
In its recommendations, PRAC called for manufacturers of GLP-1 drugs, including Novo Nordisk, Eli Lilly and others, to provide the committee with supplementary information on the drugs by July 26, and is calling for regulatory action from the EMA to address the risks. In addition, the committee is calling for updates to the safety labels of those drugs in the European Union.
Eli Lilly has previously acknowledged there appears to be a link between the class and thyroid cancer side effects, and is in the process of conducting a pair of studies to more thoroughly explore the potential link.
Ozempic Hair Loss Concerns
The warning comes amid increasing reports that Ozempic side effects have been linked to hair loss when using the diabetes drug as a weight loss treatment.
Some doctors have claimed hair loss after Ozempic use is a natural result of rapid weight loss. This effect is known as telogen effluvium. However, Ozempic may also cause hormonal shifts which can also trigger early onset pattern hair loss in men and women, known as androgenic alopecia, which is progressive and continues to worsen over time. This can lead to permanent hair loss, some health experts warn.
Last month the founder of The American Hair Loss Association (AHLA) and The International Alliance of Hair Restoration Surgeons, warned against misuse of Ozempic for weight loss in an editorial in Dermatology Times, indicating that the hair loss experts do not recommend the off-label use of the diabetes drug.
---
Find Out If You Qualify for Ozempic or Wegovy Compensation
"*" indicates required fields