EMA Finds No Link Between Thyroid Cancer and Ozempic, Wegovy and Other New Weight Loss Drugs
October 31, 2023
By: Irvin Jackson
European regulators are backing off earlier claims that the side effects of Ozempic, Wegovy and similar drugs may increase the risk of thyroid cancer, indicating that a recent review found no evidence of a connection.
Ozempic and Wegovy are among the fastest growing drugs in the world, which are part of a new class of medications known as glucagon like peptide-1 receptor agonists (GLP-1) and have become popular as a means to promote weight loss. However, there have been increasing concerns about the long-term side effects in recent months.
In May, the European Medicines Agency (EMA) Pharmacovigilance Risk Assessment Committee (PRAC) issued a warning about the possible risk of thyroid cancer from Ozempic, Wegovy and other drugs in the class, indicating that there were concerning safety signals from a preliminary data review. The concerns were raised as part of new diabetes drug use recommendations, which called for manufacturers of GLP-1 drugs, including Novo Nordisk, Eli Lilly and others, to provide the committee with supplementary information on the drugs by July 26, and called for regulatory action from the EMA to address the risks.
In addition, the committee called for updates to the safety labels of those drugs in the European Union. However, now the EMA appears to be reversing that stance.
The EMA issued a press release on October 27, following a PRAC meeting, which reports that the currently available evidence does not support a link between Ozempic, Wegovy, Mounjaro and thyroid cancer.
"The committee reviewed evidence from the published literature, including observational studies as well as cumulative data submitted by the marketing authorization holders (MAHs) which included non-clinical, clinical and post-marketing data," the EMA press release states. "At present, the PRAC considers that no updates to the product information are warranted based on the available data."
The PRAC said it will continue to monitor the drug class closely.
Ozempic Stomach Paralysis Concerns
The positive findings come amid growing reports of other side effects from Ozempic and Wegovy, as prescriptions continue to soar, including concerns about painful and debilitating stomach paralysis that has impacted many users. As a result, Novo Nordisk now faces Ozempic lawsuits and Wegovy lawsuits that allege the drug maker knew, or should have known about the potential risk, but placed a desire for wider use before patient safety.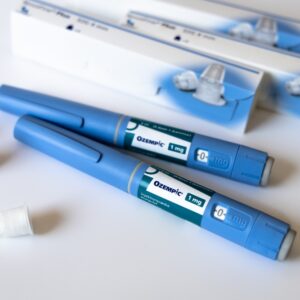 Find Out If You Have a Lawsuit
Ozempic (semaglutide) was originally introduced in 2017, as an injection for treatment of people with Type 2 diabetes. However, amid marketing that promoted the weight loss benefits, Ozempic has been increasingly prescribed for weight loss, which is considered an "off-label" prescription. However, given the popularity, the drug maker introduced a higher dose version, known as Wegovy, which the FDA has now specifically approved for weight loss use.
Both medications are designed to require users to stay on Ozempic or Wegovy long-term, or they are likely to regain weight that was lost. Although the drugs were promoted as carrying few serious safety risks, as more users stay on the drugs, a number of potential safety signals have emerged, which lawsuits indicate should have been disclosed on the original drug labels.
In September, the U.S. Food and Drug Administration (FDA) issued new label warnings for Ozempic, indicating that it can increase the risk of intestinal blockages. The warning links Ozempic to a condition known as ileus, which can cause abdominal cramps, bloating, nausea, vomiting, constipation, difficulty passing gas and difficulty eating.
The symptoms of stomach paralysis from Ozempic are similar to ileus, including nausea, vomiting undigested food, abdominal pain, abdominal bloating, severe dehydration, feeling full after only a few bites, undigested food hardening in the stomach, acid reflux, fluctuating blood sugar levels, lack of appetite, weight loss, malnutrition and decreased quality of life. However, some users diagnosed with Ozempic-induced gastroparesis report that the side effects persisted long after the drug is discontinued.
In July, a CNN investigation outlined an alarming number of reports linking Ozempic and stomach paralysis, indicating that similar problems have been associated with other drugs in the same class in recent years.
While researchers are continuing to study the risk, it is widely expected that the Novo Nordisk will face hundreds, if not thousands, of failure to warn lawsuit in the coming months and year, each raising similar allegations that users may have avoided painful and permanent injuries if the drug maker had been upfront about disclosing the risk to users and the medical community.
---
Find Out If You Qualify for Ozempic or Wegovy Compensation
"*" indicates required fields