Wegovy Heart Benefits Touted Amid Growing Concern About Gastrointestinal Risks
August 14, 2023
By: Irvin Jackson
The makers of Wegovy released new research last week suggesting the diet drug may provide some cardiovascular benefits, reducing the risk of heart attacks and strokes. However, the statements come amid a wave of bad news for Novo Nordisk, and growing concerns about the gastroparesis risk from Wegovy, which has left some users with painful stomach paralysis and other gastrointestinal side effects.
Novo Nordisk just introduced Wegovy (semaglutide) in 2021, as a weight loss version of their blockbuster drug Ozempic, which is only FDA approved for treatment of diabetes. However, given the minimal weight loss benefits provided by Wegovy and Ozempic, and a long history of side effects associated with other diet pills, medical experts have raised concerns about the rapid rise in popularity of the drugs.
Both Wegovy and Ozempic are part of a class of diabetic medications known as glucagon-like peptide-1 (GLP-1) receptor agonists, which works by slowing the movement of food in the gut to suppress appetite and make users feel full for longer. Although the drugs have been aggressively marketed as safe and effective, a number of users are now coming forward to report that they were left with devastating long-term gastrointestinal problems from Wegovy, Ozempic and other GLP-1 drugs, when used to reduce their weight.
The side effects of Wegovy and Ozempic can cause a long-lasting slowing of the movement of food from the stomach to the small intestines, which former users now allege is not adequately disclosed on the drug label. As a result, Novo Nordisk now faces the prospect of a coming wave of Ozempic lawsuits and Wegovy lawsuits, which may be filed in courts nationwide in the coming months.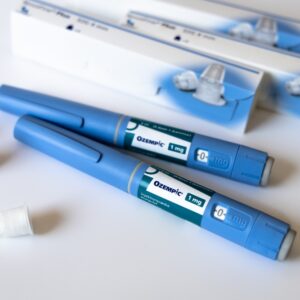 Find Out If You Have a Lawsuit
Wegovy Linked to Reduced Heart Risks, Manufacturer Claims
In the face of mounting bad news over the past few weeks, Novo Nordisk issued a press release on August 8, touting the results of a Wegovy cardiovascular clinical trial.
The manufacturer says the findings suggest the drug has protective benefits for the heart, reducing the risk of heart attacks, strokes and other cardiovascular problems, which it may use to push for wider use of Wegovy, amid growing concerns over the drug as a weight loss treatment.
Novo Nordisk researchers indicate they conducted a double-blind trial comparing a weekly dose of Wegovy with a placebo, involving 17,604 adults age 45 or older who were overweight or obese. The patients had an established history of cardiovascular disease (CVD), but no prior history of diabetes.
The drug maker's study looked for the rate of major adverse cardiovascular events (MACE) over a five-year period. According to the findings, patients who took Wegovy were 20% less likely to suffer heart problems, such as stroke or heart attack, than those given a placebo. The researchers claim the reductions were across the spectrum, leading to fewer incidents of cardiovascular death, non-fatal heart attacks and non-fatal strokes.
Novo Nordisk has indicated that it seeks to expand Wegovy's approval to include prevention of cardiovascular disease in both the U.S. and Europe before the end of the year.
Ozempic and Wegovy Stomach Paralysis Risks
The positive findings come amid growing awareness among consumers and the medical community about the risk of gastroparesis from Wegovy, Ozempic and similar drugs, when used for weight loss, which could erode sales as more users learn about the potential side effects.
Gastroparesis, also known as delayed gastric emptying or stomach paralysis, weakens the normal muscle movement in the stomach. These stomach contractions are necessary to push food through the digestive tract.
When gastroparesis occurs, the stomach is slow to empty, resulting in symptoms including nausea, vomiting undigested food, abdominal pain, abdominal bloating, severe dehydration, feeling full after only a few bites, undigested food hardening in the stomach, acid reflux, fluctuating blood sugar levels, lack of appetite, weight loss, malnutrition and decreased quality of life. However, some users are reporting these side effects persisted long after Wegovy or Ozempic are discontinued.
Last month, a CNN investigation outlined an alarming number of reports linking Ozempic and stomach paralysis, indicating that similar problems have been associated with other drugs in the same class in recent years.
In 2017, researchers with the Mayo Clinic conducted a study involving a similar diabetes medication known as Victoza, which found that the drug caused significantly slower digestion in users, taking about 70 minutes for half the food they ate to leave their stomachs, compared to four minutes for people who did not take the drug. However, the study found that people's bodies tended to adjust over time.
Last month, the American Society of Anesthesiologists (ASA) issued a warning about using Ozempic and Wegovy before surgery, indicating that the lack of gastric emptying linked to the drugs could put patients at risk of vomiting and aspiration while under the effects of anesthesia.
Gastroenteritis, also linked to Ozempic and similar drugs, causes inflammation of the stomach and intestines. The condition is usually caused by a virus or as a reaction to certain medications. Symptoms can include vomiting, nausea, diarrhea, stomach cramps, muscle aches, headache, and fever. Health experts warn that diarrhea and vomiting from gastroenteritis can cause severe dehydration, which could result in death.
Other Reported Side Effects of Wegovy and Ozempic
The new study also follows reports that Ozempic and Wegovy side effects have also been linked to hair loss when using the drugs as weight loss treatment.
Some doctors have claimed hair loss after Wegovy use is a natural result of rapid weight loss. This effect is known as telogen effluvium. However, Wegovy may also cause hormonal shifts which can also trigger early onset pattern hair loss in men and women, known as androgenic alopecia, which is progressive and continues to worsen over time. This can lead to permanent hair loss, some health experts warn.
In May, the founder of The American Hair Loss Association (AHLA) and The International Alliance of Hair Restoration Surgeons, warned against misuse of Ozempic for weight loss in an editorial in Dermatology Times, indicating that the hair loss experts do not recommend the off-label use of the diabetes drug.
In addition, regulators in the European Union warned that Ozempic and Wegovy may be linked to an increased risk of thyroid cancer in June. They called for drug manufacturers to turn in additional data and suggested they may take future actions to address the potential risks.
Last week, the first Ozempic lawsuit was filed against Novo Nordisk, involving allegations that the drug maker knew or should have known about the risk of long-term side effects caused by the active ingredient semaglutide, which is also found in Wegovy.
---
Find Out If You Qualify for Ozempic or Mounjaro Compensation
Image Credit: |
"*" indicates required fields