Personal Care Products Counsel Seeks Dismissal From Ovarian Cancer Talcum Powder Litigation
May 07, 2019
By: Irvin Jackson
With thousands of women pursuing ovarian cancer lawsuits against Johnson & Johnson and other defendants in the federal talcum powder litigation, the Personal Care Products Council (PCPC) has filed a motion to be dismissed from the cases, arguing that the industry group commonly named as a co-defendant can not be held liable due to its lobbying for talcum products, due to First Amendment protections.
There are currently more than 12,000 Johnson's Baby Powder lawsuits and Shower-to-Shower lawsuits brought by women throughout the U.S., who allege they developed ovarian cancer following years of exposure to the talc-based personal care products. The claims seeking damages from Johnson & Johnson, as well as suppliers of raw ingredients and other defendants responsible for the manufacturing, marketing and sale of the talcum powder.
Given similar questions of fact and law raised in complaints filed throughout the federal court system, all talcum powder cancer claims are consolidated for pretrial proceedings as part of a multidistrict litigation (MDL), which is centralized before U.S. District Judge Freda L. Wolfson in the District of New Jersey.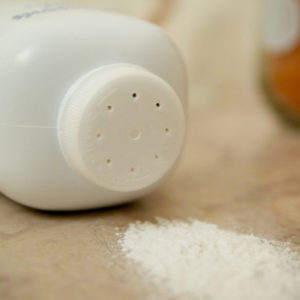 The Personal Care Products Council (PCPC) is a trade association that lobbies for cosmetic products companies on Capitol Hill, and has been named as a defendant in a number of the complaints pending in the MDL. On May 6, the group filed a motion for summary judgment (PDF), seeking to be dismissed from the litigation.
"Plaintiffs allege that PCPC is liable for their ovarian cancer, asserting negligence, fraud, fraudulent concealment and conspiracy causes of action," the memorandum notes. "Their claims are premised on Plaintiffs' belief that PCPC misrepresented to regulators the purported harmful effects of cosmetic talc."
The group calls for summary judgment for three reasons. First, it indicates that its statements in support of talcum powder are protected by the Free Speech clause of the First Amendment of the U.S. Constitution, arguing it cannot be held liable for its statements, since it made none of the products at issue.
Second, the group notes that the New Jersey Product Liability Act states that plaintiffs can only take action for defective products against manufacturers and retailers, and New Jersey's state laws govern much of the litigation, which is consolidated in that state. Third, the group alleges that PCPC did not owe a duty to plaintiffs to test or verify the safety of talcum powder products.
The group seeks to escape the litigation as Johnson & Johnson and other defendants have been hit with massive jury verdicts in recent months for withholding information about the known risk of cancer associated with talcum powder.
In March 2019, Johnson & Johnson was ordered to pay $29 million in damages for failing to warn about the risk of mesothelioma from talcum powder. In addition, last year a Missouri jury returned a landmark $4.7 billion verdict for 22 women diagnosed with ovarian cancer.
Johnson & Johnson is appealing each of the prior verdicts, and previously indicated that it intends to continue to fight the cases at trial. However, it was recently reported that the company reached settlements to resolve at least three talcum powder cancer claims that were either in the middle of trial or set to begin in the coming weeks.
Later this year, Judge Wolfson is expected to rule on motions to exclude certain expert witness testimony in the federal talcum powder litigation. However, if the court determines that plaintiffs have sufficiently reliable evidence about the link between talcum powder and cancer to proceed to trial under federal rules, it is expected that a small group of "bellwether" cases will be set for trial in the U.S. District Court for the District of New Jersey.
Therefore, unless talcum powder settlements or another resolution for the litigation is reached, large numbers of cases may be remanded back to different federal district courts for individual trial dates in the future.
"*" indicates required fields