Bill To Protect First Responders from Toxic Firefighter Foam Chemicals Moves Forward In Senate
March 18, 2021
By: Irvin Jackson
A United States Senate committee passed a bill this week, providing rare bipartisan support for legislation designed to protect emergency first responders from toxic chemicals in firefighting foam, which has been linked to an increased risk of cancer and other health problems.
If passed into law, the legislation would direct the Federal Emergency Management Agency to develop guidance on how to protect emergency response personnel from exposure to per and polyfluoroalkyl substances (PFAS); toxic chemicals often found in aqueous film-forming foams used to fight certain types of fires, as well as other protective equipment.
Known as the "Protecting Firefighters from Adverse Substances Act" (S.231), the bill has become more commonly known as the "PFAS Act", and also includes guidance on developing firefighter foam and personal protective equipment that does not include the toxic chemicals, which resist heat, grease, stains and water.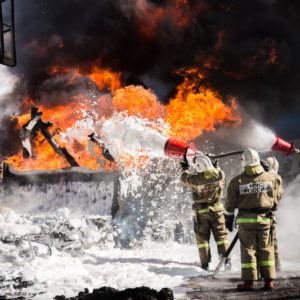 The bill was originally introduced in 2019, but failed to move forward. However, amid growing concerns about the health risks associated with PFAS, and a mounting number of firefighter cancer lawsuits being filed against manufacturers of the chemicals, it was reintroduced in this latest legislative session.
On March 17 the bill received a big boost as it was approved boy the Senate Committee on Homeland Security & Governmental Affairs with a unanimous bipartisan vote. The approval came after the bill's sponsor, Senator Gary Peters of Michigan, chairman of the Homeland Security Committee, released a report by the Government Accountability Office (GAO), which urged congress to take action on preventing and addressing PFAS contamination, which is also a threat to drinking water supplies due to contamination from nearby military bases, which use large amounts of the firefighter foam.
"Exposure to PFAS chemicals continues to harm the health and wellbeing of families in Michigan and across America," Senator Peters said in a press release. "This report clearly shows that while progress is being made, the federal government must step up their efforts to ensure our drinking water is safe and protect communities from these hazardous chemicals."
PFAS and Firefighter Foam Environmental Concerns
PFAS were first introduced into the manufacturing industry in the 1940's, and have been widely used in firefighting foam, personal protective equipment and other food packaging, including pizza boxes, popcorn backs, non-stick cooking pans and other products. However, since then the chemicals have been linked to a myriad of adverse health effects including liver damage, thyroid disease, decreased fertility, high cholesterol, obesity, hormone suppression, and cancer.
It is projected to take thousands of years for PFAS to degrade, and past studies have shown their ability to enter and stay in the environment and human body through the air, dust, food, soil, and water. Previous U.S. Centers for Disease Control and Prevention studies have shown PFAS chemicals primarily settle into the blood, kidney and liver, and could likely be detected in the blood of 98% of the U.S. population.
Firefighting foam is widely cited as one of the leading causes of PFAS exposure, not only among firefighters, but also among residents living near military bases, airports and other locations where AFFF was routinely used during training and response exercises.
Chemical manufacturers now face a growing number of lawsuits brought by individuals diagnosed with cancer and other disease, as well as local water supply entities, which now bear the costs of attempting to clean up PFAS that has contaminated ground water supplies.
The legislation still needs to pass the full Senate, the U.S. House of Representatives, and then would need to be signed into law by President Joe Biden before being enacted.
"*" indicates required fields