PFAS Chemicals Destroyed By Simple Method, Northwestern University Researchers Claim
August 19, 2022
By: Russell Maas
Amid growing concerns about the long-term side effects from PFAS water contamination found in communities nationwide, which has been linked to a risk of cancer and other injuries for area residents, a potentially groundbreaking study may have identified a method to destroy the synthetic "forever" chemicals, which are known to persist and build up in the environment and human body.
Toxic per- and polyfluoroalkyl substances (PFAS), chemicals were first introduced into the manufacturing industry in the 1940's, because of their ability to resist heat, grease, stains, and water. For these reasons, they have become widely used in a vast amount of consumer products, including food packaging materials, pizza boxes, popcorn bags, fabrics, nonstick cooking pans, and large volumes of the chemicals have been used in AFFF firefighting foam used by the military and civilian fire companies to combat fuel-based fires.
Since the chemicals do not break down naturally, they have contaminated water supplies in communities nationwide, especially near manufacturing plants, airports, military bases and other facilities, where large volumes of PFAS entered water from the use of aqueous film-forming foam (AFFF) products used during firefighter training.
Exposure to PFAS chemicals in water have been linked to a number adverse health effects including liver damage, thyroid disease, decreased fertility, high cholesterol, obesity, hormone suppression, and several cancers. As a result, the EPA set new PFAS drinking water advisory levels in June 2022, for four PFAS chemicals.
Manufacturers of the chemicals now face a number of PFAS water contamination lawsuits brought by individuals who indicate that they developed pancreatic cancer, liver cancer, bladder cancer, testicular cancer, kidney cancer or ulcerative colitis after years of drinking tap water known to contain the chemicals. In addition, a number of firefighter cancer lawsuits are being pursued by individuals who came into direct contact with AFFF during fire training or response exercises.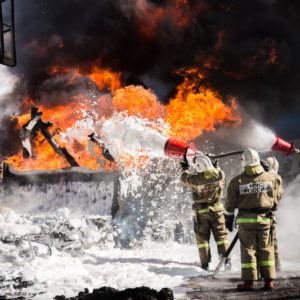 In this new study, which was published this week in the medical journal Science, researchers from Northwestern University claim to have found a low cost and effective way to breakdown PFAS chemicals in the matter of hours.
Scientists were able to destroy the PFAS molecules by adding two relatively harmless chemicals and boiling the contaminated PFAS water. The additives used to remove PFAS from water were sodium hydroxide or lye, which is a chemical used to make soap, and dimethyl sulfoxide, a chemical that is widely used in medications.
Boiling PFAS contaminated water with dimethyl sulfoxide makes the head of the PFAS carbon-fluorine chain pry off, which causes the electric bond between the carbon atoms and fluorine atoms to become weak and break down, the researchers say.
Additionally, a second method of removing PFAS from water was identified by adding sodium hydroxide to the water and boiling it for between 175 degrees to 250 degrees. The study claims that within several hours of boiling the mixture, the PFAS molecules had broken down, and by several days later, the harmful byproducts of PFAS had turned into harmless molecules.
PFAS Water Contamination
The findings may be a significant step toward removing PFAS chemicals from drinking water. But, if proven to work, researchers will still need to determine how to best deploy such methods in water supplies nationwide.
As of October 2021, the Environmental Working Group (EWG) has identified 2,854 locations in the U.S. that have PFAS in drinking water supplies. Of those, nearly 400 military installations have been confirmed to have ground water contaminated with PFAS, while contamination is suspected, but not yet confirmed, at hundreds of others.
"*" indicates required fields