EPA Hearing On Two Major PFAS Chemicals Leads To Calls For Cancer Warnings
January 12, 2022
By: Irvin Jackson
A panel of scientific advisors is recommending that federal regulators label some PFAS chemicals, which have polluted drinking water sources throughout the United States after years of use in firefighting foam and other products, as likely human carcinogens.
The U.S. Environmental Protection Agency (EPA) Science Advisory Board met for four days over the second half of December and the beginning of January, to advise the agency on how it should approach a national drinking water rulemaking for per- and polyfluoroalkyl substances (PFAS), focusing on the two most commonly cited and studied PFAS compounds, perfluorooctanoic acid (PFOA) and perfluorooctanesulfonic acid (PFOS). The board recommended the EPA label both as "likely carcinogens" based on the current scientific evidence available.
The hearing comes after the EPA announced a Strategic Roadmap designed to address problems with PFAS chemicals, which are used in everything from firefighting foam to furniture, in mid-October. The plan includes new reporting requirements and restrictions, increased research, and accelerated cleanup operations.
PFAS were first introduced into the manufacturing industry in the 1940's, because of their ability to resist heat, grease, stains, and water. However, since then the chemicals have been linked to a myriad of adverse health effects including liver damage, thyroid disease, decreased fertility, high cholesterol, obesity, hormone suppression, and cancer.
While the chemical are found in a wide variety of products, including some food packaging materials, pizza boxes, popcorn bags, fabrics, nonstick cooking pans, and other products, most of the concerns have focused on high volumes of the PFAS chemicals that entered drinking water supplies from aqueous film-forming foams (AFFFs) widely used near airports, military bases and firefighting training centers.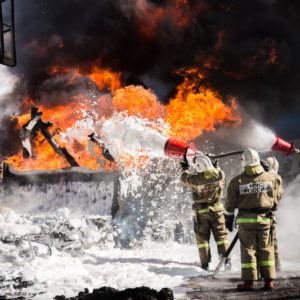 The hearing was designed to help the EPA set Maximum Containment Levels (MCLs) for PFOA and PFOS in drinking water by the fall of 2022, seeking guidance on the analysis and presentation of scientific literature, what the cancer classifications of the two chemicals should be, and whether the agency was relying on good science to make its decisions.
The advisory panel's recommendations are not binding on the agency, but often have a significant influence on the EPA's final rulemakings.
The board agreed with the EPA's current proposal to classify PFOA as a "likely carcinogen", but disagreed with the EPA's proposed classification of PFOS as a "suggestive carcinogen", instead saying that chemical should get the "likely carcinogen" label as well.
In addition, the panel warned the EPA that its choice of which studies to use and which to not use lacked transparency, and said some of those choices were inconsistent with the established review process for chemical hazards.
The EPA's anticipated rulemaking on the two chemicals considered the most significant PFAS compounds comes as states and environmental groups have pushed for more action on the toxic chemicals.
In July, Maine put in place a ban on PFAS which will go into effect by 2030. In addition to Maine, New York set guidelines last January which set limits on allowable concentrations on some PFAS chemicals. Additionally, also in July, two U.S. Senators introduced a bill which would ban the use of PFAS in cosmetics.
Chemical manufacturers now face a growing number of firefighting foam PFAS lawsuits brought by nationwide, including individuals diagnosed with with cancer after exposure to the chemicals in their drinking water, as well as firefighters directly exposed during training and response exercises.
"*" indicates required fields