New Study Links PFAS Chemicals In Drinking Water to Increased Risk of Obesity
May 04, 2023
By: Irvin Jackson
The findings of a new study suggest that exposure to per- and polyfluorinated substances (PFAS) through drinking water can both increase the risk of obesity and make it difficult to keep lost pounds from returning.
Researchers from the University of Rhode Island warn that high levels of certain types of PFAS chemicals promote weight gain, raising more concerns that environmental pollution is having a negative effect on human metabolism. The study was published on April 17 in the research journal Obesity.
PFAS include over 9,000 man-made chemicals, which have been widely used in a number of products since the 1940's, due to the ability to resist grease, oil and water. However, they are commonly referred to as "forever chemicals", since they persist in the environment and human body, building up over time and increasing the risk of a myriad of adverse health effects, including liver damage, thyroid disease, decreased fertility, high cholesterol, obesity, hormone suppression, and cancer.
Widespread water contamination problems from PFAS chemicals have been identified in a number of communities nationwide, particularly around military bases, airports and firefighter training facilities, where large volumes of the chemicals have been dumped into the drinking water supply from aqueous film-forming foam (AFFF) used to fight petroleum fires.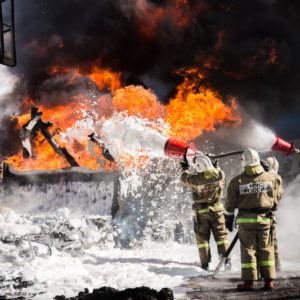 In this latest study, researchers sought to determine if PFAS exposure was linked with body weight increases. They conducted a dietary intervention study involving 381 participants who first lost at least eight percent of their body weight, and then completed a specific diet that lasted at least 26 weeks. The researchers also looked for concentrations of five major PFAS chemicals in plasma samples from the participants.
According to the findings, researchers noted that two PFAS chemicals in particular, perfluorooctanoic acid (PFOA) and perfluorohexanesulfonic acid (PFHxS), were associated with increased weight gain. Those who had double the average levels of PFOA in their plasma saw an average increase of about 3.3 lbs. (1.5 kg), and those with double the average levels of PFHxS saw an increase of about two pounds (.91 kg) after the 26-week diet.
These findings were independent of diet group or gender, and other PFAS were also linked to similar increases, which were similar to, or larger, than average changes in other diet groups. The researchers noted that no matter what they did, those with elevated levels of PFAS could not seem to keep lost weight from returning. Most of their exposure, particularly to PFOA, came from PFAS contamination in drinking water, the researchers noted.
"Our study adds new evidence that being overweight isn't just about a lack of physical activity and unhealthy eating habits – PFAS are increasingly suspected to be a contributing factor," lead study author Phillipe Grandjean, a physician and research professor at the University of Rhode Island, said in a press release. "The PFAS exposures in the European participants are quite comparable to levels in America, so my concern is that our exposures to PFAS are making it difficult for us to avoid getting overweight."
2023 PFAS Drinking Water Contamination Lawsuits Update
Manufacturers of PFAS chemicals currently face hundreds of firefighting foam lawsuits nationwide, brought by individuals diagnosed with cancer after direct contact with the chemicals during their careers as a firefighter. In addition, a growing number of PFAS water contamination lawsuits are being pursued by individuals diagnosed with ulcerative colitis or cancer, after regularly drinking water known to contain the chemicals.
Given common questions of fact and law presented in the claims, all federal water contamination lawsuits over PFAS chemicals in AFFF are currently centralized before U.S. District Judge Richard M. Gergel in the District of South Carolina, for coordinated discovery, pretrial proceedings and a series of early bellwether trials, which are expected to begin this year.
Early in the pretrial proceedings, Judge Gergel established a "bellwether" program that started with a group of water contamination cases going through case-specific discovery in preparation for a series of early trial dates, which are expected to begin around June 2023.
If parties do not reach a firefighting foam water contamination settlement agreement once the pretrial proceedings and bellwether test trials are completed, or the litigation is not otherwise resolved, the cases will be remanded back to their originating federal court districts for trial.
"*" indicates required fields