Chemical Industry Asks EPA to Weaken Proposed PFAS Reporting Rules
August 16, 2021
By: Irvin Jackson
Earlier this summer, federal regulators proposed a new rule that would implement reporting requirements for toxic "forever chemicals" used in firefighter foam, food packaging and other products. However, the chemical industry is now reportedly pushing to weaken even those initial safeguards, which were intended to protect the health of Americans.
In June, the U.S. Environmental Protection Agency (EPA) announced it was proposing the "first-ever" reporting requirements for per- and polyfluoroalkyl substances (PFAS) under the Toxic Substances Control Act (TSCA). The rules, if finalized, would require manufacturers to report comprehensive data back to the agency on more than 1,300 PFAS manufactured in the U.S.
The reporting rule would cover all PFAS imported or produced since January 1, 2011; a requirement passed into law by Congress in the 2020 National Defense Authorization Act.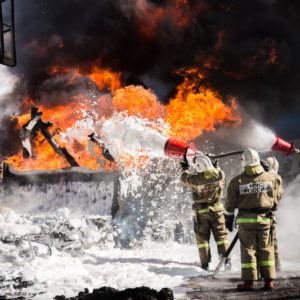 Learn More About
Exposure to firefighting foam chemicals may result in an increased risk of cancer for firefighters, military and airport personnel.
Learn More About this Lawsuit
Now, according to a report by Chemical Watch, industry lobbyists and trade groups are urging the EPA to cut those legally required efforts to monitor their use of the toxic chemicals as much as possible.
PFAS were first introduced into the manufacturing industry in the 1940's, because of their ability to resist heat, grease, stains, and water. However, since then the chemicals have been linked to a myriad of adverse health effects including liver damage, thyroid disease, decreased fertility, high cholesterol, obesity, hormone suppression, and cancer.
The chemical substances are used to manufacture a number of products, including some food packaging materials, pizza boxes, popcorn bags, fabrics, nonstick cooking pans, and other products.  However, it is perhaps most known for its use in firefighting foams used by military and civilian firefighters.
The EPA considers collecting data from manufacturers on their use of PFAS to be an important first step towards understanding and reducing the risks, the agency said in June. However, despite years of drinking water contamination, cancer and other health issues linked to PFAS use, the chemical industry is still pushing back against the agency even having a complete picture of how much PFAS is being brought in.
The American Chemistry Council (ACC) and the U.S. Chamber of Commerce have complained there are no exemptions allowing article importers, small businesses or those shipping small amounts of PFAS to duck the reporting requirements. Additionally, they want the EPA to exempt PFAS created through impurities, byproducts or quantities of less than 2,500 pounds, as well as exempt reporting for the use of PFAS for research and development.
They also want the EPA to exclude certain PFAS and only focus on those which have been documented to be linked to health concerns through toxicity and exposure data. This, despite the fact that such data is in short supply, and some chemical manufacturers specifically made moves earlier this year to restrict that data even further.
Industry Accused of Restricting Access to PFAS Data
In February, the advocacy group Consumer Reports, revealed that Solvay, one of the chemical manufacturers pushing the EPA to pare back the PFAS reporting rule, moved to prevent independent laboratories from getting critical research data which could help them identify evidence of PFAS contamination in water and soil.
To test chemicals, researchers sometimes have to rely heavily on "analytical standards" which are pure versions of the compound. But Solvay invoked its patent rights to stop the distribution of pure versions of certain PFAS chemicals, threatening to sue researchers if they used or distributed them.
According to Consumer Reports, the analytical standard is a crucial part of testing and analyzing whether a PFAS chemical is present in the water or the soil, and said this restriction of access to such a standard is unprecedented and has never been seen before.
A number of researchers indicated Solvay's actions appear to be a focused attempt to prevent PFAS research.
All of this comes as states and lawmakers continue to make moves to ban, restrict and monitor PFAS. Last month, Maine put in place a ban on PFAS which will go into effect by 2030. In addition to Maine, New York set guidelines in January which set limits on allowable concentrations on some PFAS chemicals. Additionally, last month, two U.S. Senators introduced a bill which would ban the use of PFAS in cosmetics.
Chemical manufacturers now face a growing number of firefighting foam lawsuits brought by nationwide, including individuals diagnosed with with cancer after exposure to the chemicals in their drinking water, as well as firefighters directly exposed during training and response exercises.
Public comments on the EPA's proposed PFAS monitoring rule are being accepted until September 27.
"*" indicates required fields