PFAS Settlement Payout Estimates for Water Providers Released By Committee That Negotiated 3M, DuPont Deals
August 24, 2023
By: Irvin Jackson
The U.S. District Judge presiding over all federal lawsuits over water contamination from per- and polyfluoroalkyl substances (PFAS) has granted preliminary approval to two settlements reached with 3M Company and DuPoint de Nemours, Inc., allowing a committee of lawyers who negotiated the agreements to release preliminary estimates of the payouts individual water providers may be eligible to receive.
The PFAS settlement payouts will range widely from tens of thousand of dollars to tens of millions for each plaintiff, depending on their size and the amount of contamination.
Funding will come from a $1.18 billion deal reached with DuPont, and an even larger $12.5 billion settlement with 3M, which seek to resolve all lawsuits brought over the chemical manufacturers' role in causing widespread damage to private and public water systems throughout the U.S.
PFAS Water Contamination Lawsuits
Commonly known as "forever chemicals", since they build up in the environment and human body, PFAS water contamination has largely come from use of the chemicals in aqueous film-forming foam (AFFF) products, which have been by the U.S. military and local fire departments to combat fuel based fires
Runoff from the AFFF foam has caused widespread detection of PFAS in water supplies nationwide, particularly around military bases, airports and other firefighter training locations, leaving local cities and water suppliers to deal with the clean up costs.
However, even after agreeing to pay billions to resolve water provider claims, 3M Company, DuPont, and other manufacturers of PFAS chemicals and fire safety products will continue to face AFFF cancer lawsuits, brought by individuals who indicate they developed testicular cancer, kidney cancer, pancreatic cancer, prostate cancer and other forms of cancer after direct exposure to the chemicals during their firefighting careers.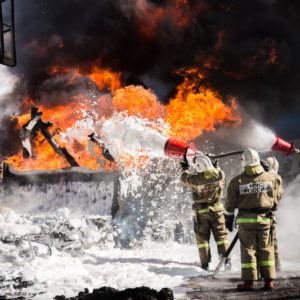 Given common questions of fact and law presented in the litigation, all AFFF lawsuits are currently centralized before U.S. District Judge Richard M. Gergel in the District of South Carolina, for coordinated discovery, pretrial proceedings and a series of early bellwether trials.
DuPont PFAS settlement Gets Preliminary Approval
On Tuesday, Judge Gergel granted preliminary approval (PDF) to an $1.18 billion settlement agreement between DuPont and the municipal drinking water systems. The judge has given the plaintiffs until December 4 to decide whether to opt in or opt out of the settlement agreement. If the number of plaintiffs agreeing to the settlement reaches a certain threshold, and there are no other objections.
The percentage of plaintiffs necessary for the settlement to be approved has not been released, as have many other details of the settlement agreement. However, the committee which constructed the settlement have released an estimated range table (PDF) which calculates how much each water system could receive, based on how much water flows through their system, and their level of PFAS contamination.
Smaller systems with very little contamination could get as little as $3,500. Larger, heavily contaminated systems could theoretically receive as much as $16 million, but the settlement notes such systems would be an anomaly, and the largest payouts will likely top out at about $7.4 million.
Payout Estimates for Proposed 3M Settlement Agreement
According to the PFAS water contamination settlement agreement filed with the Securities Exchange Commission (SEC) on June 22, 3M will pay between $10.5 billion and $12.5 billion in the coming years, depending on how many drinking water systems test positive for PFAS contamination. The deal seeks to resolve both present and future claims brought by drinking water systems nationwide.
A motion for preliminary approval of 3M's PFAS settlement agreement was filed last month, but no action on the motion has yet been taken.
However, the parties have released estimated allocation range tables (PDF) to calculate PFAS settlement payouts for plaintiffs who list 3M as a defendant. Like those with the DuPont agreement, these tables are based on the volume of water the system handles, and its total PFAS water contamination, with the smallest and least-contaminated systems receiving about $36,000, and the largest and most contaminated systems receiving as much as $170 million, theoretically, but are likely to max out at about $77 million.
AFFF Firefighter Cancer Lawsuits
In addition to claims brought by local cities and water providers over the damages caused by PFAS chemicals, 3M Company and the other manufacturers continue to face individual lawsuits brought by former firefighters diagnosed with various types of cancer.
In late May, the parties were directed to select 28 personal injury claims for a bellwether pool involving plaintiffs who say they were exposed to AFFF through drinking water contamination, as opposed to direct exposure.
These cases will include eight kidney cancer claims, eight testicular cancer claims, eight thyroid disease claims and four ulcerative colitis claims. In addition, they will be limited to individuals alleging they were exposed to contaminated water near Peterson Air Force Base, Colorado Springs Municipal Airport, the Willow Grove Naval Air Station Joint Reserve Base and the Naval Air Warfare Center in Warminister.
While the outcome of these bellwether trials will not have any binding impact on thousands of other injury claims pending in the federal court system, they will be closely watched and may have a substantial impact on how much 3M and other defendants have to pay to settle AFFF water contamination lawsuits brought by individuals diagnosed with cancer and other injuries.
"*" indicates required fields