FDA Gives Philips CPAP Face Mask Magnet Recall Class I Designation, Warns of Injury, Death Risk
October 26, 2022
By: Russell Maas
Following a Phillips BiPAP and CPAP face mask recall issued last month, over problems with magnets disrupting pacemakers, defibrillators, stents and other implanted medical devices, federal safety officials designated the action a Class I recall, warning that continued use of the CPAP masks poses a risk of serious injury or death for some patients.
Problems with the Philips CPAP face masks were first disclosed on September 6, when the manufacturer recalled several models of full face masks and nasal masks for adults and children, which contain magnetic headgear clips to hold them in place. However, those magnets in the face mask may cause disruptions to nearby medical devices or implants in patients.
The recall was issued after the FDA identified multiple reports of serious injuries linked to the Philips CPAP mask magnets, including incidents that resulted in a pacemaker failure, a need for shunt adjustment, resetting of automatic implantable cardioverter defibrillators, arrhythmia, cognitive changes, headaches, change in heartrate (tachycardia, bradycardia), convulsions (seizures), and irregular blood pressure.
Philips CPAP Face Mask Recall Lawsuits
Did you or a loved one experience problems with an implanted medical device from magnets in recalled Philips CPAP face masks?
CONTACT A LAWYER
Within days of issuing the face mask recall, the FDA subsequently reported having received 43 complaints, 14 of which were categorized as serious injuries associated with this issue. While the agency has not become aware of any deaths caused by recalled Philips face masks, the update issued this week warns that users, or those nearby with implanted medical devices, could be at serious risk of injury.
"The magnets can potentially cause injury or death if people who use them, or people near a person using a recalled mask, have certain implanted metallic medical devices or metallic objects in the body" the FDA said in the updated recall announcement.
The FDA is encouraging patients, or those that closely interact with patients, who have implanted metallic medical devices or metallic objects in the body, to stop using the recalled masks below and switch to a non-magnetic mask, if available:
Amara View Full Face Mask
DreamWisp Nasal Mask
DreamWear Full Face Mask
Wisp and Wisp Youth Nasal Mask (40lbs or more)
Therapy Mask 3100 NC/SP (40lbs or more)
More than 18 million Philips face masks were distributed for sale throughout the United States alone from January 1, 2015 through September 9, 2022. For a full list of the recalled products and associated serial and model numbers, please visit the FDA database.
Consumers are being instructed to keep the mask at least six inches away from metallic devices at all times and to consult with your healthcare provider to determine if another mask can be used for either bilevel positive airway pressure (BiPAP) or continuous positive airway pressure (CPAP) treatment.
Philips CPAP Machine Recall
The problems with Philips CPAP masks impact many of the same consumers who have already had their CPAP machine recalled, due to a defective sound abatement foam used in millions of machines sold between 2009 and April 2021.
After discovering that the sound abatement foam may degrade and release toxic particles directly into the CPAP face mask, tubing and airways, a Philips CPAP recall was issued in July 2021, impacting several million sleep apnea machines.
Over the past year, thousands of individuals have already come forward to pursue a Philips CPAP lawsuit, alleging that exposure to the toxic foam particles caused them to develop various types of cancer, lung damage and respiratory damage.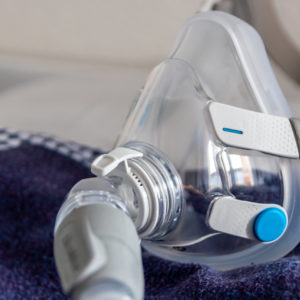 Philips CPAP Recall Lawsuit
In August, the FDA released an update on problems with Philips CPAP machines, adding new information about medical device reports (MDRs) submitted by the manufacturer, medical providers and consumers since the recall was first announced in April 2021.
Between the date of the recall and April 30, 2022, the agency received more than 21,000 reports of problems, including 124 deaths, which were associated with the PE-PUR foam breaking down. However, more than one year after the recall was issued, reports continue to flow in, with the agency indicating that another 48,000 MDRs were received between May 1, 2022 and July 31, 2022, including 44 more deaths.
October 2022 Philips CPAP Lawsuit Update
Given common questions of fact and law raised in the complaints brought throughout the federal court system, all lawsuits over cancer caused by Philips CPAP machines have been consolidated as part of a multidistrict litigation (MDL) before U.S. District Judge Joy Flowers Conti in the Western District of Pennsylvania, who is presiding over coordinated discovery and pretrial proceedings.
According to the latest docket report (PDF) issued by the U.S. Judicial Panel on Multidistrict Litigation (JPML), there are currently 342 Philips CPAP claims filed before Judge Conti. However, thousands of additional claims have been submitted on a census registry for Philips CPAP claims, which allows individuals to toll the statute of limitations by submitting information about their unfiled case.
As part of the coordinated management of the litigation, it is expected that Judge Conti will establish a "bellwether" process, where the parties will identify small groups of representative claims to prepare for early trial dates, which are designed to help gauge how juries are likely to respond to certain evidence and testimony that will be repeated throughout the proceedings. However, if Philips CPAP machine settlements are not reached in the MDL, each claim may later be remanded to different U.S. District Courts nationwide for separate trial dates in the future.
"*" indicates required fields