Philips CPAP Health Issues Continue To Surface Long After DreamStation Recall
March 17, 2023
By: Austin Kirk
It has been nearly two years since a Philips CPAP recall was issued for millions of DreamStation sleep apnea machines that contained a defective sound abatement foam, which is known to degrade and break down.  However, former users continue to come forward to report serious health issues and problems that resulted from inhaling the foam particles and chemicals.
Last month, the FDA issued the latest in a series of updates about Philips CPAP health issues associated with the foam breaking down, indicating that an additional 8,000 medical device reports were submitted over the last two months of 2022 alone.
Between April 2021 and December 31, 2022, the FDA now indicates that it has identified more than 98,000 problems reported to the agency, including at least 346 deaths. This represents an increase of more than 30% for deaths linked to the Philips CPAP machines during November and December 2022, and the number is likely to continue to grow in the future.
The health problems reported have ranged from incidents of Philips CPAP causing cancer, to individuals diagnosed with severe lung damage and long-term respiratory side effects, such as chronic obstructive pulmonary disease (COPD), reactive airway disease (RAD), acute respiratory distress syndrome (ARDS), sarcoidosis, pneumonia, asthma and other issues.
Thousands of former users are now seeking Philips CPAP lawsuit payouts from the manufacturer, and this post will answer some of the frequently asked questions about why they are experiencing long-term health issues from prior use of a recalled DreamStation sleep apnea machine.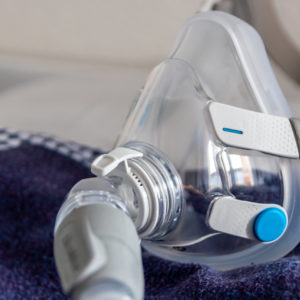 Information About  CPAP Health Issues on this Page:
What are the problems with Philips CPAP Machines?
The problems with recalled Philips CPAP machines stem from the use of a polyester-based polyurethane (PE-PUR) sound abatement foam. This defective CPAP foam can degrade and release particulate matter, chemicals and gasses directly into the machine's air pathways, which can accumulate in the user's lungs and organs.
While this foam in the Philips CPAP was intended to reduce sounds and vibrations as the sleep apnea machine was used, a defective design allowed black particles and debris to enter the breathing tubes and face mask. This has directly caused the Philips CPAP recall symptoms reported by users in recent months.
As a result of the problems, a Philips CPAP device recall was announced by the manufacturer on June 14, 2021, impacting millions of continuous positive airway pressure (CPAP), bilevel positive airway pressure (BiPAP), and mechanical ventilators.
With owners  using the continuous positive airway pressure devices on a daily basis to treat obstructive sleep apnea syndrome and other breathing disorders, the U.S. Food and Drug Administration (FDA) classified the Philips recall as a Class I recall, immediately acknowledging that use of the devices could cause serious and potentially life threatening health issues.
To make matters worse, the FDA instructed consumers to only use the recalled machines for life-sustaining therapy, which caused millions of users to go without necessary sleep apnea treatment as the manufacturer struggled to implement what has become a very problematic Philips CPAP repair program.
Unfortunately, the FDA's Class I recall designation has accurately reflected the seriousness of the CPAP recall, with nearly 100,000 reports of health issues caused by Philips CPAP machines reported in the months following the recall.
Can a CPAP machine cause health problems?
Yes. Breathing in the deteriorating sound abatement foam used in Philips CPAP machines has been linked to serious health problems, including multiple forms of cancer, organ damage, lung disease and other medical issues.
Shortly after the Philips CPAP recall, the FDA began receiving an influx of reports from health care professionals, patients, caregivers and consumers outlining adverse events reportedly associated with the breakdown or suspected breakdown of the polyester-based polyurethane (PE-PUR) foam.
On February 9, 2023, the FDA released a CPAP machine health risks update, providing new information about medical device reports (MDRs) received between November 1, 2022 and December 31, 2022, and reclassifying the number of deaths reported in prior months to reflect a retrospective review of MDRs conducted by Philips.
Among the reports of a Philips CPAP causing health issues were incidents of:
Cancer
Nodules (malignant and benign growths/lumps)
Pneumonia
Asthma
Respiratory problems
Infection
Headache
Cough
Dyspnea (difficulty breathing)
Dizziness
Chest pain
According to information and documents released by the FDA, it is clear that Philips Respironics was aware of CPAP health issues well before the June 2021 recall was announced. The FDA has stated that Philips was aware of at least 30 adverse events associated with the CPAP sound abatement foam breaking down between 2011 and April 2021.  However, it now appears that the manufacturer had much more information about long-term health issues users were experiencing from their CPAP machines.
Are there long-term side effects for Philips CPAP users?
Yes. Prolonged exposure to chemicals and particles released as the CPAP sound abatement foam deteriorates may cause users to develop long term health risks, including cancer of the organs, liver and kidney disease and respiratory diseases.
Warnings released by the FDA following the CPAP recall have specifically warned that inhaling the deteriorating black foam particles and chemicals released into the device's air tubes can cause long term problems such as:
Inflammatory responses causing internal scarring and damage to tissues and organs
Toxic or cancer-causing effects to organs, such as kidneys and liver
Given the serious and life-threatening CPAP health issues that millions of consumers now face, thousands of individuals have already filed Philips CPAP lawsuits over injuries and health conditions they have developed. Many of the CPAP lawsuits have raised claims that the foam and gasses released by the machines have caused them to develop;
Bladder, Lung, Kidney, Liver, Colon and Other Cancers
Pulmonary Fibrosis, Interstitial Lung Disease, Sarcoidosis and Other Lung Damage
Liver Disease, Kidney Disease, Heart Attack, Heart Failure or Stroke
Which recalled CPAP machines cause health issues?
The Philips Respironics recall includes 21 different models of CPAP, BiPAP and ventilators that were sold between 2009 and 2021. Of the recalled machines, roughly 80% included CPAP DreamStation and BiPAP devices intended for home use, while the remaining 20% impacted mechanical ventilators.
Recalled Philips CPAP and BiPAP machines:
DreamStation
DreamStation Go
DreamStation ASV
DreamStation ST, AVAPS
Dorma 400
Dorma 500
REMstar SE Auto
System One ASV4
SystemOne (Q-Series)
C-Series ASV
C-Series S/T and AVAPS
OmniLap Advanced+
E30
Recalled Philips Ventilators:
Trilogy 100
Trilogy 200
Garbin Plus, Aeris, LifeVent
A-Series BiPAP Hybrid A30 (sold outside the U.S.)
A-Series BiPAP V30 Auto
A-Series BiPAP A40
A-Series BiPAP A30
To report any adverse events related to the recalled Philips CPAP, BiPAP or ventilator machines, please visit the FDA's MedWatch Online Voluntary Reporting website to submit a report.
What is the status of Philips CPAP lawsuits in 2023?
Over the two years since the recall, lawsuits have been filed by individuals left with serious health issues from their Philips CPAP.  The litigation will continue to grow throughout 2023 and 2024, and is ultimately expected to include claims brought for tens of thousands of plaintiffs seeking financial compensation and settlement benefits.
Given nearly identical allegations raised in the complaints, the federal court system established  coordinated pretrial proceedings in October 2021, known as a Philips CPAP MDL (multidistrict litigation), which has centralized all claims before one judge for coordinated discovery and a series of early jury trials.
Throughout 2023, lawyers expect that discovery into common issues that impact all claims will be conducted, examining internal documents and information that establish exactly how health issues result from the Philips CPAP, and the Court will evaluate the weight of evidence linking the deteriorating foam to specific injuries.
The court has indicated it will establish a "bellwether" process for Philips CPAP lawsuits which will go to trial to help the parties gauge how juries are likely to respond to certain evidence and testimony that will be repeated throughout the litigation.
PHILIPS CPAP LAWYERS CONTINUE TO INVESTIGATE CLAIMS
Throughout 2023, Philips CPAP lawsuits will continue to be filed and lawyers continue to provide free consultations and claim evaluations for former users who have experienced a variety of health issues, including:
Cancer, Lymphoma, Leukemia or Tumors
Pulmonary Fibrosis
Interstitial Lung Disease (ILD)
Pulmonary Fibrosis
Sarcoidosis
Pneumoconiosis
Auto-Immune Disorders
Chronic Asthma
Chronic Bronchitis
Recurrent Pneumonia
Hypersensitivity
Kidney Disease
Liver Disease
Heart Attack
Heart Failure
Stroke
Wrongful Death

FREE PHILIPS CPAP CASE EVALUATION
If you or a loved one experienced health issues from a Philips CPAP, lawyers provide free consultations and claim evaluations to help determine if settlement benefits may be available.
FIND OUT IF YOU QUALIFY
"*" indicates required fields